Heavy Hitters: Two Alumni Talk Baseball and Law
Heavy Hitters: Two Alumni Talk Baseball and Law
Los Angeles Dodgers President Stan Kasten '76 and Milwaukee Brewers Owner Mark Attanasio '82 have used their Columbia Law education as the foundation for winning careers.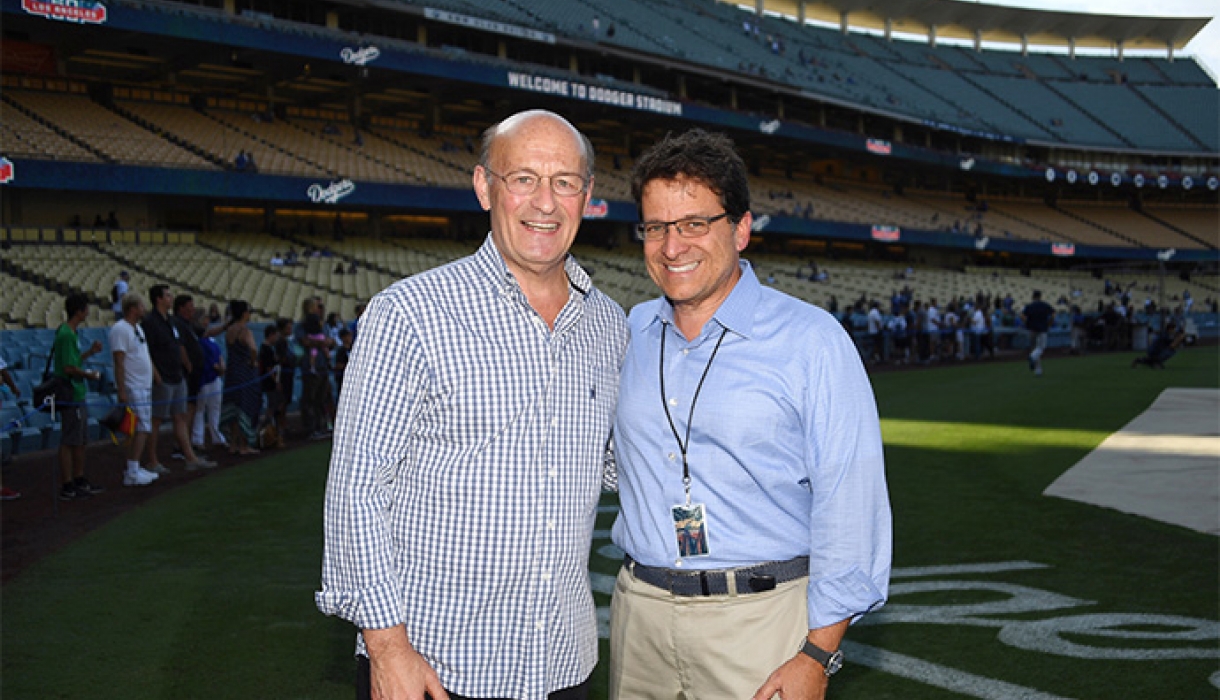 Above: Stan Kasten '76 (left) and Mark Attanasio '82 (right) at Dodger Stadium.
On an unseasonably cool evening last October, beneath the retractable roof at Milwaukee's Miller Park, Mark Attanasio '82, the majority owner of the Milwaukee Brewers, and Stan Kasten '76, the president, CEO, and minority owner of the Los Angeles Dodgers, wished each other good luck during batting practice before their teams faced off in game one of the 2018 National League Championship Series. The Brewers won that initial game, but the Dodgers claimed the pennant in seven games and went on to lose to the Boston Red Sox in the World Series.
As Columbia Law School alumni who are members of the elite fraternity of Major League Baseball (MLB) owners, Attanasio and Kasten have developed a professional and personal bond. They discovered that as youngsters, they both idolized Yankees slugger Mickey Mantle and dreamed of shagging flies and hitting home runs at Yankee Stadium. "By the time I figured out I wasn't going to be the center fielder for the Yankees, I had chosen something different," says Kasten, who could be speaking for Attanasio as well.
The path each alumnus chose led to Columbia Law School (which just happens to be three miles from Yankee Stadium). At MLB owner meetings, they have compared notes on their student days in Morningside Heights. They agree that their Columbia Law School education provided an invaluable discipline for rigorous thinking, which they apply to deal-making, negotiating, and managing their organizations.
"What you learn in law school is how to parse a unique situation, which will probably present many questions, and you learn how to go find the best answers for your client," says Kasten. "That's what I think is critical—not that you know everything right away, but that you know how to go find the best answer for your client, which is typically complex and not at anyone's fingertips."
Switch Hitter
Attanasio says his legal background has been instrumental to his success in sports and finance. "There's nothing that really trains you to run a sports team, but the law underpins everything that we do, including contract law, the tax status of things, labor law, your media contracts," he says. "I think I have a pretty good instinct for when lawyers are over-lawyering and for when you really have to listen to what they are saying. I think it's hard to develop that instinct if you don't have legal training."
Attanasio remembers taking an inspiring sports law class while at Columbia and organizing a panel with former NBA commissioner David Stern '66, who was the basketball league's executive vice president at the time. Nevertheless, Attanasio was more excited by corporate law. After launching his career at Debevoise & Plimpton, he left for a job as an investment banker. He later co-founded Crescent Capital Group LP, a private equity firm that manages more than $25 billion in assets, where he remains a managing partner.
When he learned the Brewers were up for sale in 2004, he seized the opportunity to buy the team for $233 million. (The team is now valued at more than $1 billion.) He brought on three Law School alumni—Marc Stern '69, Richard Ressler '83, and Alison Ressler '83—as investors and advisers. "It was a real act of friendship," he says. "Marc, Richard, and Alison have been huge supporters of mine forever."
In addition to turning the Brewers into a hot team, Attanasio takes great satisfaction from the ball club's community service and social responsibility initiatives. "The platform we are given in sports is a huge opportunity to do good," he says, citing the Brewers Community Foundation that supports 200 charities in Wisconsin. "I was also very proud this offseason that we had three players from California—NL MVP Christian Yelich, Ryan Braun, and Mike Moustakas—who saw the devastation caused by the wildfires. Together with my son, Mike, and Rams quarterback, Jared Goff, they organized a charity called California Strong that raised more than $2 million for fire victims."
A Braves New World
Kasten—who played in the amateur Jersey Shore Baseball League during his three years at Columbia Law School—began his professional sports career shortly after earning his J.D. After taking the New York and New Jersey bar exams, he and his wife celebrated by going on a cross-country road trip to visit Major League stadiums. At a Braves-Cards game at Busch Stadium in St. Louis, he met Braves owner Ted Turner who hired him a few weeks later as an in-house counsel. Kasten went on to become the team's president and then simultaneously served as president of the NBA's Atlanta Hawks and the NHL's fledgling Atlanta Thrashers. Under his leadership, the Braves won 14 straight division crowns and the 1995 World Series and were widely regarded as a model franchise.
In 2005, Kasten became the president of the Washington Nationals. He enjoyed seeing his classmates who practiced in the capital at Nationals Park, which was constructed during his tenure. Kasten says he was nonplussed when season ticket holder Eric Holder '76 told him that his sports career made him the envy of his Law School classmates. "And he was deputy attorney general at the time!"
Although Kasten is a director emeritus of the Sports Lawyers Association, he says "the only strict lawyering I did was back in my NBA days when I negotiated every player contract. I don't do that in baseball because we have a different structure, but we have lots of legal things and lots of negotiations and you learn a lot about the process of successful negotiation in different courses and clinics through law school. I'm very proud of my time at Columbia—and I still go to reunions."
As for his advice to Columbia Law School students and graduates who want to leverage their J.D.s for nontraditional careers? "First and foremost, be the best lawyer you can be," says Kasten. "Anything can follow from that, but if you're not a good lawyer, you're not going to do anyone any good."
As the 2019 baseball season passed its midpoint, Kasten was confident that the Dodgers were on track to win the NL West—and to win more games than any other team in the National League. Meanwhile, Attanasio's Brewers were neck and neck with the Cubs and Cardinals for first place in the NL Central. So it's quite possible that the alumni will find their teams squaring off in the National League championship for the second year in a row. It would be, to quote the legendary Yankees catcher Yogi Berra, "déjà vu all over again."