Graduation 2017: A Day in Pictures
Graduation 2017: A Day in Pictures
The Law School celebrated the Class of 2017 on May 18.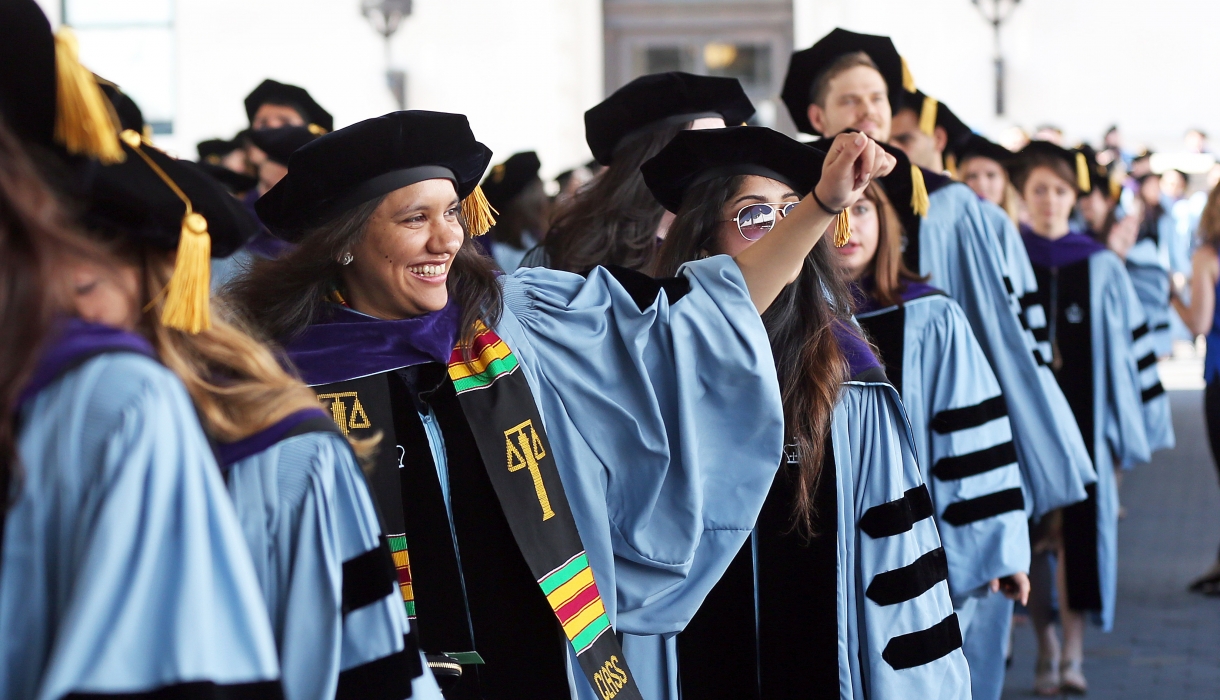 On a morning of stark sun, rising temperatures, and high spirits, the Columbia Law School community gathered in Morningside Heights to honor the school's accomplished and motivated J.D., LL.M., and J.S.D. candidates at the 2017 Graduation exercises.
Decked out in full regalia, surrounded by approximately 5,000 family members and friends, the Law School capped off Columbia Commencement week with a ceremony on the University's South Lawn.
Several members of the Law School's Class of 1967 led the Graduation procession on Thursday, marking their 50th Reunion year, which will be celebrated at the Law School June 16–18.
In welcoming the Class of 2017 to their Graduation, Dean Gillian Lester recalled her first speech as Dean in 2014, when she welcomed many of those same students to Columbia Law School at their 1L Dinner.
Elected to speak by students in the J.D. class, Andres Barajas '17 acknowledged that the achievements of the Class of 2017 came about through hard work, but also through the help of faculty, staff, administrators, families, and friends.
Gonzalo D.V. Go III '17 LL.M. spoke to the unique LL.M. experience, and the close-knit community he and his fellow classmates created during their year at the Law School.
Professor Eric Talley received the Willis L.M. Reese Prize for Excellence in Teaching from Beatrice Kelly '17 on behalf of the Class of 2017. In his speech, Talley challenged graduates to take risks: "The most uncertain path is also the one with the highest option value, allowing you both to learn and react as you learn," he said.
Alex Finkelstein '17 received the Campbell Award from Clyde E. "Skip" Rankin '75. The award is given by the Columbia Alumni Association to a graduating student from each of the University's schools who shows exceptional leadership and the Columbia spirit.
Former SEC Chair Mary Jo White '74 returned to Morningside Heights to deliver the keynote address at Graduation. Informally titled "Do the Right Thing: You Are Needed and Ready," the speech urged graduates to use their Columbia legal education both as lawyers and as citizens, and to "use as your north star your moral compass that should always be flashing to remind you to do the right thing, as you see it, no matter what the pressures may be to do otherwise."
The Law School's Class Gift co-chairs presented Dean Lester with the 2017 Class Gift scroll. At the time of Graduation, 547 members of the Class of 2017 had participated in the Class Gift, including 278 J.D. graduates and 269 LL.M. graduates.
After the Graduation ceremony was complete, and before meeting friends and family at the Law School reception on Ancel Plaza, the Class of 2017 gathered next to Kent Hall for their class picture.