David Pozen Wins ALI Early Career Scholars Medal
David Pozen Wins ALI Early Career Scholars Medal
Pozen's scholarship focuses on government transparency, constitutional theory, and, sometimes, soccer.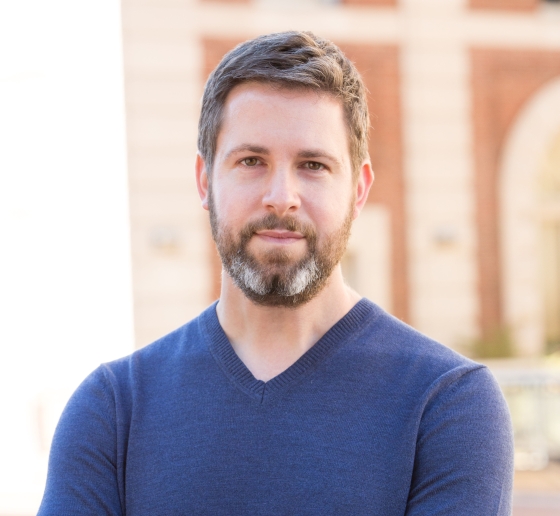 As concerns intensify about social media and partisan politics—along with the collision of the two—the work of Columbia Law constitutional scholar David Pozen has earned him the Early Career Scholars Medal from the American Law Institute (ALI).
The award is given every other year to one or two scholars with less than 10 years' teaching experience and whose outstanding scholarship has the potential to influence improvements in the law. It was announced officially at ALI's annual meeting on May 20. In announcing Pozen as a winner, Justice Mariano-Florentino Cuéllar of the California Supreme Court, the selection committee chair, called Pozen's "remarkable" writings "as timely as they are learned and as creative and thought-provoking as they are nuanced and precise."
For example, Pozen's scholarship on government accountability, transparency, and secrecy "has proven widely influential at a time when these topics are especially salient," Cuéllar said.
In her nomination of Pozen, Law School Dean Gillian Lester, the Lucy G. Moses Professor of Law, praised his work for the "opening up of ossified fields of inquiry to new possibilities that re-energize scholarly debates and chart new and unique threads of analysis."
His influential body of work includes the first piece he wrote as a law professor: "The Leaky Leviathan: Why the Government Condemns and Condones Unlawful Disclosures of Information," published in 2013. That article, an examination of the "disconnect" between the widespread occurrence of government leaks, anti-leaking rhetoric, and the low incidence of prosecutions for leaking, brought Pozen widespread attention and was discussed at length in The New Yorker by social science writer Malcolm Gladwell. That success briefly gave him pause. "I wondered if I would be like one of those rock bands that has a hit song when it's starting out and then can never quite get back to that place on the charts," Pozen says.
It turns out that Pozen does not want for good ideas; they often result from "things that bother me," such as when "there's a blind spot in the current debate, particularly on a side of the debate I associate with."
Sometimes this leads Pozen well beyond constitutional law. In the 2018 World Cup, which marked the first use of video review for controversial plays, the number of penalty kicks more than doubled, to 29, from 13 in the previous World Cup. That disturbed Pozen—a longtime fan, a kids' coach, and a former college player—who watched the matches with his son, Sam, 8. ("All our TV rules went out the window for the World Cup," Pozen says. "I'm sure they will next time too.")
The result was a disapproving blog post, "The Rulification of Penalty Kicks—and a Reform Proposal," which argued that video review had robbed referees of flexibility to make nuanced judgments in the context of a specific play and match. "Transparency left less room for subtlety. Codified law swallowed custom," Pozen wrote.
More substantively, in a forthcoming Harvard Law Review essay, "A Skeptical View of Information Fiduciaries," co-written with Columbia Law academic fellow Lina Khan, Pozen critiques the idea that companies like Facebook and Google should act as fiduciaries for the information users have entrusted to them. "This new proposal is a distraction from problems that need to be addressed in consumer protection law, competition law, and beyond," he says.
Before coming to Columbia Law School in 2012, Pozen served for two years as a special legal adviser at the U.S. Department of State during the Obama administration. Some of his experiences there informed his early scholarship in pieces like "Leaky Leviathan" and "Self-Help and the Separation of Powers." But Pozen generally avoids focusing on policy prescriptions in his scholarship. "I don't often make detailed policy recommendations," he says. "I feel better suited trying to clarify debates than trying to resolve them."
An exciting aspect of the Early Career Scholars Medal, Pozen says, is the chance to set the topic for an ALI conference. He expects that his conference, in 2021, will be on a subject he has begun teaching and researching in depth: the rise of the nonprofit sector and its implications for constitutional law. Nonprofit law is too often viewed as the exclusive domain of tax lawyers, he says—a point hammered home at a recent conference on the subject when "I walked in, and almost everyone was wearing a suit. And I thought, 'You're not in constitutional law land anymore.'"
Pozen will also give a talk at the ALI Annual Meeting in 2020. For that talk, he anticipates discussing the rise of what he has termed "constitutional polarization," as documented in another forthcoming paper.
Pozen is married to Columbia Law professor Jessica Bulman-Pozen, whom he met when they were undergrads at Yale, married shortly afterward, and followed back to Yale Law School. He and Bulman-Pozen both served as law clerks for U.S. Supreme Court Justice John Paul Stevens and for Judge Merrick B. Garland on the U.S. Court of Appeals for the District of Columbia Circuit. In addition to Sam, the couple have a daughter, Clara, 5.
"My experience of being a professor coincides with our experience of parenthood. So it's all just a big sleepless blur," Pozen says. As for the ALI honor: "Nothing makes one feel so middle-aged as winning an 'early career' award."
# # #
Related content by Professor David Pozen, Professor Eric Talley, and postdoctoral fellow Julian Nyarko, from The Atlantic: "Republicans and Democrats Are Describing Two Different Constitutions"
Published on June 5, 2019