A Cutting-Edge, Old-Fashioned Law Firm
A Cutting-Edge, Old-Fashioned Law Firm
Star litigator and same-sex marriage champion Roberta Kaplan '91 launched a new hybrid law firm and hired three recent Columbia Law School graduates as associates.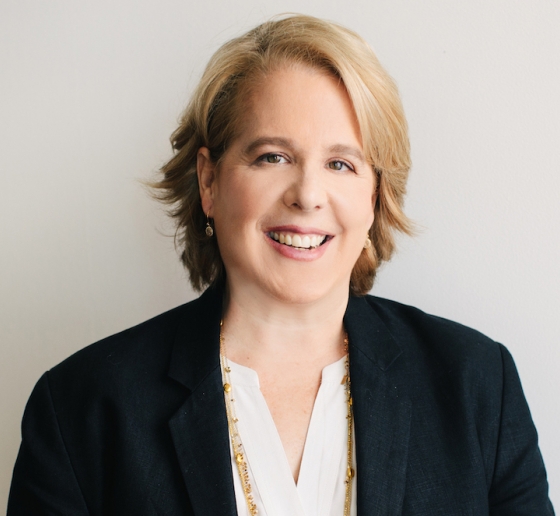 Roberta Kaplan '91 appears to be sitting on top of the world. Ensconced behind the sleek desk in her loft-like office on the 71st floor of the Empire State Building, Kaplan, who famously argued before the Supreme Court to overturn the Defense of Marriage Act, explains that she is building a new firm in her own formidable image: a traditional litigation boutique that is also a force to be reckoned with in civil rights causes such as the Time's Up legal and media campaign to address sexual injustice.
On July 1, 2017, the star litigator established Kaplan & Company, resigning her partnership at Paul, Weiss, Rifkind, Wharton & Garrison, where she worked for 25 years. "This was my version of a midlife crisis," says Kaplan, explaining she'd been preparing to leave Paul, Weiss because she assumed she would take a post in the Hillary Clinton administration. "Instead, I decided I would start what I call this new-fashioned, old-fashioned law firm with a very strong commitment to doing public interest work alongside a profitable commercial practice." [The firm changed its name to Kaplan Hecker & Fink LLP in June 2018.]
One of the most celebrated lawyers of her generation (she received the New York Bar Association's Gold Medal Award for her outstanding legal and civic accomplishments last week), Kaplan has had no problem attracting top talent and clients. Three recent Columbia Law School graduates are associates at the firm, and Airbnb, Columbia University, and Vice Media are already among their clients. The firm's twofold mission is a major selling point. "Having our type of practice has enabled us to recruit and attract absolutely the top talent of any firm in the country," she says, adding, "Commercial clients like to know that if they have a tough case they are going to be represented by associates at this level."
At the same time, Kaplan & Company already has taken on two high-profile pro bono cases, representing a woman who alleges she was raped by a Hollywood producer/director, and ten individuals who say they were injured when neo-Nazis and white supremacists marched on Charlottesville, Virginia, last August.
Four days after the Charlottesville protests, Kaplan and Julie E. Fink, a former Paul Weiss colleague who is Kaplan's sole law firm partner, headed south to interview victims. "We have the flexibility to look at each other and say this is the right thing for us to do," says Kaplan.
In January, Kaplan & Company (in conjunction with the firms Cooley and Boies Schiller Flexner) filed a civil lawsuit against individuals and groups with white supremacist or Neo-Nazi ties, including the Loyal Knights of the Ku Klux Klan and Alt-Right Radio founder Richard Spencer, for allegedly causing bodily injuries, provoking violence, property damage, and severe emotional distress. "We included pictures of their propaganda, and some of it's pretty horrific," she says of the lawsuit filed in U.S. District Court on behalf of 10 victims. "I have never had an illustrated complaint before." (Spencer has filed a motion to dismiss the lawsuit, arguing that anti-fascist protesters, known as Antifa, and the police were to blame for the violence.)
In November, as the #MeToo anti-sexual harassment movement gained traction, Kaplan decided to offer pro bono representation to a Hawaii woman, Melanie Kohler, who'd been sued for defamation by X-Men: The Last Stand director Brett Ratner after she accused him of rape in a Facebook post. (Ratner denied the allegations.) "I didn't hesitate for half a second," says Kaplan, who appeared side by side with Kohler on Good Morning America. "The case is so important because it's emblematic of this problem of women being retaliated against for speaking out, and we're devoting a lot of resources to it."
Kaplan has also joined a group of influential women in Hollywood (including Beverly Hills entertainment lawyer Nina Shaw '79) to establish the Time's Up Legal Defense Fund, a network of lawyers and publicists to represent individuals who have been victimized at the workplace. "We realized that there were going to be a lot of women out there who would need lawyers to defend them in claims when they were retaliated against for speaking out or in more conventional cases where they're being abused or harassed at work," she says.
Kaplan is awed by the momentum of Time's Up, which has raised more than $18 million since its official launch on January 1. "I have never been involved in a campaign where it grew as fast as this did, and money in these amounts was raised so quickly," she says. "I think it's obviously a sign of how deep the problem is and how hungry people are for change." She adds that she was deeply moved by the display of female solidarity at the Golden Globe Awards in January, where most women wore all-black as a protest against sexual harassment. "I have to say it even had the ability to pierce my very thick cynical skin to see how incredibly powerful and strong this has become," she says. "I was sitting at home with tears in my eyes."
Kaplan—who was the Columbia Law School graduation keynote speaker in 2014 and received its Medal for Excellence in 2015—is also an adjunct professor at the Law School. For the spring term, she's teaching Advanced Civil Procedure: Scholarly and Lawerly Perspectives. "It's a great way to meet young lawyers who want to do the kind of work we do," says Kaplan, who beckons Thomas A. Bland '17 LL.M., Emily Cole '14, and Kyla P.S. Magun '17 into her office to meet a visitor. "I wanted to do business litigation at the highest level at a firm where civil rights litigation is not second fiddle," says Bland. "Robbie's reputation and her idea of balance are a potent combination."
One of the fringe benefits of working at Kaplan & Company is the airy, modernist offices where the lawyers enjoy panoramic views of sunsets over New Jersey when they work late as their boss often does. In fact, it was concern for Kaplan's late-night safety that impelled her wife, Rachel Lavine, a public interest lawyer and political activist, to persuade her to lease space at the Empire State Building. "It's supposed to have the best security of any building in New York City," says Kaplan. "We didn't know then that we would be going after Nazis, but I'm very glad we're in a safe space."
###
Posted on February 1, 2018