Colleagues Celebrate the Career of Robert Scott, Alfred McCormack Professor of Law, Emeritus
Colleagues Celebrate the Career of Robert Scott, Alfred McCormack Professor of Law, Emeritus
Leading scholars of law, economics, and contracts from Columbia Law School and other top law schools attended a celebration and participated in a day-long conference to honor the distinguished scholar, teacher, and leader on his retirement from full-time teaching.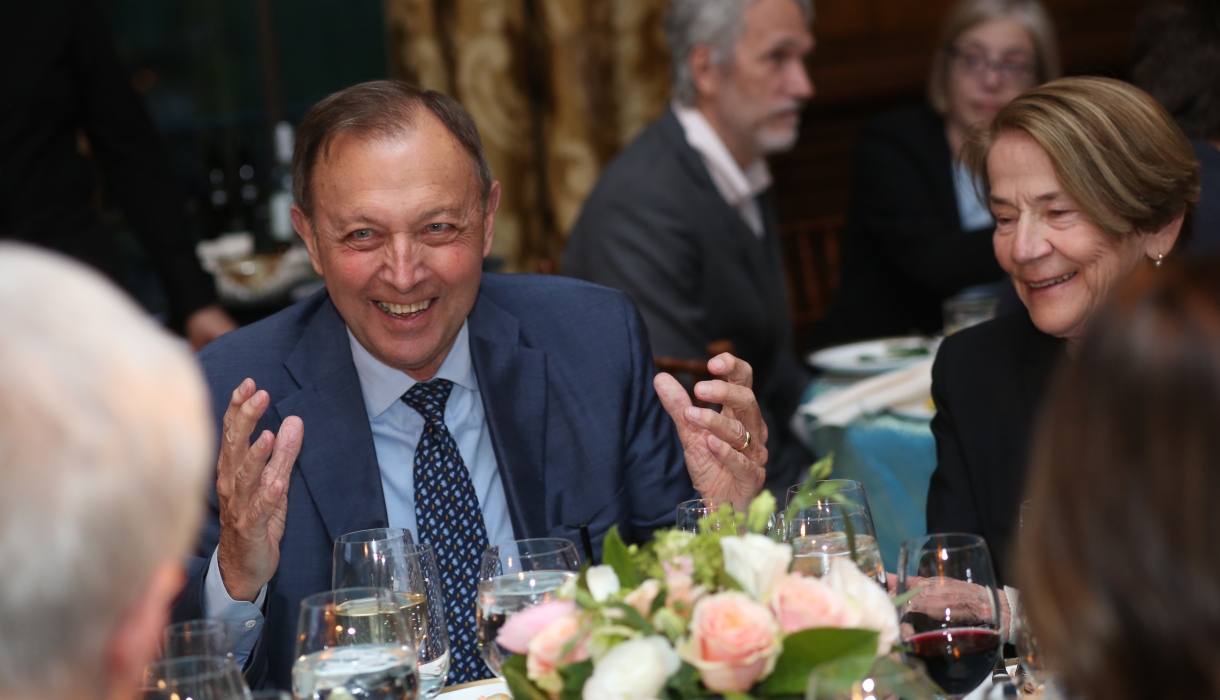 In a long-planned tribute, legal scholars from across the nation gathered to honor Robert Scott, Alfred McCormack Professor of Law, Emeritus. On April 22, more than 80 guests—including faculty colleagues, fellow legal scholars, and former students—toasted Scott at a festive dinner at The Harold Pratt House, the headquarters of the Council on Foreign Relations. 
Scott retired in 2021 after two decades of teaching contracts law, commercial transactions, and bankruptcy law at Columbia Law School. He served as interim dean in 2014, having previously been dean of the University of Virginia School of Law from 1991 to 2001. 
"The sheer depth, breadth, and impact of Bob's presence . . . in the law, the profession, and the academy more broadly would leave any one person at a loss of where to even begin," Gillian Lester, Dean and Lucy G. Moses Professor of Law, said at the dinner. "He is the scholar's scholar. The dean's dean. The mentor's mentor. The professor's professor."
Jody Kraus, Patricia D. and R. Paul Yetter Professor of Law, toasted Scott's intellect and heart. "Anyone who has taken his classes, read his work, received his comments on their work, or heard him ask a question at a workshop, knows that Bob is a gifted academic. But Bob's real magic lies in who he is and how he sees life," he said. "For Bob, the world has endless possibilities for the joy and fulfillment that comes from working hard. Bob shrinks life's hardships to their bare minimum, gives them their due, and always gets back to work. For Bob, the key to a happy life is remaining true to your own passion."  
The event to honor Scott was delayed by the COVID-19 pandemic, and Scott thanked his frequent co-authors Kraus and George Triantis of Stanford Law School for working "over two years and three postponements to bring us all together."
The conference, held on April 23 in Jerome L. Greene Hall, featured five sessions that offered a forward-looking approach to legal scholarship in the areas of contracts, commercial law and transactions, and other related private law topics. Presenters, which represented some of the most accomplished early- and mid-career scholars in the discipline, included Florencia Marotta-Wurgler of New York University School of Law, Cathy Hwang of University of Virginia School of Law, Matthew Jennejohn of Brigham Young University J. Reuben Clarke Law School, Adam Badawi of the University of California, Berkeley, Law School, and Julian Nyarko of Stanford Law School. Discussions were led by Ian Ayers of Yale Law School, Omri Ben-Shahar and Saul Levmore of University of Chicago Law School, Paul Mahoney of University of Virginia School of Law, and John Coates of Harvard Law School.  
Scott said he wanted the conference to showcase the "richness and creative talent of the generation of contract scholars who will be driving the conversation for the next 30 years. The day has exceeded even my most optimistic expectations. 
"I leave with great confidence that the scholarly enterprise that has sustained me . . . will continue unabated. I am in awe of your talents and secure in the knowledge that each of you will continue to deploy them in advancing the search for truth," he said. "Thank you, all."
Watch the video tribute to Robert Scott from his colleagues and fellow legal scholars.