Clinical Education Innovator Joins Faculty
Clinical Education Innovator Joins Faculty
Colleen Shanahan '03 will establish a new community justice clinic as part of Columbia Law School's expansion of its experiential learning programs.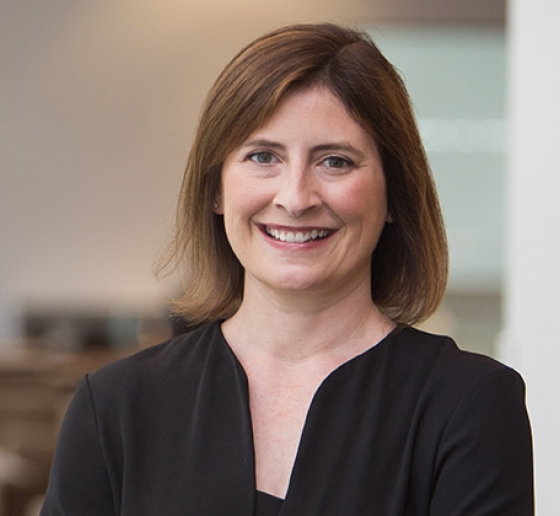 In retrospect, it seems inevitable that Colleen F. Shanahan '03 would return to Columbia Law School as a clinical professor. "When I was a 3L here, I was a student and a TA in Barbara Schatz's clinic, and it was transformational in my learning," says Shanahan, who joined the faculty on July 1. "I always said she had the best job in the world. As a clinical professor, you still get to be a lawyer and practice. You have clients and connections to the community. And you're teaching and engaged in the scholarly enterprise."
Now, 15 years after she graduated, Shanahan arrives at Columbia Law as a seasoned clinician with an impressive record of accomplishments. She is one of five new faculty members appointed this year by Gillian Lester, Dean and the Lucy G. Moses Professor of Law.
"Colleen brings to the Law School her remarkable combination of cutting-edge pedagogy and community advocacy, nuanced and reasoned intellect, deep devotion to her students, and warm collegiality," says Dean Lester.
As the founding director of the pro bono Justice Lab, a clinic at Temple University's Beasley School of Law, Shanahan and her students won the 2017 Clinical Legal Education Association's Award for Excellence in a Public Interest Case or Project.
Under her tutelage, a team of Justice Lab students issued the newsworthy report, "Double Punishment: Philadelphia's Practice of Charging Parents for Their Child's Incarceration Costs," which exposed that city's policy of billing parents for the time their children spent in juvenile detention. Her students followed up with a successful advocacy and media campaign to end the practice. Their work was chronicled by Pulitzer Prize-winning journalist Ronan Farrow in an NBC News segment.
When Shanahan graduated from Columbia Law, she says she wanted to be a lawyer "out in the world." After clerkships on the U.S. District Court for the Eastern District and U.S. Court of Appeals for the 3rd Circuit, she worked as a criminal and civil litigator at Williams & Connolly in Washington, D.C. and Hangley Aronchick Segal Pudlin & Schiller in Philadelphia.
While she was practicing full time in Philadelphia in 2009, she commuted to Columbia Law once a week to teach a Legal Practice Workshop and fell in love with teaching. So, with Schatz's encouragement, Shanahan applied for a clinical teaching fellowship at Georgetown Law where she was a supervising attorney for the Community Justice Project from 2010 to 2012 and named its director in 2012.  
In 2015, Temple lured her with an offer too good to refuse: "They said come and teach whatever your vision is of social justice and clinical education." Shanahan created the Justice Lab, a systemic advocacy clinic in which students represent community groups, nonprofit organizations, and government agencies to solve social justice problems in Philadelphia.
Shanahan plans to model her Columbia Law clinic after Justice Lab. Beginning in spring 2019, she will choose projects in New York City that students can complete in one semester, so they have total ownership of their work. "It's their client. It's their case. It's their decisions," she says. "I'm the safety net, but ownership is what converts a student to a lawyer."
Students in the clinic will address systemic justice problems with a wide range of tools including drafting new laws or policy proposals, organizing community-based advocacy campaigns, and producing innovative research. "It's not a litigation clinic," says Shanahan. "The educational goal is providing opportunities for students to see all the other things lawyers do in the world."
Shanahan's teaching philosophy is guided by two core principles. "The first is that lawyers must be society's problem solvers, and law schools should prepare students for a variety of roles and shape them as leaders of the profession and society," she says. "The second is that lawyers operate within the systems and institutions of our society, and thus our students will be creating, perpetuating, and changing them."
Shanahan's appointment is part of Columbia Law's commitment to expanding experiential learning opportunities. Students enrolled in her soon-to-be-named clinic will earn all six experiential credits the American Bar Association requires for graduation.
As a scholar, Shanahan's primary research interest is civil access to justice. "There is a community of scholars, including myself, that is trying to do the intellectual work of understanding what is happening in state civil courts and developing theories for how they should be operating," she says, noting that these courts handle 98 percent of cases in the U.S. legal system. "They serve the most vulnerable collection of people who are overwhelmingly unrepresented." Her most recent journal article on the subject, "Studying the 'New' Civil Judges" was published in the Wisconsin Law Review this year.
Shanahan is ebullient as she discusses returning to Morningside Heights. "What is incredible about coming to Columbia is that the institution is committed to leading the future of clinical legal education," she says. "I am thrilled to be able to work with extraordinarily talented students and colleagues in a city where there's a vibrant community of activists for change and creative thinking about advocacy."
###
Posted on July 2, 2018