Claudio Storelli '06: A Sporting Entrepreneur
Claudio Storelli '06: A Sporting Entrepreneur
Whether founding a company that designs and manufactures innovative soccer gear or launching new businesses in the sports apparel and digital worlds, Storelli says his Columbia Law education has helped make him a versatile, astute, and judicious CEO.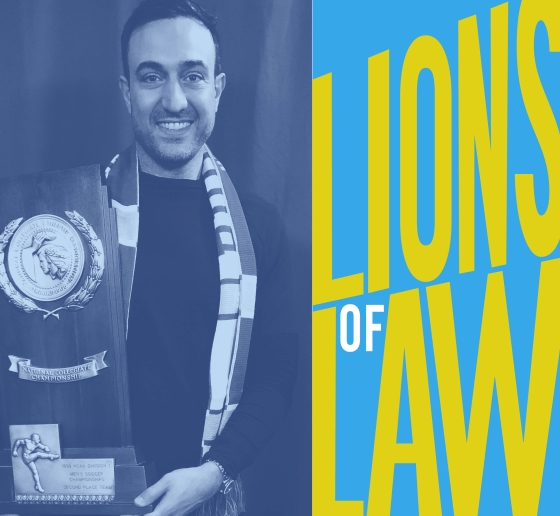 When Claudio Storelli '06 spoke at his Columbia Law School graduation, he saluted his fellow students by giving a shout out to the Admissions Office. "I said, 'Thank you for taking all the good ones and sending the rest to NYU!'" he says with a hearty laugh. "What I particularly loved about Columbia Law School was my classmates. I'm still best friends with several of them. If I look at my text messages, I can see a couple of their names right now." 
But unlike the majority of his classmates, he didn't join a Big Law firm or clerk for a judge. Having worked at corporate law firms during his 1L and 2L summers, Storelli concluded that practicing law would not "scratch my itch to create and bring groups of people together to make things happen," he says. During his 3L year, he applied to the consulting firm McKinsey & Company. "It was a Hail Mary," says Storelli, who was hired directly from Columbia. "As an entry-level consultant, you are not expected to know anything other than how to approach complex issues, break them apart, and think critically, which is what I learned at the Law School." 
Storelli spent the next four years as an engagement consultant at McKinsey, where he led teams diagnosing and solving problems in industries including sports, wealth management, private equity, and professional services. One of his projects was coordinating the first-ever benchmarking analysis of European football clubs' commercial operations. 
While playing competitive soccer on the McKinsey recreational team against high-flying investment bankers and various Wall Street types, Storelli had an epiphany: Though his fellow players wore the most expensive gear on the market, many of them still left the field with "strawberries" on their thighs, gashes on their knees, or a decided limp from being kicked in the calf. "I realized there wasn't a soccer brand that focused on protection beyond the classic shin guards," he says.
Passion Into Profits
Storelli, who was born in Italy and lived there until he was 15, cannot remember a time when he was not playing soccer. He says it's a rough sport, even for kids, and remembers his mother having to bleach the blood out of his uniforms and practice gear. "I always observed injuries as a negative aspect of the sport and something that really ruins the experience," he says. Storelli went on to play Division I soccer at Santa Clara University before transferring to Stanford University, where he earned a dual degree in philosophy and economics. 
Recognizing that the majority of the world's soccer players are children whose parents would do anything to keep them from getting hurt, Storelli saw a huge, untapped market. "I realized there was no brand or equipment that tried to solve the problem of injuries proactively. The market was all about the coolest shoes and the fanciest uniforms."
So at night and on weekends, Storelli set out to create soccer gear that would minimize injuries for both amateurs and professionals, young and old. "I thought, a little bit naively, 'How hard can it be to design a brand that will solve the problem like Under Armour did with sweat?'" he says. He partnered with Jing Liang, a McKinsey colleague with a Ph.D. in biophysics, and Tom Marchesi, who had experience designing "cool" products for skiing, snowboarding, and skateboarding, to create a cutting-edge product line.
In 2010, the team launched Storelli Sports out of Brooklyn, New York. By incorporating a polyurethane foam originally used by NASA—which has incredible impact-absorption properties while also being lightweight, breathable, and flexible—they developed products unlike anything else on the market in terms of both function and style. "Our gear looks more like something a speed racer would wear to protect him/herself from accidents," Storelli once said on the Eleven podcast.
Storelli, however, still needed a day job as they launched the business, and that same year, he moved to Bloomberg, where he served as global head of its application portal and newsfeed businesses and as chief operating officer of the company's $1 billion Enterprise Solutions division. 
In 2015, the venture capital fund of one of the top three global sports brands (which contractually he cannot name) offered to back Storelli Sports. "One of the conditions was that I had to leave my cushy corporate job to run the company full time," he says. "It was an easy decision for me because it was a dream scenario, and I've been the CEO, and now chairman, of Storelli Sports since then." 
Lead Counsel
As CEO, Storelli says he puts his legal acumen to use every day. "It makes me a lot more dangerous in negotiations, even with bigger companies, because the managers on the other end usually don't have legal training, so they have to rely on the lawyers," he says. "But when they talk to me, I already have in mind both the legal issues and what the business questions are. And so I can just be very confident; it's a useful tool to have."
He thinks about intellectual property law every day. "We look at everything from an innovation perspective and an IP lens," he says. "If a design is not patentable, it's not a defensible business line for us going forward." 
In the years since receiving funding, Storelli Sports has become a research and development arm for its corporate parent; he describes the business' mission as "solving physical problems through innovation." After finding success with soccer gear—such as the ExoShield Head Guard and BodyShield line of tops, shorts, and leggings—Storelli created Neat, a brand for the athleisure market that was born from a study of sweat management for athletes. "We make a polo that will never look sweaty if you're in the office, giving a talk, or out on a date, which is based on patented technology that we own and trademarked." His company also developed technology to make what he says will be the industry's "most supportive and comfortable sports bra" when it hits the market in the next 18 months. 
For his latest ventures, Storelli has focused on the digital space. He is a co-founder and board adviser of Taboom!, a mobile live-streaming platform for the Brazilian market. "It's very fun, very young," he says, explaining that it enables users to interact with, for example, comedy shows or dance competitions without leaving home. Another project is Stadeo, a social media space geared toward the soccer community that will initially launch in Italy. "The platform will essentially bring together super fans, famous players, and pundits in a live, real-time, audio-video interactive environment," he says.
No matter the deal or venture, Storelli says that the lessons learned and the relationships he formed at the Law School remain relevant. "It was absolutely the right stepping stone for the career I've had," he says.