From the Classroom to the Courthouse: 1Ls Take On the Brooklyn Bridge Hypothetical
From the Classroom to the Courthouse: 1Ls Take On the Brooklyn Bridge Hypothetical
Professors Eric Talley and Julian Arato collaborate with Judge Jed Rakoff to bring a classic contract law case to life.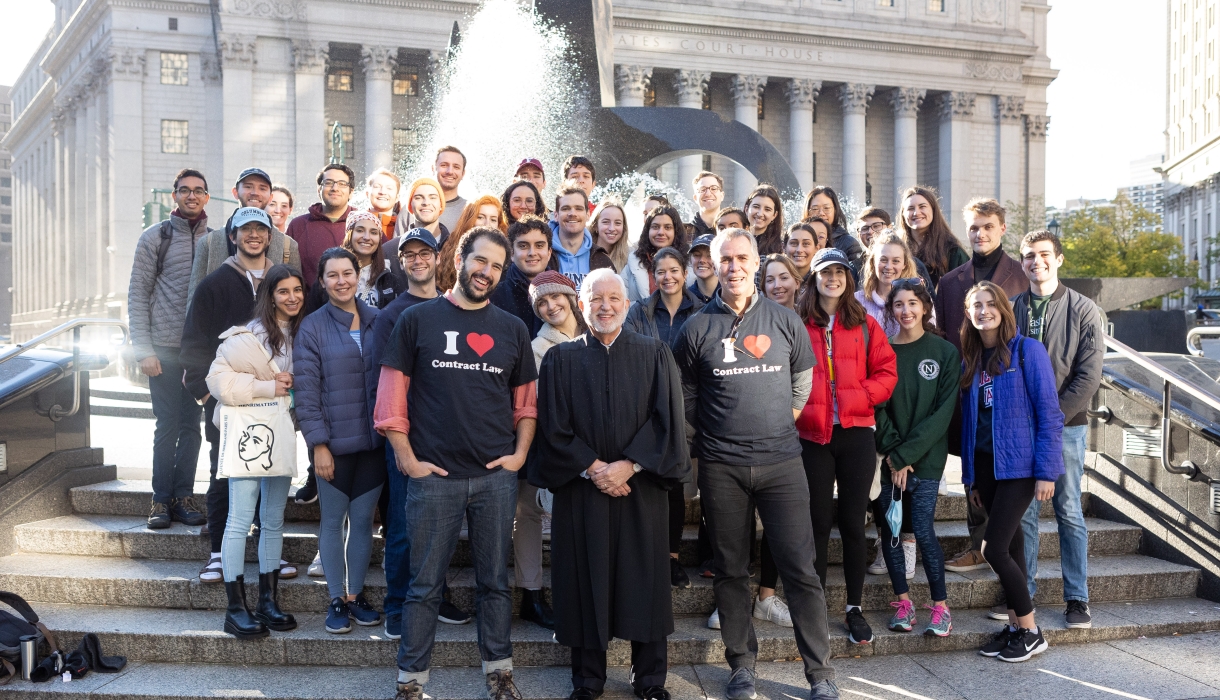 Above: Students with Judge Jed Rakoff (center), Professor Eric Talley (right), and Visiting Professor Julian Arato (left) in front of the Thurgood Marshall United States Courthouse.
Why did the 1Ls cross the Brooklyn Bridge?
To enjoy doughnuts and coffee, promised by their professors. 
Or so they thought.
On October 28, Eric Talley, Isidor and Seville Sulzbacher Professor of Law, and Visiting Professor of Law Julian Arato invited students in their Contracts classes on an early morning walk from Brooklyn to Manhattan. But midway through their jaunt across the bridge, the professors retracted the offer of breakfast. Only then did the students discover the outing was a real-life enactment of the famed Brooklyn Bridge hypothetical, featuring a surprise appearance from Judge Jed Rakoff, Columbia Law School adjunct professor and U.S. District Court Judge of the Southern District of New York.
Developed by longtime Fordham Law Professor I. Maurice Wormser CC 1906, LAW 1909, the classic unilateral contracts law example taught in law schools throughout the country goes like this: Person A offers $100 to Person B if Person B walks across the Brooklyn Bridge. When Person B is halfway across the bridge, Person A rescinds the offer. Nevertheless, Person B finishes the walk across the bridge and attempts to claim the money. If Person A refuses to pay, can Person B recover Person A in a breach of contract lawsuit? (Spoiler alert: Today, yes; but in Wormser's time, no, Talley explains.) 
In their "coffee and doughnut" version of the problem, Talley and Arato suddenly revoked their offer by email and announcement when the students were halfway across the East River.
 
"Since we have not yet completed said crossing of said bridge at the time of the sending of this email, it is elementary that you have yet to accept our offer through performance," wrote Talley and Arato. "If you want to make a federal class action of it, the courthouse can be found on the Manhattan side of the Brooklyn Bridge."
Following in the footsteps of Person B, the class completed their bridge crossing to arrive at the steps of the District Court, where Judge Rakoff awaited them to preside over a (literal) "class action." After hearing oral argument, the judge issued a ruling from the bench in favor of the students, awarding them specific performance and denying the professors' motion for a stay of judgment pending appeal.
At last, the students were able to enjoy their promised bounty: doughnuts, coffee, and an unforgettable lesson on unilateral contracts.