"Children Were Traumatized," Professor Elora Mukherjee Tells Congressional Panel
"Children Were Traumatized," Professor Elora Mukherjee Tells Congressional Panel
The director of the Columbia Law Immigrants' Rights Clinic says federal policies toward asylum-seeking families and detained migrant children are "cruel" and inhumane.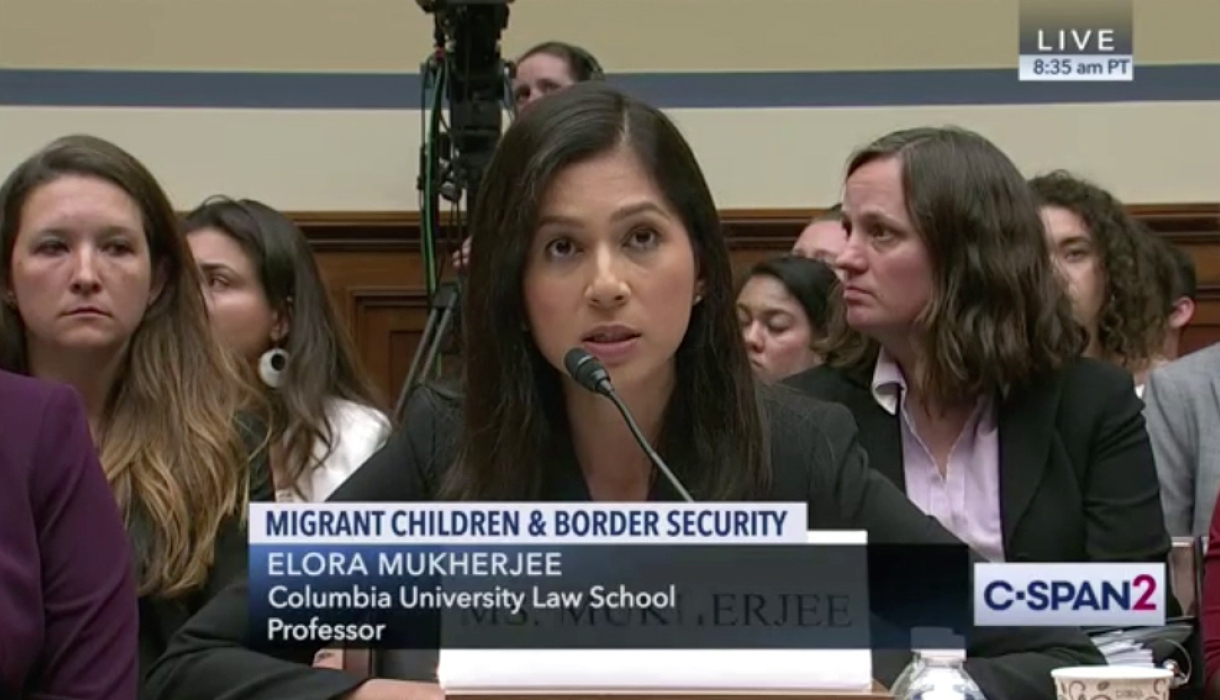 Child migrants in federal border detention are sick, dirty, frightened, separated from family members, and held as victims of a federal policy that is unlawful and ineffective, Columbia Law Professor Elora Mukherjee told Congress Friday in her testimony before the House Committee on Oversight and Reform.
"Children were hungry. Children were traumatized," Mukherjee said of her visit to a Clint, Texas, detention facility run by the U.S. Customs and Border Protection (CBP). "One 6-year-old girl, detained all alone, could only say, 'I'm scared. I'm scared. I'm scared,' over and over again. She couldn't even say her own name. I couldn't help her. I had to return her to the guards. Not being able to do anything for her broke my heart."
Sounding the Alarm
Mukherjee, the Jerome L. Greene Clinical Professor of Law and director of the Immigrants' Rights Clinic, appeared before the House panel less than a month after her firsthand reports on horrendous conditions of confinement for children in a U.S. border detention station sparked national and international media coverage. Since then, Congress has approved a $4.6 billion emergency package for humanitarian aid at the southern border, and a federal court ordered medical experts be allowed into detention centers and gave CBP two weeks to improve conditions there. 
Mukherjee described children, including babies without diapers, suffering from lice and the flu, wearing the same filthy clothes for weeks, and feeling frantic with fear for the family members they had been taken from.
"I was and I remain shaken to my core by what I witnessed at Clint," Mukherjee testified. "I do not have the words to explain to them [my own children] what is happening to children their age in America right now. Families belong together. Children should be free and with their loved ones. That is what is required by our Constitution, by our federal laws, and by our basic humanity."
Children who are separated from their families after crossing the U.S. border are being detained by CBP for weeks and months, contrary to a 72-hour limit mandated by law, Mukherjee testified. The conditions they experience and their separation from parents and other family members have traumatized the children, who range in age from infants to teenagers, some of whom have their own babies, Mukherjee said. She described a 6-year-old boy too distraught even to say his name. "Through his sobs he managed to say that he had a brother. I had to break out of my role as a lawyer. I let him sit on my lap. I wiped his tears, I wiped his nose, and I rubbed his back, and I teared up too. Here was a child the same age as my son, stuck in a hellhole."
Mukherjee said that she was later told by CBP counsel that the boy would be released and reunited with his brother.
"Why didn't that happen sooner? What would have happened if I didn't meet with him that day? What is happening to hundreds and thousands of other children like him?" Mukherjee asked the congressional panel. "Along our southern border, today and every day, children are being forcibly separated from their parents and other family members as a result of cruel policy choices made by this administration. For many of these children, the government makes little or no attempt to reunite them with their family members."
Setting Precedents to Protect Families
Mukherjee has been at the center of legal efforts on behalf of detained migrant children since 2007. She successfully sued the government on behalf of Suny Rodríguez and her child, who in 2015 were detained in Texas under harsh circumstances and threatened with separation. The Honduran family won a settlement using the Federal Tort Claims Act (FTCA), a law that allows tort claims against federal workers who commit egregious injuries in the course of their duties.
"Suny's case is the first FTCA case arising in the context of family detention and family separation. That's why it is groundbreaking," Mukherjee said in a recent interview. "Suny's case is a blueprint. It sets the groundwork for thousands of other families who have been detained, who have been threatened with separation, and who have been actually separated to hold the U.S. government accountable." Mukherjee has filed a similar complaint on behalf of Constantin Mutu, who was separated from his father at the southern border when he was 4 months old and was not reunited with his family for five months.

Watch Professor Mukherjee's C-SPAN testimony 
Related coverage:
"Let the Doctors In," by Elora Mukherjee (Slate)
"Why Detention Centers Remind Us of One of the Worst Periods in History" (The New York Times)
"Children Were Dirty, They Were Scared, and They Were Hungry" (The Atlantic)
"'There Is a Stench': Soiled Clothes and No Baths for Migrant Children at a Texas Center" (The New York Times)
# # #
Published on July 15, 2019