Camille Pannu: Bringing Business Law to Environmental Justice
Camille Pannu: Bringing Business Law to Environmental Justice
A new clinical professor brings her experience in water access to the challenge of climate change and green jobs.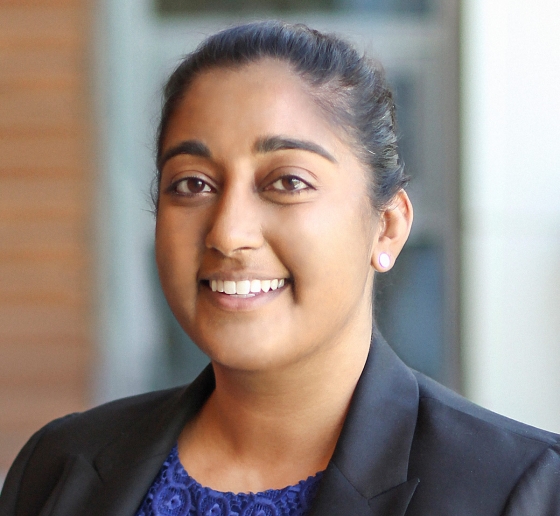 Camille Pannu's childhood in the shadow of an oil refinery fostered her ambition to work in environmental justice. In law school, a visit to a farming town where the well system was powered by nothing but a 40-year-old car engine steered her toward work on rural water access. Now Columbia Law School's new clinical professor will broaden her scope to advocate for workers affected by climate change.
Pannu joined Columbia Law School on July 1 as associate clinical professor of law. Her Just Transition Clinic, to begin in the spring of 2023, will address the disproportionate impacts of climate change on low-income communities of color, with a special focus on helping workers transition to green jobs. 
Trained as a transactional lawyer, Pannu describes the "just transition" movement as a grassroots alliance of labor unions and environmental justice advocates. "Our work is going to be really interesting because it's going to be at the intersection of environmental law and transactional and land use law," she says. The movement, she adds, has been given new impetus by the Democratic administration in Washington, but it is also especially vibrant in New York—enough so that it drew her across the country from her lifelong home on the West Coast.
Possible clinic projects include addressing urban heat islands, disaster planning for storm surges (like the one from superstorm Sandy), and developing strategies to ensure that retrofitting buildings for energy efficiency doesn't increase costs to or displace low-income tenants. 
In other words, "big picture questions," Pannu says. "How does or doesn't our economy contribute to climate change? And how could we reorganize the economy in a way that is more just to communities that often bear all the risks and very rarely get any kind of benefits?"
The environmental justice movement needs transactional lawyers, not just litigators, Pannu says. 
"Business law has so many important tools for how people come together to move resources and make a difference—which is really what a lot of social justice advocacy is about." Relying solely on lawsuits to advance environmental goals is "reactive and usually happens after something bad has happened," she says. It also excludes members of the affected community. "Once you litigate or go to administrative rulemaking, there aren't really good opportunities for community involvement. The protagonist becomes a lawyer. One of the benefits of transactional law is that the community still gets to be the protagonist and the lawyer is a facilitator. 
"The fun thing is you also get to be really creative," she says. "This is an area of law practice that is not very old and so there's a lot of innovation happening."
Finding an Environmental Focus
Pannu comes to Columbia from the University of California, Irvine School of Law, where she was co-director of the Community and Economic Development Clinic. She previously founded the Aoki Water Justice Clinic at University of California, Davis School of Law.
Growing up in Richmond, California, the location of a huge oil refinery, Pannu became acutely aware that "access to a healthy environment plays such a massive role in your life outcomes," she says. "Whether you drink water with lead in it is going to have a permanent effect on your life as a child. Whether you have childhood asthma at the age of 2, just from breathing the air where you live, shortens your life by over a decade. For me, that environmental justice nexus became very important. So when I went to law school, I went to law school to be an environmental justice attorney."
She had envisioned herself working in a city like Richmond, but a trip to California's Central Valley—a place she thought she knew well—showed her otherwise. There she visited Fairmead, a rural unincorporated town that was running its communal well with the motor from a vintage Cadillac engine; the widespread lack of safe water access in Fairmead and other poor, rural Latinx and Black communities shocked her. 
"Fairmead turned me into a rural lawyer," she says. "Prior to that, I would have told you I planned to work in inner city communities. I thought I would go back to my hometown." 
Instead, Pannu spent two years after law school as an Equal Justice Works Fellow, providing transactional legal services to rural groups seeking to establish "green collar" worker cooperatives, community-owned enterprises, and essential infrastructure projects.
She then clerked for Judge Stefan R. Underhill on the U.S. District Court for the District of Connecticut and Judge Richard A. Paez on the U.S. Court of Appeals for the 9th Circuit—an experience she calls rewarding but "like taking a law school final for 10 hours every day."
"I needed to do a job where I still represented clients and still had that advocacy and connection to the community that I lived in." 
She had also always been attracted to teaching, especially clinical work. "It's such an incredible opportunity to get to work with people who have fresh minds, who are not jaded, and who are really excited about being lawyers, on important projects serving communities that otherwise would have no legal services. [I get] to train and become colleagues with a bunch of really cool baby lawyers."
Pannu's scholarship includes essays that outline the governance structure of California water districts that disadvantage low income rural communities and argue for new legal strategies to provide clean drinking water to remote areas. The law should be informed by "lived experiences of people," says Pannu, who has published articles in journals including the California Law Review. "The benefit of publishing and of legal research is to lift up what's working and also to identify problems that policymakers might not see on the ground."
Heading East
"Excited and a little nervous" about moving to New York, Pannu plans to arrive in the city via a cross-country road trip, visiting family along the way. She's bringing her electric guitar, her dog, and a love of live music, poetry, and the Chivas Guadalajara soccer team.  
Columbia University's new Climate School underscored for Pannu the importance the university places on environmental justice work. The Law School's location in New York means "an opportunity for students to engage in policy work or advocacy that goes beyond the city and statehouse to national and international [impact]." 
"Columbia is so dynamic, and it's so interested in increasing its community engagement. The clinical and experiential education program is really on the move right now. And it has such a history of phenomenal clinical professors," Pannu says. 
"Columbia has done amazing work in immigration law. It's doing amazing work in juvenile justice and in the criminal law system," she says. "One of the things that's always been so attractive to me about Columbia is that it values practice and has always had a lot of practitioners on its faculty. That engagement with the legal profession makes Columbia very unique."