Antonious Porch '97: The Making of a Chief Diversity Officer
Antonious Porch '97: The Making of a Chief Diversity Officer
The general counsel of SoundCloud embraces an expansive concept of diversity, equity, and inclusion for the global open-platform audio service.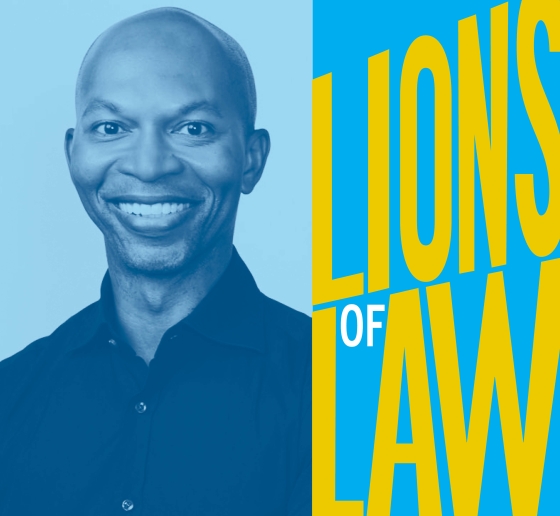 Antonious Porch '97 has a ready answer when anyone unfamiliar with SoundCloud asks him to describe his company. "We are effectively YouTube without video," says Porch. "We have about 40 million creators—independent artists, DJs, and others who upload to our platform—and we have a library of audio content with more than 320 million tracks."
Porch, SoundCloud's affable and ambitious general counsel, took on the additional role of chief diversity officer (CDO) in 2020 in addition to his existing responsibilities. His deep-seated commitment to diversity, equity, and inclusion (DEI) is reflected in SoundCloud's ethos. Recognized as an LGBTQ+ Power Player by PoliticsNY and named to The Legal 500 GC Powerlist, Porch, who is based in New York, frequently visits SoundCloud's Berlin headquarters, where employers and visitors are welcomed by a large Progress Pride Flag in the lobby. "From the moment you walk in, you know you are in a place where you can be yourself—it's Pride here every day," says Porch.
Porch describes SoundCloud as an open-minded, forward-thinking company that has long supported unconscious bias training and employee diversity resource groups (DRGs) that embrace and celebrate the diversity of its workforce. (The company's QueerClouders DRG is open to anyone who wants to join regardless of how they identify; it is both a social group for LGBTQIA-identifying employees and a group that represents queer issues inside and outside the company.) Porch explains that the privately held company chose Berlin as its headquarters because its Swedish founders sought a city that is "progressive, artistic, and welcoming of diversity." He fondly likens Berlin to a favorite New York City neighborhood. "It's the East Village of Europe," he says.
Nonetheless, when the United States and other countries faced a racial reckoning in 2020—sparked after a white police officer in Minneapolis killed George Floyd, an unarmed Black man—SoundCloud resolved to reexamine its corporate culture. "We decided to level set and see what other companies were doing in terms of DEI in this era, and to incorporate that and formalize the function," says Porch. "My CEO turned to me and said, 'I can think of no better person to help lead us on this journey.'"
The Breadth of DEI
Porch's first move as CDO was to engage a consultant to help him create a road map for his new role. He hired DEI managers for SoundCloud's Berlin and Los Angeles offices, and the three of them work as a team on relevant issues, beginning with personnel. "Obviously, our employees are our most important resource," says Porch, who at one time was also head of SoundCloud's people and culture (aka HR) department. "It's important to ensure that people can bring their whole selves to work and feel like there is a place for them, a voice for them, a path for them in terms of their careers." He notes that people of color and LGBTQ+ individuals are the majority in SoundCloud's C-suite.
But DEI for Porch is also about growing representation among SoundCloud's free users and paid subscribers. "How do we reach artists and new communities and subgenres and subcommunities, and how do we deputize artists as ambassadors for our values and DEI?" he says. "I work with our product and engineering team. I work with our music and marketing team, and of course our HR team, and then I report directly to the CEO."
Meanwhile, Porch manages an in-house legal team handling diverse responsibilities, such as content licensing with major music labels, platform-related data protection, subscriptions, and e-commerce issues. Additionally, some team members handle corporate matters, as Porch acts as the de facto secretary of the board. In cases requiring external legal counsel, Porch prioritizes firms that can provide information about the diversity of lawyers involved in SoundCloud's affairs.
Porch also has a group of copyright and trust-and-safety experts in Berlin, London, and New York who are on call 24/7. "They are fighting the bad guys to keep our platform safe and secure because anyone anywhere in the world can upload content," he says. "And that naturally means there can be a fair amount of objectionable content, infringing content, terrorist content, racist rock, and other things my team has to deal with."

A Media Maven
As an undergraduate at Yale, Porch was a newscaster and the president and general manager of the campus radio station. He got his first taste of what media lawyers do when the commercially licensed college station had some issues with the Federal Communications Commission and hired a law firm in Washington, D.C., to resolve them. "I remember thinking it was super cool to have the ability to shape the rules and regulations around media," he says.
The only law school Porch applied to was Columbia because he wanted to be in the media capital of the world. The summer between Yale and Columbia, he had a paid fellowship/internship at ABC supported by the International Radio and Television Society (now the IRTS Foundation). "I worked in the standards and practices department, which helped to vet commercials according to the prevailing law and standards and also read scripts for soaps and pilots." He delighted in meeting one of his heroes, the cosmopolitan evening news anchor Peter Jennings. "That summer was the perfect bridge from college to law school because it solidified why I was going to Columbia," he says.
Membership in the Black Law Students Association (BLSA) and OutLaws was a formative part of Porch's experience at the Law School, helping create lifelong connections, including with his BLSA 3L mentor, Elliott Peters '95. A few years ago, Porch had the opportunity to mentor Peters in return when he hired him to be his number two at SoundCloud. "We got to build on a connection forged at Columbia Law School," says Porch. (Peters left SoundCloud after a couple of years to be senior vice president, global business, for the independent music company Empire.)
He also took a course on law and sexuality co-taught by Kendall Thomas, Nash Professor of Law, and Evan Wolfson, the gay rights advocate and a leader of the marriage equality movement. "I remember having spirited conversations and debates with both of them," says Porch, who has considered himself an LGBTQ+ activist since his college days. "I have always been very out and committed to ensuring that others can be out, and our rights are recognized." While at Columbia, Porch met his partner of 23 years, Christopher Barry '97 SIPA, '99 BUS.
Big Law and Beyond
After graduation, Porch spent nearly two years as an associate at Latham & Watkins and then moved to Morrison Foerster, where he worked for John F. Delaney '89 (now a partner in Perkins Coie's technology transactions and privacy group). Delaney was then representing start-ups as New York's "Silicon Alley" took off. "It was an awesome opportunity for a young associate to get direct client access and experience," he says. "It was phenomenal because, largely, the rules of the Internet and digital world were developing. The job connected to all my interests and the whole reason I went to Columbia in the first place."
 "I have always been very out and committed to ensuring that others can be out, and our rights are recognized."
However, Porch really wanted to be a media insider. He spent a dozen years at Nickelodeon, where he was senior vice president and deputy general counsel, and served as general counsel at Shazam before moving to SoundCloud.
"I have enjoyed a career where I've always been out," says Porch. Beyond the office, he fought to overturn the U.S. Defense Department's "don't ask, don't tell" policy as a volunteer for the Servicemembers Legal Defense Network (which became OutServe-SLDN and then merged with another organization to become the Modern Military Association of America). He also serves on the boards of the IRTS Foundation, whose mission is to increase diversity in the media industry, and GLAAD, the LGBTQ+ media advocacy organization. "I've always felt welcomed and accepted, and found mentors who identify as LGBTQ+ and have taken me under their wings, and my career has benefited from that openness."
Every June, for Pride Month, SoundCloud redoubles its commitment to the LGBTQ+ community, but "it's not a one-and-done thing for us," says Porch. "We really try to amplify the voices of queer creators and artists on our platforms all year round. We are always looking for ways to elevate these creators, listeners, the whole community. It's who we are. Diversity is in our DNA."