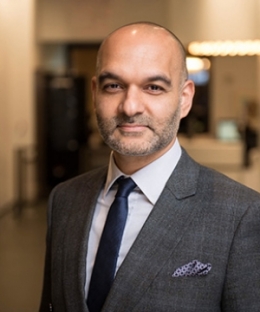 A. Kayum Ahmed serves as Division Director at the Open Society Foundations (OSF) where he leads the global portfolio on access to medicines and innovation at the Public Health Program based in New York. 
Before joining OSF, Kayum served as Chief Executive Officer of the South African Human Rights Commission from 2010 to 2015. During this period, he led a team of 178 colleagues to monitor, protect and promote human rights in South Africa, and oversaw the management of nearly 45,000 human rights cases. These cases include access to socio-economic rights such as water, healthcare and education, as well as cases pertaining to discrimination based on race, sexual orientation and disability among others.
Kayum is the recipient of various awards, fellowships and scholarships including the National Academy of Education/Spencer Fellowship, the Nelson Mandela Scholarship (Leiden University), Commonwealth Scholarship (University of Oxford), the Hubert Humphrey Fellowship, the Aspen Institute Africa Leadership Initiative Fellowship, and the Mail & Guardian Top 200 Young South Africans Award. He has taught several classes and delivered guest lectures at institutions across the world including Princeton University, Duke University, the University of Oxford, the University of Cape Town, and the University of the Witwatersrand.
He holds a Ph.D. in education from Columbia University as well as various degrees in law from the universities of Oxford (MS.t), Cape Town (LL.B.), and Leiden (LL.M.). In addition, he has degrees in anthropology (M.A.) and theology (B.A. Hons). Kayum has several interdisciplinary research interests and has published various papers on human rights, radical student movements, human rights education, and decoloniality. 
Just before relocating to New York and in anticipation of his existential (read: mid-life) crisis, Kayum and his amazing wife travelled across the African continent from Cairo to Cape Town over nearly 100 days.