Section 001 Information
Instructors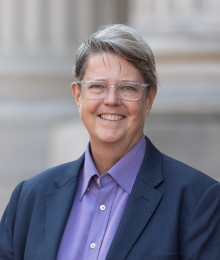 Katherine M. Franke
James L. Dohr Professor of Law
Section Description
This course will provide an introduction to the concrete legal contexts in which issues of gender and justice have been articulated, disputed and hesitatingly, if not provisionally, resolved. Through these readings we will explore the multiple ways in which the law has contended with sexual difference, gender-based stereotypes, sexuality/sexual orientation, gender identity, and the meaning of equality in a range of contexts. So too, we will discuss how feminist theorists have thought about sex, gender and sexuality in understanding and critiquing our legal system and its norms.

For each class a small group (3-4) of students will serve as TAs, taking responsibility with Professor Franke for the discussion of the topic that week. This responsibility will include: i) meeting with Professor Franke and the small group before class to prepare the structure of the class; ii) engaging critical questions that Professor Franke will have distributed in advance relating to the week's topic; iii) assisting in running the class discussion; and iv) each student in the small group writing a 5-page (double spaced) paper that they will share with the class by 5:00pm the Friday before the class (by posting in the Discussion link on Courseworks), and in which they critically address the day's topic.

Students will be evaluated 20% on class participation over the course of the semester; 40% on their role as TA on their assigned day; and 40% on final paper.
School Year & Semester

Spring 2023
Location

JGH 102a
Schedule

Class meets on

4:20 pm - 6:10 pm
Points

2
Method of Evaluation

Paper and Exam
J.D Writing Credit?

Minor (automatic)
Learning Outcomes
Primary

Gain capacity to critically evaluate the meaning of "gender justice" in complex settings.
Gain familiarity with the evolution of "gender justice" over the last 50 years, appreciating that there are competing points of view.
Secondary

Attend to the limits or double-binds of any proposed remedy to an identified problem of gender injustice.
Course Limitations
Instructor Pre-requisites

None
Instructor Co-Requisites

None
Recommended Courses

None
Other Limitations

Law students only.