We Need an Insider Trading Law, Bharara Task Force Says
We Need an Insider Trading Law, Bharara Task Force Says
Task force members John Coffee Jr. and Judge Jed S. Rakoff say a new statute would end conflicting criteria for insider trading prosecutions.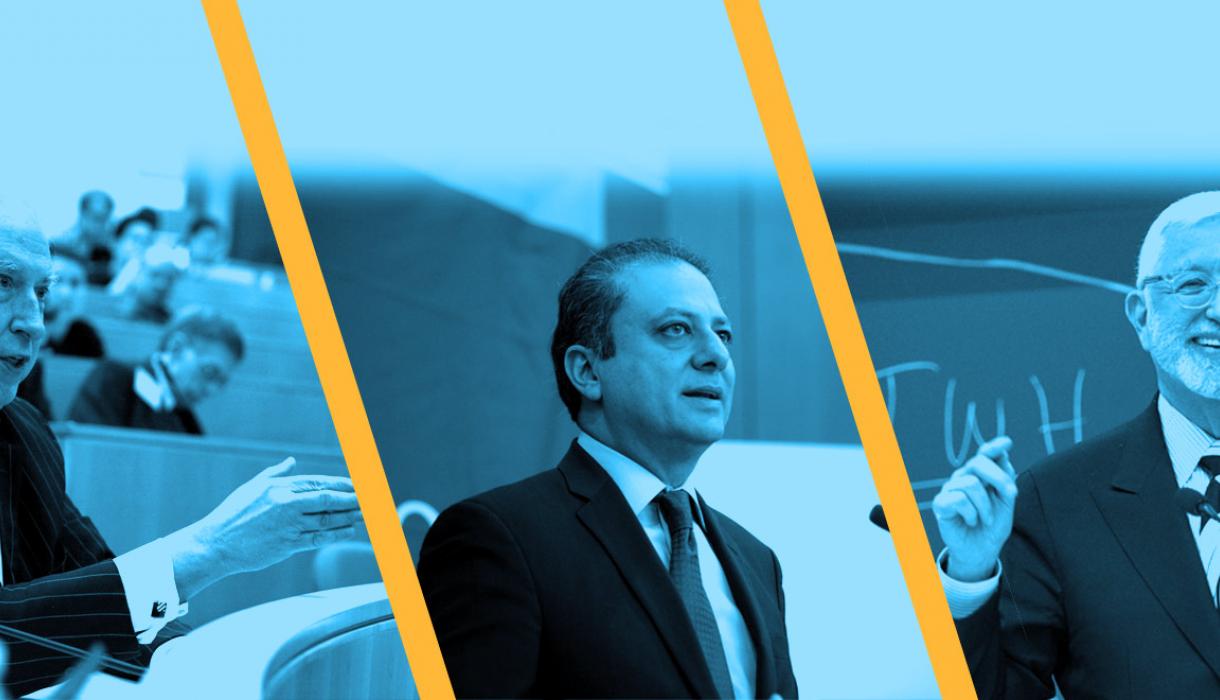 A panel of experts that includes Law School faculty members and former U.S. Attorney Preet Bharara '93 is calling on Congress to pass an insider trading law, saying that conflicting decisions from different judicial circuits have caused confusion about just what constitutes the crime. 
John C. Coffee Jr., the Adolf A. Berle Professor of Law, and adjunct professor Judge Jed S. Rakoff of the U.S. Southern District of New York serve on the eight-member task force, formed by Bharara in 2018. During his tenure as U.S. attorney from 2009 to 2017, Bharara aggressively prosecuted financial crimes, including insider trading.
"Insider trading is entirely a judge-made common-law crime. And that's always a mess," Coffee says. 
Coffee is an expert on securities law, and Rakoff is a leading jurist on corporate and securities-related crime. Together, they teach a course on white-collar crime each year that includes a discussion with Foster Winans, a former Wall Street Journal columnist convicted in 1985 of insider trading for sharing advance copies of his column. 
The task force was announced by Bharara in October 2018 in a New York Times op-ed written with then-SEC commissioner Robert Jackson. The pair called current insider trading laws "ambiguous" and "hopelessly out of date." In addition to Coffee and Rakoff, the task force members include other former federal prosecutors and securities regulators.
From Case Law to Statute 
The task force's report recommends that a federal statute focus on insider trading involving information that is "wrongfully" obtained. Because there currently is no statute that explicitly forbids insider trading, current cases rely on prohibitions of fraud, manipulation, and deception in a securities exchange law that dates to 1934. Those concepts don't adequately cover cases where the inside information was obtained by, for instance, computer hacking, Coffee says. "Theft, extortion, computer hacking—all those things are different than breach of fiduciary duty," he says. Describing the information as "wrongfully" obtained would broaden the statute's usefulness.  
An insider trading statute should also drop any requirement to show that the person providing the wrongfully obtained tip reaped a personal benefit from doing so, the report says. Coffee and Rakoff have long opposed the "personal benefit" standard in insider trading cases. Outlined in the 2014
 United States v. Newman decision of the 2nd Circuit Court of Appeals, the requirement states that a trading tip must have been disclosed in exchange for a personal benefit and that those receiving the information must have known about the benefit in order to be prosecuted.  
The personal benefit requirement "adds an element that is nowhere else in the law of theft," Rakoff says. For example, a person driving a hot car is guilty of receiving stolen goods whether or not they paid the person who hotwired it. "I see no reason why it should be any different in the case of theft of insider information," Rakoff adds. 
Coffee also points out that the norms of Wall Street often don't involve anything as direct as a payoff to the tipper. Instead, payback is more likely to come in the form of a reciprocal insider tip later on. 
Overcoming the Reluctance to Legislate
The Newman decision had significant consequences: Bharara threw out seven insider trading indictments in 2015. A 2016 Supreme Court decision, Salman v. United States, partly overturned Newman, determining that a personal benefit isn't necessary if the tipster is a friend or relation of the person receiving the information.
The rulings and reversals have made the parameters of insider trading even murkier and the need for a statute more obvious, the task force members argue. 
Before the Newman case, Rakoff says, the Securities and Exchange Commission and the Department of Justice saw insider-trading case law developing in favor of the prosecution and as a result were reluctant to press for a specific definition of the crime that would inevitably create loopholes. 
Federal agencies "saw for the first time that this judge-made law could cut both ways," Rakoff says. "So I think they are much more psychologically ready for statutory intervention than they have been in the past."
A statute would also make it easier for jurisdictions beyond New York to pursue insider trading cases, Coffee says. 
But the report puts the task force "on a collision course" with Congress, Coffee says. In December 2019, the House of Representatives passed a bill to prohibit insider trading. But in a last-minute change, the bill included the personal benefit requirement for prosecution. 
Coffee helped draft the bill, sponsored by Rep. Jim Himes (D-Ct.), and testified about the necessity of an insider trading law, but was dismayed that the House did not eliminate the personal benefit requirement. "It was a poor judgment and leaves us with an inadequate test that freezes the law in a way that insulates" people who benefit from insider trading tips, Coffee says.
While task force members quickly agreed to recommend dropping the personal benefit requirement, Coffee says, the group did not recommend that a new insider trading law be used as the exclusive statute when prosecuting trading on wrongfully obtained information. Wire fraud, mail fraud, and securities fraud statutes can also be used.
Nonetheless, a specific insider trading statute is necessary, according to the task force. "Defining crime is the purview of Congressional legislators," Rakoff says. "We just can't continue to let this be judge-made law. It's got to be clarified and made statutory."