Visualizing Violence: Bayeté Ross Smith Exhibition Opens at Jerome L. Greene Hall
Visualizing Violence: Bayeté Ross Smith Exhibition Opens at Jerome L. Greene Hall
Columbia Law School's inaugural artist-in-residence uses photography, immersive video, and new media to raise consciousness about racial injustice. Bayeté Ross Smith plans to incorporate members of the community into his art for upcoming shows during his residency.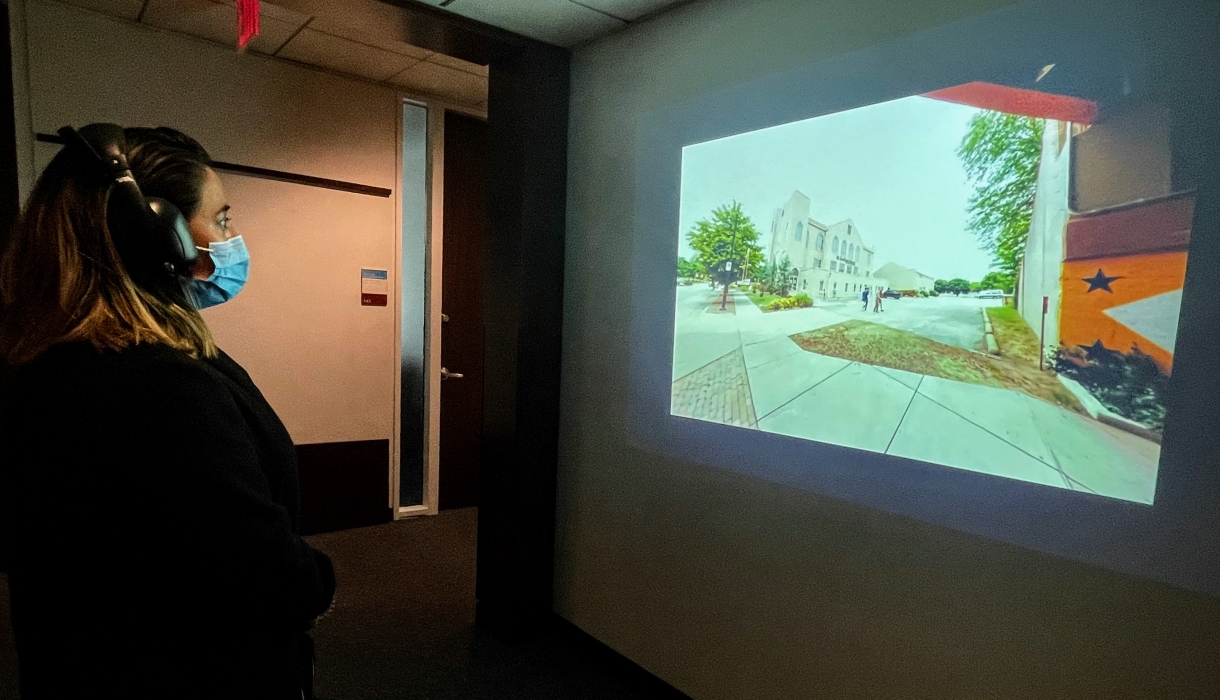 Pictured: A visitor engages with a work from Ross Smith's "Red Summers" series.
On the paneled walls of Jerome L. Greene Hall, several portraits by artist-in-residence Bayeté Ross Smith command the attention of students, faculty, and staff. These black-and-white photographs of anonymous men and women, printed on replicas of shooting range targets that the artist has riddled with actual bullet holes, stand in sharp contrast to the traditional oil paintings of distinguished alumni and faculty displayed throughout the Law School's main building.
The photographs are from Taking AIM, Ross Smith's ongoing project that examines who is considered a threat and who is considered a victim, and how that dichotomy affects the likelihood of someone becoming involved in interpersonal violence. "I am very curious about how identity is a set of criteria and a performance," he says. "I'm very curious about how it impacts our perception of one another . . . and where and when we allow that to create certain biases or also create certain blind spots." Taking AIM also raises tough questions about the invisible, shifting line that differentiates acceptable recreational violence from criminalized reprehensible violence.
The Columbia Law School community had the opportunity to hear Ross Smith discuss the philosophy behind Taking AIM and the immersive video series Red Summers at an online event, "Visualizing Violence: Art Looks @ the Law & History of Implicit Bias," on February 24. (Works from both series are on view as part of the exhibition at Jerome L. Greene Hall through the end of the semester.) Kendall Thomas, Nash Professor of Law and faculty co-chair of the artist-in-residence selection committee, moderated a conversation between Ross Smith and Jamal Joseph, professor of professional practice at Columbia University School of the Arts. 
Columbia Law established the artist-in-residence program last year as a way to examine and broaden how the institution honors its history and values, while also celebrating its diversity. Ross Smith, who lives in Harlem and worked as a photojournalist for newspapers including the Charlotte Observer and the Philadelphia Inquirer before becoming an artist, was chosen from more than 400 applicants. He believes his work is especially relevant for law students. "A lot of times people with a legal education go into policymaking professions that dictate laws that concern criminal justice," he says. "So how can we be more thoughtful about these issues of identity perception and corrective and collective history as we are training our legal professionals?"
In Red Summers, for example, Ross Smith documents and explores the history and legacy of collective racial traumas. The series of 360-degree virtual reality immersive films looks at racialized domestic terrorism attacks by white mobs against seven African American communities in the early 20th century, including Houston in 1917, Omaha in 1919, and Tulsa in 1921. 
"A lot of the social issues that led to that period of violence 100 years ago are very similar to the issues we're dealing with today that are polarizing the country," says Ross Smith, citing the Capitol insurrection on January 6, 2021, and the unprovoked killings of Black people such as Ahmaud Arbery and Breonna Taylor. Ross Smith also sees a parallel between the Great Migration, when Black people who moved from the South to northern cities were perceived as foreigners in their own country, and today's backlash against immigrants in the United States as well as native-born Americans with immigrant parents. "There's also fear of Black economic prosperity and a lot of fear among white Americans that they will lose their place in the social hierarchy," he says.
The Red Summers videos combine footage that Ross Smith filmed at the sites of these historic attacks, with archival images of the same locations. "So you're standing on a corner in Chicago [and] you're able to look back in time and see images of what was referred to as 'rioting' in Chicago in 1919, which was actually a form of domestic terrorism," he explains. "The same would be true of any of the other locations, so [the series] allows people to feel they're on a site, even if they cannot travel to these locations, and experience the fact that we're living on top of a history that's unresolved." To provide more context, the films include narration from historians who Ross Smith interviewed. Exhibition visitors can listen through headphones provided near the monitors.
The films are also indirectly about the law. "In each of the incidents in Red Summers, there was a legal response," he says. "In most cases, the legal response was very inadequate to address what happened, and therefore people thought they could do this again and get away with it."
For his next project as artist-in-residence, Ross Smith plans to photograph members of the Law School community for his Our Kind of People series. Volunteers will be photographed in three to six different outfits of their choosing that show who they are in different aspects of their lives (for example, at work, at a party, at the gym). "The idea is to ask, 'How do we see the same person differently depending on what they are wearing and how does that intersect with their race and gender?'" he says. "I really want to experiment with the idea of the audience being the subjects, particularly in a law school setting, and seeing what kind of impact and conversation that can create."
Ross Smith's exhibition is open to members of the Columbia Law community and on display through the end of the spring semester. Learn more about the artist and the works featured in the exhibition.