Before the Violence Starts: Early Intervention Is Key to Preventing Atrocities
Before the Violence Starts: Early Intervention Is Key to Preventing Atrocities
Ivan Šimonović, who served as the United Nations Assistant Secretary-General of Human Rights and the Special Adviser on the Responsibility to Protect, spoke at the Law School on November 20 at a talk hosted by the Center on Global Governance.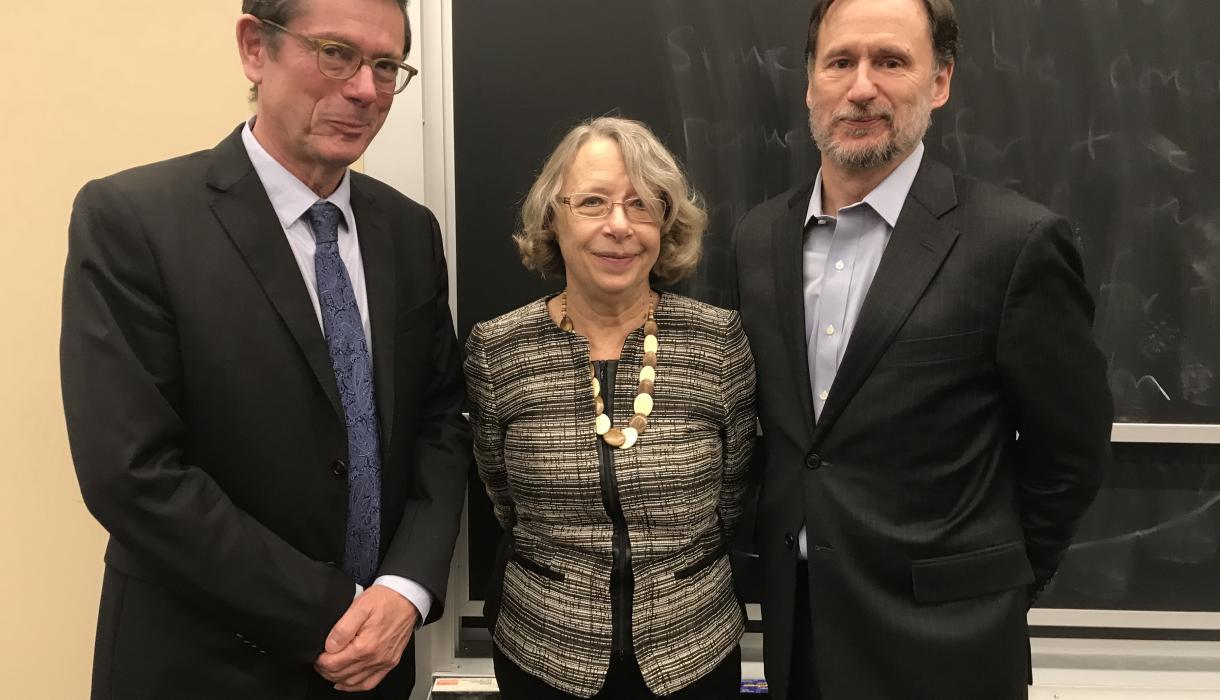 The risk of atrocities is higher than ever, but such crimes are preventable if intervention comes early enough, said diplomat Ivan Šimonović, who has led United Nations (U.N.) efforts to protect human rights.           
Šimonović, the Permanent Representative of Croatia to the U.N. and a visiting senior research scholar at the School of International and Public Affairs, is a leader of the Atrocity Prevention Research Project, sponsored in part by the Columbia Global Policy Initiative. The project has examined case studies from eight nations in Africa and Asia to identify success or failure in prevention of atrocities—that is, violations of international law including genocide, war crimes, and crimes against humanity (systematic attacks on civilians). A forthcoming report from the project will cover recommendations on effective strategies and is intended to provide guidelines for practitioners.
Human rights have increasingly been under attack internationally, and "the danger of atrocity crimes is on the rise," Šimonović said at the talk on November 20, hosted by the Center on Global Governance.
A forthcoming report from the Atrocity Prevention Research Project will cover recommendations on effective strategies and is intended to provide guidelines for practitioners.
"After decades of human rights successes and increases in protection of human rights in the last couple of years, we are facing stagnation or even pushback," Šimonović said. In deadly conflicts, an increasing percentage of those killed are civilians, a sign that attacks were not selective or that civilians were deliberately targeted.  
To prevent such crimes, organizations like the U.N. must focus on early warning signs, such as governments' barring certain religious or ethnic groups from the military and police or widespread use of stigmatizing language about an ethnic group by the media or government, Šimonović said. International organizations must also act promptly. "If you consider the red flag to be a certain amount of deaths or rapes, then it's too late. The avalanche is unstoppable."
The case studies also show that holding leaders personally accountable is key. In Côte d'Ivoire, Šimonović said, the U.N. Commission on Human Rights sent personal letters to four political and military leaders outlining their responsibilities to prevent war crimes, under international law. All four responded with information on orders they had issued about avoiding such crimes.
Telling leaders about individual accountability for atrocity crimes has an effect, Šimonović said. "It is important that the people who are actors are aware that they can be personally held responsible. They protect themselves. They may not be completely sincere, but at the least, they would like to have a file that says that crimes, if committed against civilians, will be punished." That affirmative step then makes its way down the hierarchy. "When army generals see that the ministers and president have their files, they want to have files of their own. Then it's colonels and then it's captains. At the end of the day, it does influence the behavior of troops on the ground."
Šimonović also called on the U.N. to put atrocity prevention at the forefront of its efforts, citing the 2013 Human Rights Up Front initiative from then-Secretary General Ban Ki-moon, which tried to integrate the mission to prevent atrocities into all U.N. efforts—not an easy task. In the case of Myanmar, Šimonović said, the international community prioritized supporting a government attempting to emerge from military dictatorship—ignoring the warning signs of the coming atrocities against Rohingya Muslims.
Political rivalry among U.N. Security Council members has also thwarted efforts: Russia and China have both vetoed resolutions meant to address crimes against humanity and war crimes committed in Syria. Šimonović highlighted a proposal made by France, one of the five permanent members of the Security Council, under which the permanent members would agree not to use their veto in cases of mass atrocities. In addition, some U.N. member states now incorporate a risk assessment for atrocity crimes as part of their Universal Periodic Review on the status of human rights.
"Atrocity crimes are preventable," Šimonović said, but only if it is a priority of the U.N., if leadership is held accountable, and if intervention happens quickly. "If we read early warning signs fast enough, and if we take some measures, the likelihood of success grows. And the more we try, the better the results."
Watch Šimonović address the "Making Atrocity Prevention Policy Effective" conference hosted by the Columbia Global Initiative in March 2018.
Learn more about the Center on Global Governance.
# # #
Published November 25, 2019