Veteran Practitioner Named Head of Center for Japanese Legal Studies
Veteran Practitioner Named Head of Center for Japanese Legal Studies
Nobuhisa "Nobu" Ishizuka CC'82, LAW'86, former managing partner of Skadden's Tokyo office, is the new executive director of the center.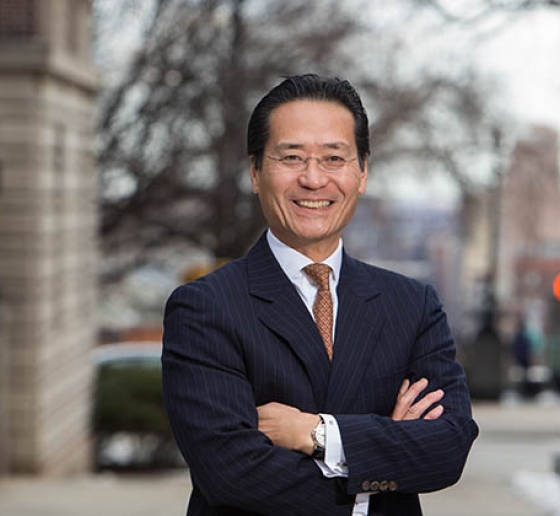 As a student at Columbia Law School, Nobuhisa "Nobu" Ishizuka '86 benefitted from the expertise of Japanese legal studies scholars Walter Gellhorn '31, who helped write the Japanese Constitution after World War II, and Michael Young, who went on to become president of three universities after working at the U.S. Department of State. Now, more than 30 years later, Ishizuka is following in their footsteps, taking over as executive director of the Center for Japanese Legal Studies, which Gellhorn and Young helped found in 1980.
He is the third executive director of the center, which was the first, and remains the only, center in the country to focus exclusively on Japanese law.
"Nobu is a Columbian through and through," said Gillian Lester, Columbia Law School's Dean and the Lucy G. Moses Professor of Law, in announcing the appointment. "And with more than 30 years' experience as a practitioner, he will ensure the continued vitality of the center, which has long been an intellectual hub for legal exchange between the United States and Japan."
Indeed, the role closes a circle for Ishizuka, a 1982 graduate of Columbia College. The position "immediately struck me as something that made a lot of sense, given my history with the school, with the university, and as an alumnus," said Ishizuka, who concentrated in East Asian Studies and rowed crew at Columbia College.
After graduating from the Law School, where he served as senior editor of the Columbia Law Review, Ishizuka worked as an intern at a Japanese firm before returning to the United States to, as he says, "build up my substantive legal skills." He worked at White & Case and Morgan, Lewis & Bockius, handling corporate work, including debt and equity financings, and then turned his focus to mergers and acquisitions.
In 1999 he moved to Tokyo and in 2000 was hired to lead the office of Skadden, Arps, Slate, Meagher, & Flom. As the office's managing partner, he worked with foreign clients in Japan and Japanese clients in other markets.
When he learned the center was looking for a new director, he said he jumped at the chance to apply. "I've been through pretty much all the cycles in the market in the past 30 years," he said. "I thought this was a great opportunity to come back and take things in a different direction."  
Ishizuka has been an active alumnus, serving as a member of the Boards of Visitors of both Columbia Law School and Columbia College. Selected after an exhaustive international search, Ishizuka assumed his new role at the Center for Japanese Legal Studies in early February.
###
Published on March 21, 2018