Two Distinguished Alumni Are Honored for Excellence
Two Distinguished Alumni Are Honored for Excellence
Antony Blinken '88 and Alison Ressler '83 receive Columbia Law School's Medal for Excellence during the 2016 Winter Luncheon held at the Waldorf Astoria Hotel.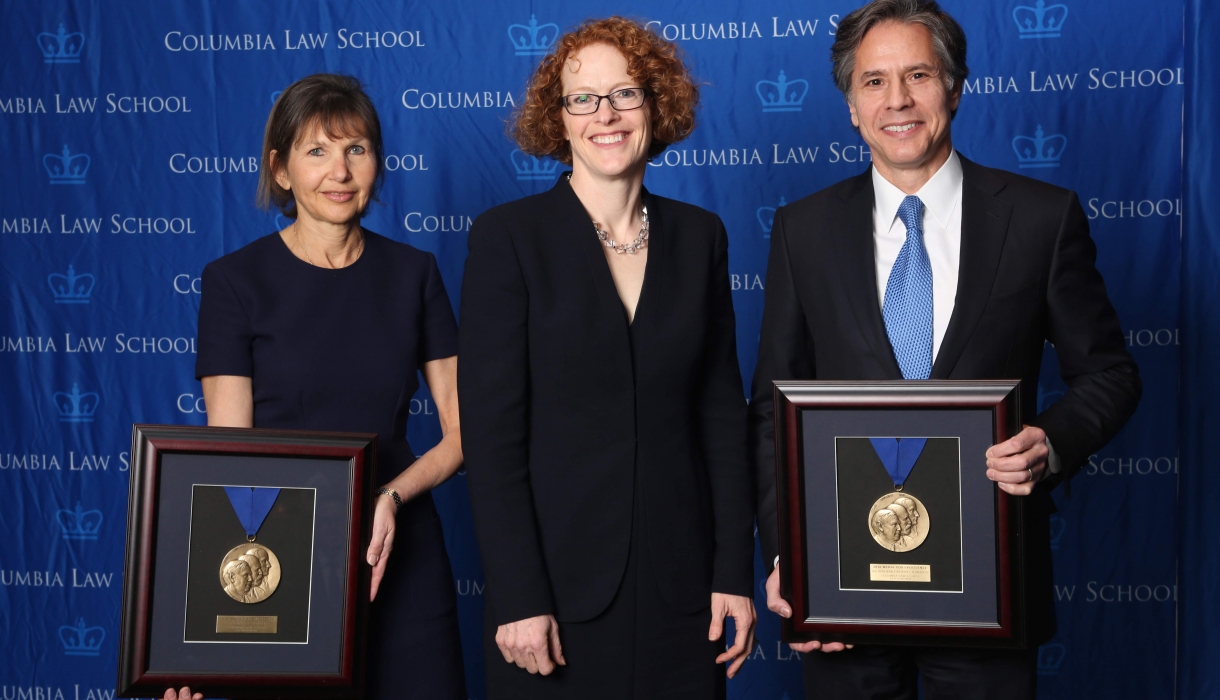 New York, February 26, 2016—A confidante of presidents and a trusted legal counselor to multinational corporations today were awarded Columbia Law School's Medal for Excellence. Gillian Lester, Dean and the Lucy G. Moses Professor of Law, presented the Law School's top honor to U.S. Deputy Secretary of State Antony J. Blinken '88 and corporate lawyer Alison S. Ressler '83 before more than 300 alumni, faculty members, and friends who attended this year's Winter Luncheon at the Waldorf Astoria hotel in New York City.  
"The Medal for Excellence is the highest honor bestowed upon Columbia Law School alumni," said Dean Lester. "I have the privilege of honoring two graduates who have distinguished themselves in their fields and among their high-achieving peers."
The award is given annually to alumni and past or present faculty members who exemplify the qualities of character, intellect, and social and professional responsibility that the Law School seeks to instill in its students.
Before introducing the day's honorees, Dean Lester highlighted many of the recipients' impressive leadership talents and career accomplishments.
"In his current role, Tony is responsible for actively shaping U.S. foreign and national security policy," Dean Lester said. "He was also President Bill Clinton's principal adviser for European relations, as well as his chief foreign policy speechwriter."
Describing Ressler as "a leading international authority on mergers and acquisitions, corporate governance, and capital markets," Dean Lester also commended Ressler's contributions to the Law School.
"Alison is a dedicated alumnus of Columbia Law School and one of my closest advisers," Dean Lester said. "I was thrilled when she agreed to co-chair the Dean's Council this past year."
Antony J. Blinken '88
Serving in the White House Situation Room and his time in Columbia Law School have some parallels, Blinken said at the luncheon.
"Think about it. You cram all night, and you're nervous all morning," Blinken said. "You think you're prepared to be judged. But in this case your constitutional law professor goes by a different title: president of the United States." He also gave a nod to two of his actual law professors who influenced him beyond measure: the late Hans Smit '58, a towering figure in international law; and Professor Emeritus Richard Gardner, a former U.S. ambassador to Spain and Italy whose storied seminar on legal aspects of U.S. foreign economic policy had a tremendous impact on Blinken.
Confirmed as deputy secretary of state in 2014 by the U.S. Senate, Blinken was the Democratic staff director for the U.S. Senate Foreign Relations Committee from 2002 to 2008. He then became Vice President Joe Biden's national security adviser, before serving as an assistant and principal national security adviser to President Barack Obama.
Blinken recalled when he became a part of history himself in the Situation Room by being included in the iconic photograph taken of President Obama and his key aides during the tense moments leading to the death of Osama bin Laden.
"It was incredible to be part of a moment in history," Blinken said. His moment, however, led to some laughs a few weeks later on late night television.
"After that photo went around the world, Mike Mullin, the chairman of the Joint Chiefs of Staff was on the David Letterman Show," Blinken said. "Letterman pulled up the photo and for reasons unknown, decided to point to me in the back and said to Adm. Mullin, 'That guy doesn't work for the White House, he just wandered in off a tour.'"  
Blinken spent his undergraduate days at Harvard University, where he edited the Crimson newspaper. He then worked as a reporter for The New Republic, and published the 1987 book Ally Versus Ally: America, Europe, and the Siberian Pipeline Crisis.
"I must warn you," he said of his book. "Once you put it down, you may never want to pick it up again."
The event was a homecoming for Blinken, who grew up in New York City in the 1960s, the son of prominent lawyer and investment banker Donald Blinken, who served as U.S. ambassador to Hungary in the 1990s, and arts administrator Judith Pisar. He attended the Dalton School in Manhattan before moving with his mother to Paris, where she chaired the American Center for Students and Artists.
After earning his J.D. from Columbia Law School, Blinken became a fellow at the Center for Strategic and International Studies, practiced law in New York and Paris, and wrote about foreign policy for The New York Times, Foreign Affairs, and other publications.
In 1993, Blinken entered government service at the U.S. State Department. The next year, he served as President Clinton's senior director for speechwriting and strategic planning. He also served on the National Security Council's staff from 1994 to 2001 and worked as a special assistant to the president and senior director for European affairs from 1999 to 2001.
Alison S. Ressler '83
"When I first walked through the doors of Columbia Law School, almost exactly 35 and a half years ago, I never thought I would be standing here receiving this medal," Ressler said. "Nor did I realize that I would meet my future husband within 15 minutes of walking through those doors."
Recognized as one of the world's leading authorities on mergers and acquisitions, corporate governance, and capital markets. Ressler is a partner at Sullivan & Cromwell, where she oversees the firm's global private equity group, as well as its California practice, which is based in Los Angeles.
Ressler reflected on how balancing the early years of her career and family, which includes four children, all of whom were present at the luncheon, was often subject to "advice, much of it unsolicited, and admonition."
But she forged her own path.
"I made personal choices while devoting myself to my practice," Ressler said. "For me, the results were making partner a year early, being the first person not having practiced in Sullivan & Cromwell's New York office to become partner, and then becoming the first woman on the firm's management committee."
Ressler said people often make broad generalizations about the quality of life at top New York firms.
"Because of the demands of our practice, I am regularly asked how I have balanced my personal and professional life," she said. "The important thing to know is that we shouldn't let others define what we can or cannot accomplish."
Regularly cited at the top of the legal profession, in 2014, The Financial Times selected Ressler as one of the 10 most innovative lawyers in North America, noting her work on "high-profile deals" and her "significant influence" on female attorneys. That same year, Law360 recognized her as an "M&A MVP."
On multiple occasions, The American Lawyer picked Ressler as Dealmaker of the Week, and, in 2010, the magazine named her Dealmaker of the Year for advising Barclays on the sale of Barclays Global Investors to BlackRock. She has also garnered praise in the pages of other industry publications, including Chambers USA, Legal 500, IFLR1000, Lawdragon, Euromoney, The Lawyer, and M&A Advisor.
During the ceremony, Dean Lester thanked the many members of the judiciary who broke away from their duties on the bench to be present, as well as past award recipients, faculty, students, and staff who joined the festivities.