A Scholar of Environmental Politics Joins the Faculty
A Scholar of Environmental Politics Joins the Faculty
Professor of Law Jedediah Purdy is an expert in constitutional, environmental, and property law—not to mention Twitter and Instagram.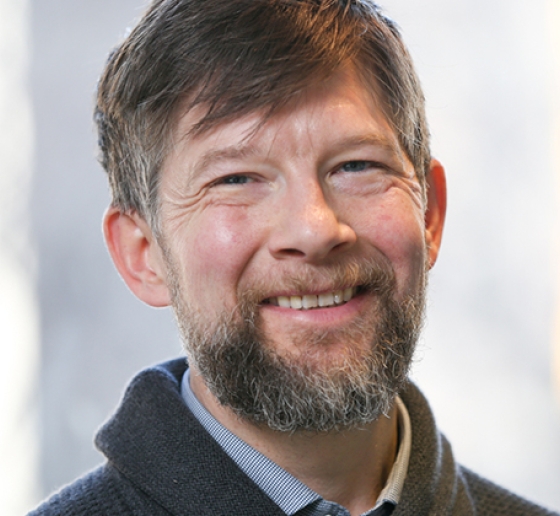 By his social media feeds, you shall know him.
Jedediah "Jed" Purdy, who joined the Columbia Law School faculty in January as a professor of law after 15 years at Duke Law School, shares a steady stream of posts on multiple channels about his professional activities, political views, and personal passions.
On Twitter, you will find links to his recent essays, including "Democrats' Existential Battle" in Dissent and "The Left's Guide to Reclaiming the Constitution" in The New York Times, and many posts about the trailblazing freshman Congresswoman Alexandria Ocasio-Cortez and other newsmakers. On Facebook, you will see pictures from an outdoor party last summer celebrating his marriage to Laura Britton, who has a Ph.D. in nursing. And on Instagram, you will notice how his recent photographs of nature in New York City—ducks gliding in the Central Park reservoir, the sun rising behind the Cathedral of St. John the Divine, trees reflecting on sheets of ice in Riverside Park—dovetail with his academic interest in environmental and property law.
Naturally, Purdy has done a lot of deep thinking and scholarly writing about climate change and its ramifications. He coined the term "infrastructure species" to distill humans' fraught relationship with the man-made world. "The biological existence of most of us and our social ties to family, friends, and work is completely inseparable from this massive built environment, without which we just wouldn't be able to do nearly anything we do," says Purdy, who grew up in rural West Virginia without a telephone or electricity until he was about 10 years old. But, he says, opting out of the carbon economy is not a systemic solution for saving the planet. "As soon as you imaginatively strip away all the systems we rely on, you realize we're so vulnerable," he says.
Purdy is an ambidextrous scholar. His books include The Meaning of Property: Freedom, Community and the Legal Imagination (Yale University Press, 2010) and After Nature: A Politics for the Anthropocene (Harvard University Press, 2015), in which he developed a framework for environmental politics. "The basic dilemma in the global climate crisis is that the scale of our capacity to respond is just not matched to the scale of the problem we've made," he says. "The crisis of an infrastructure species depends on the power to remake the infrastructure itself. Although technological innovation can go a long way, you definitely need political decision-making if, for instance, you're going to create a grid-and-transport infrastructure that completely remakes our fossil-fuel-based highway system of the mid-20th century."
Purdy is also a highly regarded expert on the U.S. Constitution. He recently published "Beyond the Bosses' Constitution: the First Amendment and Class Entrenchment" in Columbia Law Review; he presented a version of the article at the law review's 2018 symposium, "A First Amendment for All? Free Expression in an Age of Inequality," which was co-sponsored by the Knight First Amendment Institute and the Center for Constitutional Governance. This semester, he is teaching American Constitutional Law and a seminar, Democracy and Its Crises. "The focus in the seminar is the long history of thinking about the relationship between political and economic ordering," he says. "And we'll talk about the vulnerabilities of liberal democratic ordering right now and the fault lines in those systems and the kind of scary developments they are producing."
 
#tbt having @AOC tweet my @politico essay on the revival of socialist politics and the morally urgent questions it empowers us to ask about our world. She's been making it real ever since. pic.twitter.com/XtFlxc31Zb

— Jedediah Purdy (@JedediahSPurdy) January 24, 2019

The Wunderkind
Purdy has been tackling big ideas for two decades. After graduating from Harvard College, he became a literary sensation while a student at Yale Law School in 1999, when he received a $75,000 advance from Alfred A. Knopf to write For Common Things: Irony, Trust, and Commitment in America Today, which Time called a "diatribe against the sort of media-savvy detachment that passes for intelligence and maturity in the age of Letterman." In a long profile that same year, The New York Times Magazine said Purdy's book "advocates hope, politics—really, earnestness itself—all in an effort to cure a society that devalues what it embraces."
After Yale, where he was a teaching assistant and led a seminar and a special discussion group on environmental law, Purdy became a fellow at the New America Foundation, a think tank in Washington, D.C. He flirted with the idea of a career as an independent writer, but he missed teaching and being part of an academic community. So after a clerkship with the U.S. Court of Appeals for the 2nd Circuit, in 2004 he received dual appointments as a fellow at Harvard and as an assistant professor of law at Duke. He also maintained his role as a public intellectual with a trilogy of books for Knopf on American political identity, the last of which was A Tolerable Anarchy, in 2009.

Becoming a New Yorker
In 2016, Purdy spent a semester at the Law School as a visiting professor. Though he felt rooted at Duke at the time, Purdy says he was awed by Columbia's intellectual community, especially the cohort of faculty who share his interest in constitutional, environmental, and property law. "People in all three of those fields are great company," he says in his understated way. "I really like being around them."
Purdy is one of five new faculty members who joined the Law School during the 2018–2019 academic year. "Jed is a prolific scholar with a lively voice who brings a wonderful new presence to our faculty with his superb skills as a classroom teacher, deep erudition and creativity, personal warmth, and generous and generative qualities as a colleague," says Gillian Lester, Dean and the Lucy G. Moses Professor of Law.
Purdy likes to mix his long-form scholarly work with quick hits on current events (such as Brett Kavanaugh's Supreme Court confirmation hearing) for blogs and magazines, including The New Yorker and The Atlantic.  "Sometimes when you're thinking fast, you see a situation just long enough to write about it, and then you keep thinking about it, and it turns into something bigger," he says, noting that he has begun using his married name, Jedediah Britton-Purdy, as his byline. Sure enough, his next book, This Land Is Our Land, due out in the fall from Princeton University Press, is based on these shorter, non-academic pieces.
As his social media feeds attest, Purdy has acclimated to urban life since moving to New York in January, and he has been enthusiastically collecting intelligence for outings in Manhattan. "I know of one apple tree that you can harvest in Central Park, and I've gotten pretty precise tips on where there might be morels in Fort Tryon Park," he says delightedly.
# # #
Published on February 8, 2019
Read more
The Green New Deal Is What Realistic Environmental Policy Looks Like
(The New York Times, February 14, 2019)