Ryan Smith '97 Goes "Outside the Lines" for ESPN
Ryan Smith '97 Goes "Outside the Lines" for ESPN
As the anchor of cable's leading half-hour, hard-news sports program, Smith draws on his legal background to report on issues and controversies in the sports world.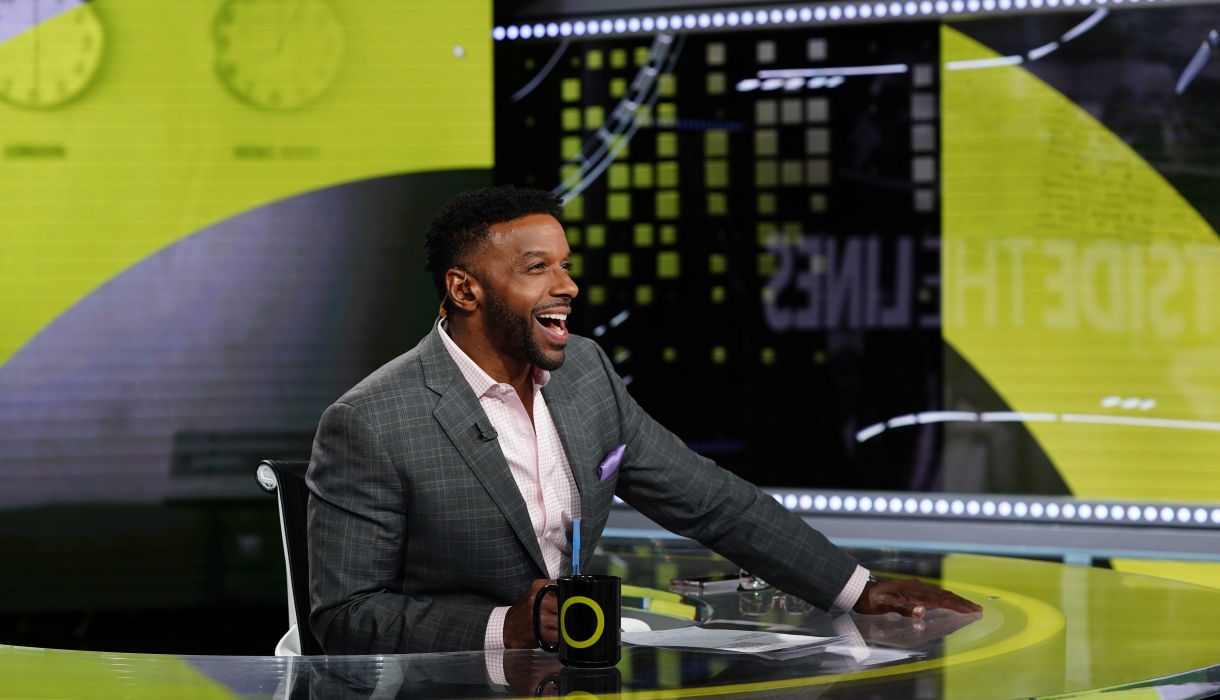 It's two hours before Ryan Smith '97 goes live with his 1 p.m. show on ESPN from its sprawling campus in Bristol, Connecticut. Dressed in a jaunty checkered shirt and slim glen plaid pants (which he'll wear on-air), he's typing intensely in front of three computer screens. He's coming up with questions for guests, fact-checking with a producer in the adjacent cubicle, and revising the script that he writes entirely by himself for Outside the Lines (OTL), ESPN's daily half-hour, hard-news sports program.
"Anchoring a news show is a lot like being a lawyer," says Smith, who became OTL's official co-host this summer after spending two years as a frequent substitute. "You have to boil down complicated issues and make them understandable."
On this steamy Tuesday in mid-July, Smith is jazzed because "we have a lot of deep subjects." Today's segments include interviews with University of New Hampshire sports law professor Michael McCann on the WNBA's vague policy on domestic violence (in light of abuse allegations leveled against Seattle Storm NBA star Natasha Howard by her wife on Twitter) and ESPN.com writer Baxter Holmes about his article on the increase in serious injuries among youth basketball players. Smith is also chatting live in the studio with ESPN football analyst Louis Riddick about whether NFL players will ever have the same leverage negotiating salaries that NBA players have.
"Unlike other shows, we don't talk about incidental things," Smith says. "Most shows on ESPN are handling the what; we are handling the why."
Smith's legal training and experience as a practicing lawyer make him a VIP in the sportscasting world, particularly in an era when athletes are frequently ensnared in controversies that require hiring lawyers. Whether he's covering NFL players' right to take a knee during the national anthem before a game or a pay-equity lawsuit filed by members of the U.S. women's soccer team against the U.S. Soccer Federation, Smith uses his Law School education to frame issues for a mass audience.
A Dream Detoured
As a sports-obsessed kid in Mount Airy, Pennsylvania, Smith was a huge Philadelphia Phillies fan, and he idolized the baseball team's play-by-play announcer, Harry Kalas. When Smith's mother met Kalas at an art opening, she asked him where her son should go to college if he wanted to be a sportscaster. Kalas recommended Syracuse University's broadcast journalism program. Smith followed the advice but got "sidetracked" by political science. Law school seemed like the next logical step after Syracuse. "I thought, once you're in law you can do anything," he says.
Smith immediately felt at home at Columbia Law School. His mentor, Professor Victor Goldberg, had been his father's classmate at Oberlin College, and "Carol Liebman's negotiation clinic and Hans Smit's use of the Socratic Method had a big impact on me," he says, Smith also found ways to integrate his love of sports into his career path. Between his 1L and 2L years, he interned for the NFL's Jacksonville Jaguars and the firm Foley & Lardner, and after graduation, he spent about 18 months in the team's football administration department and as staff counsel.
Smith returned to New York in 1999 to work at Paul, Weiss, Rifkind, Wharton & Garrison. He later moved to Frankfurt Kurnit Klein & Selz, a firm with a strong entertainment focus. While still practicing, a friend invited Smith to appear as a guest commentator on Sharp Talk, hosted by the Rev. Al Sharpton. The appearance was the first step on an unorthodox career path. "One thing that the law gave me was a sense of personal confidence because I worked with some of the smartest minds in the country," he says.
Smith left Frankfurt Kurnit to join Court TV as an anchor in 2010. The next year, he was hired by HLN as a contributor for Morning Express With Robin Meade and eventually as a host for other programs, including HLN After Dark. Working for HLN meant relocating to Atlanta, and the move proved fortuitous. That's where he met his wife, Dafina Nya Memberr. The couple now has twin 5-year-old boys.
A Dream Come True
In 2014, ABC (ESPN's sister network) hired Smith as a correspondent and legal analyst for both networks. He began reporting for 20/20 and Good Morning America (where he was also a guest anchor). Eventually, he got the chance to anchor for ESPN, too. Although he'd finally become a sportscaster, the move came with some surprises. "When you anchor Good Morning America, they have writers. My first day doing Outside the Lines, I thought I'd wait for a script to be handed to me, but I learned that I had to do my own scripts," he says. "I haven't done so much writing since I was a lawyer!"
After he's done preparing for Outside the Lines, Smith walks across the ESPN campus to the studio to tape promos and segment lead-ins. As soon as he looks into the camera, he takes off his Prada glasses ("Don't ask me why I won't wear them on air") and his charisma goes into overdrive. He banters with his production team and apologizes for flubbing a line. "You're right, I missed my own emphasis," he tells the control room. If there's time, he'll pre-tape "The Closer," the show's final segment, in which he picks a topic and offers his take. During one show in June, he devoted The Closer to saluting NHL defenseman Jacob Trouba, who gave up a bigger salary with the Winnipeg Jets to join the New York Rangers so his fiancée could pursue her dreams in the U.S. "Her career is as important as my career," Trouba had said. Smith echoed the sentiment, explaining he makes his career decisions in consultation with his wife. "I can't value my career more than the most important person in my life."
For Smith, the only downside to the ESPN gig is that he must be in Connecticut during the week while his wife and sons are in New Jersey. He also says he learned an essential lesson about ambition as a practicing lawyer: "The one thing I always thought about the law was that if you want it and are willing to sacrifice for it, then it will give you whatever you want." Indeed, the law has allowed him to follow his dream.