The Partnership Track: Couples Who Met at Columbia Law
The Partnership Track: Couples Who Met at Columbia Law
For Valentine's Day 2020, three alumni couples who fell in love as students and married after graduation share their stories.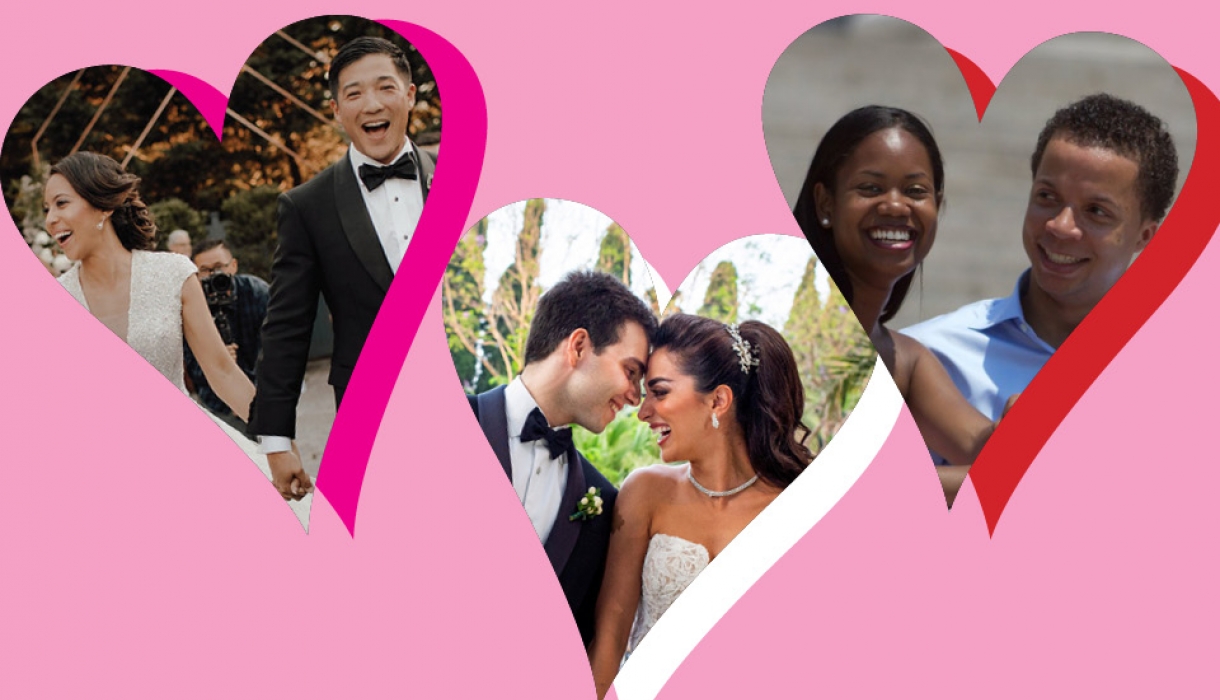 A Wedding of Conviction
A month after they met at a new students' barbecue on Revson Plaza, Marie-Joe Abi-Nassif '15 LL.M. and Abdallah Salam '17 went on their first date at a brasserie near campus. The service was painfully slow, so Abdallah whisked Marie-Joe across town to Cafe Sabarsky, the posh Viennese restaurant at the Neue Galerie on the Upper East Side. "It was so elegant, quiet, and artsy," she recalls. "I was very impressed." Afterward, he took her to Hudson Terrace, a nightclub on the far West Side of Manhattan with spectacular river views. "That's where we first kissed," Abdallah says.
Their first month together was a whirlwind. In addition to dealing with the rigors of his 1L year, Abdallah was finishing his Ph.D. thesis from his program at Oxford, where he'd spent the past five years studying legal philosophy. "When I was ready to mail it, Marie-Joe said she wanted to come with me to FedEx," he says. "It was touching because she understood it was a big moment for me." They planned a trip to Turkey for winter break "to catch our breath in a context other than Morningside Heights."
Abdallah and Marie-Joe, who are both from Lebanon, have a lot in common. He knew Marie-Joe's brother from Harvard, where Abdallah had earned his B.A. in economics. They are both Francophiles: Marie-Joe earned her master's in corporate law at the prestigious Université Panthéon-Assas in Paris, during which time she also studied to be an opera singer; Abdallah spent his 3L year in Paris in the Law School's joint-degree program at Sciences Po. While he was abroad, Marie-Joe stayed in New York to simultaneously practice law at Latham and Watkins and study opera under the tutorship of the famous soprano Virginia Zeani, leading up to her Carnegie Hall debut in December 2016.
When the couple decided to marry, there was no question that they wanted to be wed in Lebanon surrounded by family. There was one issue: Weddings in Lebanon are traditionally officiated and sanctioned by religious authorities, not the state. As Abdallah is from a Muslim family and Marie-Joe from a Christian one, their wedding would have to be a non-sectarian civil ceremony. That bucked convention, because Lebanese couples who want non-sectarian weddings usually get married in other countries and then return home to have their marriages registered. 
That wasn't acceptable to the couple who are passionate about civil rights and had uncovered a legal precedent for performing a civil marriage inside Lebanon. Abdallah (who now practices at Shearman & Sterling) and Marie-Joe (who left her firm in 2018 to pursue her opera career full time) decided to make their wedding in June 2019 double as political theater. "We wanted to show that a civil wedding can be a romantic ceremony," says Marie-Joe. "We wanted it to be inspiring and not only a 'cause.'"
Their strategy worked, and they received national and international media coverage as symbols of the ongoing fight to legitimize civil marriages in Lebanon. (Their fairytale ceremony in the sumptuous garden of the Surstok Villa, an iconic Beirut landmark, was also an ideal setting for making a statement, and they posted a 33-minute video of it on YouTube.) They've had strangers come up to them on the sidewalks of Beirut to thank them. "We felt a responsibility to act," says Marie-Joe. "You have to speak up for things that are right and just."
A Mother Always Knows
When Christopher Poindexter '03 and Carletta Higginson '03 met at a Black Law Students Association gathering at the beginning of their 1L year, they discovered they were in the same small section and decided to become study partners. During the first week of school, they were studying in Chris's apartment when his parents (who live in Virginia and were in New York for a wedding) stopped by for a visit. "Chris was very eager for me to meet them," says Carletta. "His mother likes to tell the story that she knew right away that this was going to be a thing."
His mother was right. By the beginning of the spring semester, Chris says they were "officially" a couple. "Carletta was so steady through law school," he says. "When we were studying for the bar, she was very disciplined and made sure we went to the library every day."
After graduation, they moved downtown and began their careers at Big Law firms. In the summer of 2005, Chris told Carletta that then-Sen. Barack Obama would be giving a speech at Columbia. "There was a lot of buzz about Obama after his speech at the 2004 Democratic convention, so I was very excited to hear him," says Carletta. On the day of Obama's speech, they arrived early so they could take a nostalgic walk around campus beforehand. "Suddenly, Chris dropped to one knee and proposed," she says. "I was so surprised and excited." The one disappointment? Chris had invented Obama's speech as a ruse to get her back to campus for the proposal. "I was like, 'I'm really not going to hear Barack?'" she says. The following summer, they returned to Morningside Heights for their wedding at Columbia's St. Paul's Chapel.
Now living in Park Slope with their twin 9-year-old sons, Carletta and Chris are sympathetic to the demands of each other's careers. She is director, global head of music publishing for YouTube; he is the general counsel of Cadent, an adtech company. Says Chris: "Being married to another lawyer means when you call and cancel plans because you have a work deadline, the other person gets it."
A Match Made on the Road
As students in the Law School's Mediation Clinic, Argemira Flórez '19 and Jesse Feng '18 took a school trip to India in the spring of 2018. They'd been invited by Professor Alexandra Carter '03,the clinic's director, to teach advanced mediation skills at the High Court of Delhi. Professor Carter and her fellow instructor, Shawn Watts '12, not only supervised the students' work but also coordinated the clinic's visit to the Taj Mahal.
Even though the couple had enjoyed a few dates over the winter, the trip to India was a turning point. When they returned, their relationship became serious. However, Argemira was hesitant to get carried away because Jesse had taken a job in California, and she still had another year of law school in New York. "But we decided to try," she says. "Lawyers are pretty good judges of character, so we were pretty sure we were onto something good with each other."
Still, Argemira was curious to get her professor's opinion about the budding romance. Professor Carter responded exuberantly. "She thought Jesse was kind, perceptive, and a great human being," recalls Argemira. When the couple married in June 2019 at the New York Botanical Garden, Professor Carter and her husband, Greg T. Lembrich '03, along with Professor Watts were front and center. "Jesse and Argemira, to my knowledge, are the first Mediation Clinic-produced marriage," says Professor Carter. "I couldn't be prouder!"
The couple now lives in the Bay Area, where Argemira is a law clerk in the litigation department at Willkie Farr & Gallagher, and Jesse is a corporate associate at Simpson Thacher & Bartlett. They say both Carter and Watts remain an influence on their lives.
"One of the strongest elements of our relationship is that we get to use the skills we developed at Columbia to mediate conflict in our marriage," says Jesse, who allows Argemira to have the last word: "But we can always figure out what techniques we are using on each other," she says.