In Memoriam: Justice Felice K. Shea '50
In Memoriam: Justice Felice K. Shea '50
The retired New York State Supreme Court justice was the first woman to serve as president of the Columbia Law School Association.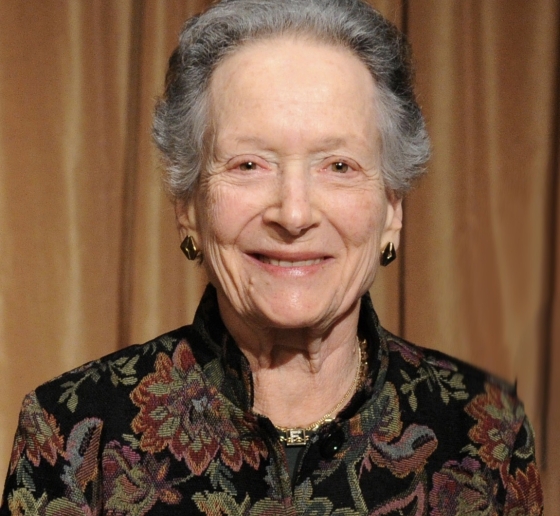 Felice K. Shea '50, who devoted her life to public service as a lawyer, judge, and volunteer, died in December at her home in New York City. She was 98. 
A retired New York State Supreme Court justice who was the first woman to serve as president of the Columbia Law School Association (CLSA), she received the Law School's Medal for Excellence in 2000 in recognition of her many accomplishments as a champion of social justice and was awarded the Lawrence A. Wien Prize for Social Responsibility in 2012.
"To me, a law degree was a springboard for making a difference in this world," Shea said in a 2020 interview with Einstein magazine. "Law seemed like a good vehicle for helping people who were most in need." Shea was candid that gender influenced her career choices: "You could say the women of my generation had public interest thrust upon us because when I graduated from law school in 1950, law firms did not hire women," she said in her address at the Wien Prize ceremony.
Shea was born in New York City on January 29, 1923, to Sadie Klingenstein Klau and David Klau and graduated from the Birch Wathen School in Manhattan and Swarthmore College, where she was a political science major. To support the United States during World War II, she moved to Washington, D.C., in 1944 and worked for the federal government. By 1947, she had returned to New York City and was one of 10 women among more than 200 men in the Columbia Law School Class of 1950.
Shea's career as a practicing lawyer included 11 years as a staff attorney and assistant attorney in charge of the Harlem branch of the Legal Aid Society, where she specialized in consumer and family law. "I got an enormous amount of litigation experience, which was a good background for being on the bench," she said in the Einstein interview. 
In 1975, Shea became a civil court judge and served in that role until 1982, when she was appointed an acting justice of the Supreme Court of New York State, first judicial district; she won election to the post and served until her retirement in 1999. From 1985 to 1990, she was also the presiding justice of the Extraordinary Special and Trial Term of the Supreme Court for the City of New York, where she tried cases of corruption in the criminal justice system.
After her retirement, Shea remained deeply committed to social justice and criminal justice reform. She returned to the Legal Aid Society as a pro bono attorney in the juvenile rights division and was a referee for the New York State Commission on Judicial Conduct. She served on the Mayor's Advisory Committee on the Judiciary and on the board of the Correctional Association of New York, an independent organization with authority under New York state law to monitor prisons and report its findings to the legislature and the public. "I sent an awful lot of people to prison, and I was very frustrated on the bench by the mandatory sentencing laws that strip judges of discretion," she said in a 2016 interview with the Swarthmore College Bulletin. "I want to see the law changed and mass incarceration attacked more vigorously."
A devoted and engaged Columbia Law School alumna, Shea not only helmed the CLSA—an alumni-led group that helps keep Columbia Law graduates, friends, and supporters involved and informed—but also served on the Stone Circle committee and the Dean's Council. "Felice was a great support to me as an active member of the Dean's Council," said Gillian Lester, Dean and Lucy G. Moses Professor of Law. "I will miss her friendship, her kind spirit, and her generous advice to me. I know that I speak for so many of us when I say that our lives are enriched because of our connection to Felice."
Over the years, Shea attended hundreds of events organized by the Law School. She collected her name badges and would return a bucket of them to the Office of Development and Alumni Affairs so they could be recycled for other events. Known for her enthusiasm and warmth, she faithfully attended reunions and was a regular at the annual Winter Luncheon and other Law School occasions, where she was often accompanied by her granddaughter, Zoe Shea '11, who is now a member of the CLSA board. 
Beyond the legal community, Shea was a stalwart supporter of the Montefiore Health System and served on its board for two decades, following in the footsteps of her parents, who were both Montefiore trustees. "Health care is a human right," she said in a 2020 interview. "And good health care, respectfully given and patient-centered . . . is social justice."
Shea is survived by her youngest sister, Paula Oppenheim; her three children, Steven, Katherine, and Andrew Shea; and her eight grandchildren and five great-grandchildren. She was predeceased by her husbands: Bernard Chertcoff, a lawyer whom she married in 1945 (died in 1948); John J.B. Shea, a lawyer, whom she married in 1950 (died in 1978); and Irving Kriesberg, an artist, whom she married in 1998 (died in 2009).
The family has requested that gifts in her memory be made to the Citizens' Committee for Children, Columbia Law School, or Planned Parenthood.