In Memoriam: Harvey R. Miller '59, Bankruptcy Law Pioneer, Devoted Alumnus, Respected Teacher
In Memoriam: Harvey R. Miller '59, Bankruptcy Law Pioneer, Devoted Alumnus, Respected Teacher
Distinguished alumnus Harvey R. Miller '59 died on April 27, 2015, at the age of 82.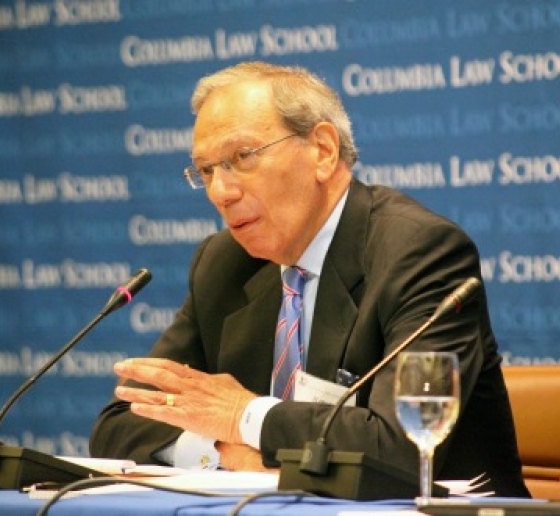 Distinguished alumnus Harvey R. Miller '59, one of the nation's premier corporate bankruptcy attorneys who orchestrated the restructuring of major corporations, including Lehman Brothers, General Motors, and American Airlines, died on April 27, 2015, at the age of 82.
Miller was a partner at Weil, Gotshal & Manges, which he joined in 1969. He established the bankruptcy practice there, turning it into a model for other firms. Early on, and through the proceeding decades, Miller would be involved in many of the most notable and historic bankruptcy cases in U.S. history.
In addition to representing New York City when it neared bankruptcy in 1975, Miller also oversaw Chapter 11 filings for Enron, WorldCom, and Global Crossing during the era of the dot-com collapse.
A loyal and devoted alumnus, Miller served on both the Board of Visitors and the Dean's Council. In 2008, he established the Harvey R. Miller Professorship, currently held by Dean Emeritus David M. Schizer. In 2003, Miller and his wife created the Harvey R. and Ruth Miller Scholarship, an endowed fund that supports Columbia Law School students who have graduated from public institutions, including his alma mater CUNY.
In addition, Miller was an active lecturer at the Law School, teaching a popular course on bankruptcy that some students affectionately called "Miller Time." Through his efforts in the classroom and by example, he influenced many of the leading attorneys in the field of bankruptcy law. Ira M. Millstein '49, an adjunct professor at Columbia Law School and senior partner at Weil who was a close friend, described Miller in The Wall Street Journal as "the paragon of bankruptcy lawyers."
Miller was born in the Gravesend neighborhood of Brooklyn, New York, in 1933 and graduated from Brooklyn College in 1954. He attended Columbia Law School on the G.I. Bill, earning his law degree five years later.
After 33 years leading the bankruptcy practice at Weil, Miller left to join the boutique investment bank Greenhill & Co. He returned to the law firm less than five years later, arriving shortly before taking on the 2008 Lehman Brothers bankruptcy filing, which involved $639 billion in assets.
"I am really much more comfortable, more connected to and challenged by being in a law firm environment," Miller told Columbia Law School Magazine in 2009.
He continued to make history through remarkable legal work, and, in the summer of 2009, represented General Motors' in its bankruptcy case, which led to an unprecedented government bailout that would save the company and allow it to restructure.
Stephen Karotkin, a fellow partner at Weil and a close friend, said "the respect and admiration" Miller "engendered from the judiciary, his peers, and his colleagues cannot be overstated. He truly was a legend in the practice and he will be sorely missed by so many."
Miller is survived by his wife of 60 years, Ruth.
Weil has established the Harvey R. Miller Lecture Series at Columbia Law School in Miller's honor.