Medal for Excellence Awarded to Max W. Berger '71 and Stephen H. Case '68
Medal for Excellence Awarded to Max W. Berger '71 and Stephen H. Case '68
Medal for Excellence Awarded to Max W. Berger '71 and Stephen H. Case '68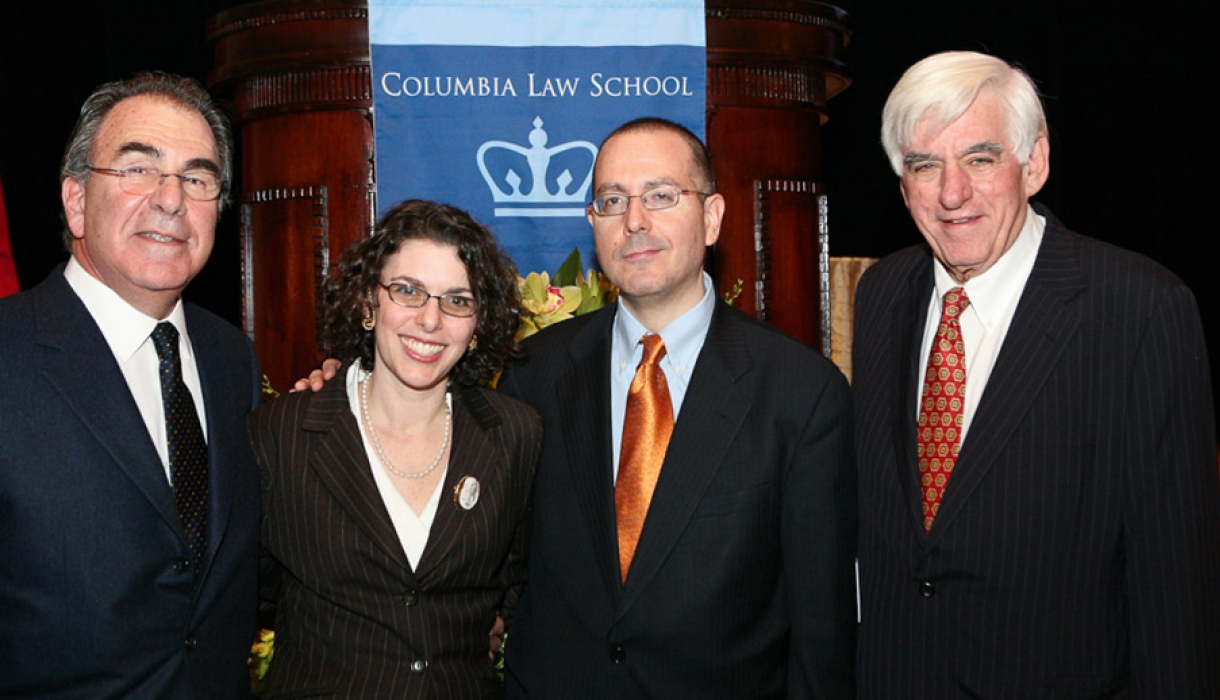 Two esteemed graduates today were awarded the Medal for Excellence, the Law School's highest honor. Max W. Berger '71 is a renowned civil litigator and the founding partner of Bernstein Litowitz Berger & Grossmann. Stephen H. Case '68 is the managing director and general counsel of Emerald Development Managers, a venture capital and private equity firm.

The awards were presented by David M. Schizer, dean and the Lucy G. Moses Professor of Law, during the Law School's Winter Luncheon held at The Waldorf-Astoria. He told the audience that Berger is an exceptionally talented lawyer, and an inspiring person to be around because, "he is a high achiever who is also a thoroughly warm, caring, and generous person."

Schizer described Case as "one of the leading lights of the bankruptcy bar, and his wisdom, insight, and integrity have helped to shape the way the field is practiced at the highest level."

The complete text of the dean's remarks about Berger can be found here, and remarks about Case are available here.
Background on the Honorees
Max W. Berger '71
Founding Partner, Bernstein Litowitz Berger & Grossmann LLP

Max W. Berger has dedicated his career to helping victims of corporate wrongdoing, discrimination, and consumer fraud. Over the course of four decades, he has earned a reputation as one of the country's top civil litigators.
The senior partner of his firm, Berger has obtained four of the 10 largest securities fraud recoveries in history and has prosecuted several of the country's largest and most important civil cases. His efforts have yielded not only unprecedented monetary recoveries, but also sweeping overhauls in corporate governance and diversity practice. His work in Roberts, et al. v. Texaco, on behalf of African-American workers who suffered racial discrimination, resulted in Berger being honored by Trial Lawyers for Public Justice for his "outstanding contribution to the public interest."
The subject of feature articles in The New York Times, BusinessWeek, The National Law Journal, and The American Lawyer, Berger is consistently acknowledged by peer review and industry publications as one of the nation's leading lawyers in his areas of legal practice.
Berger serves the academic community as a member of the Columbia Law School Dean's Council and as a member of the Baruch College Board of Trustees. At the Law School, he also serves on the advisory board for the Center on Corporate Governance, and he has taught the Profession of Law ethics course.
Berger is passionately devoted to the betterment of the next generation of leaders. He is an active supporter of City Year New York, a division of AmeriCorps dedicated to encouraging young people to engage in public service. In 2005, he was named City Year New York's "Idealist of the Year" for his longtime service to the community. His firm has established the Bernstein Litowitz Berger & Grossmann Public Interest Law Fellowship at Columbia Law School. He and his wife, Dale, have also established the Dale and Max Berger Public Interest Law Fellowship at Columbia, and the Max Berger Pre-Law Fellows Program at Baruch College.
The first member of his family to earn a college degree, Berger graduated from
Baruch College in 1968 with a B.B.A. in accounting. He went on to receive his J.D. from Columbia Law School in 1971. Today, as a leader, a mentor, and a philanthropist, Berger embodies the very best of his profession.
Stephen H. Case '68
Managing Director and General Counsel, Emerald Development Managers LP

In addition to his role with the venture capital and private equity firm of Emerald Development Managers, bankruptcy expert Stephen H. Case serves as chairman of the board for the Motors Liquidation Company (formerly General Motors).
After graduating from Columbia College in 1964, Case spent a year as a Woodrow Wilson fellow in the philosophy department at the University of Michigan. He returned to Columbia in 1965 as a law student, graduating cum laude in 1968. During his Law School career, Case was a Harlan Fiske Stone scholar and editor in chief of the Columbia Journal of Law and Social Problems.
From 1968 to 2004, Case practiced law with Davis Polk & Wardwell. In the mid-1970s, he started to focus his work on complex Chapter 11 cases and financial distress workouts. The most publicized of the cases he led was the 1982 Johns-Manville Chapter 11 filing. This reorganization case sought to prevent liquidation of the company, to protect 14,000 jobs, and to make fair payments to many thousands of asbestos personal-injury claimants. The Johns-Manville resolution structure, of which Case was one of the main architects, has stood unchallenged for 22 years and has been successfully employed, without major change, by dozens of other mass-tort business organizations.
Case was an active member of the National Bankruptcy Conference for almost three decades. During the late 1990s, he served as a senior adviser to the National Bankruptcy Review Commission, the only private practice lawyer so appointed.
Throughout his professional life, Case has remained involved with legal education. He was an adjunct professor at Georgetown University Law Center for many years and, from 2002 to 2007, served as a member of the Federal Judicial Center's Bankruptcy Judges Education Committee.
Case has served as a trustee of Columbia University since 1997 and as a member of the Columbia Law School Dean's Council since 2006. He has made a lasting impact at the Law School and Columbia College through his philanthropic support, which has ranged from establishing academic scholarships to funding faculty research. In addition,
Case endowed a chair in the Columbia College department of music in honor of his late son, Edwin, a talented jazz pianist.
An avid opera fan and history buff, Case is a trustee of the Glimmerglass Opera Company and a board member of the American Revolution Center, which is in the early stages of planning the first and only American Revolution museum in the United States,