Medal for Excellence Awarded to Jeh Charles Johnson '82 and Richard Paul Richman '72 J.D., '73 M.B.A
Medal for Excellence Awarded to Jeh Charles Johnson '82 and Richard Paul Richman '72 J.D., '73 M.B.A
Honorees Selected for Exemplary Qualities of Character, Intellect, and Social and Professional Responsibility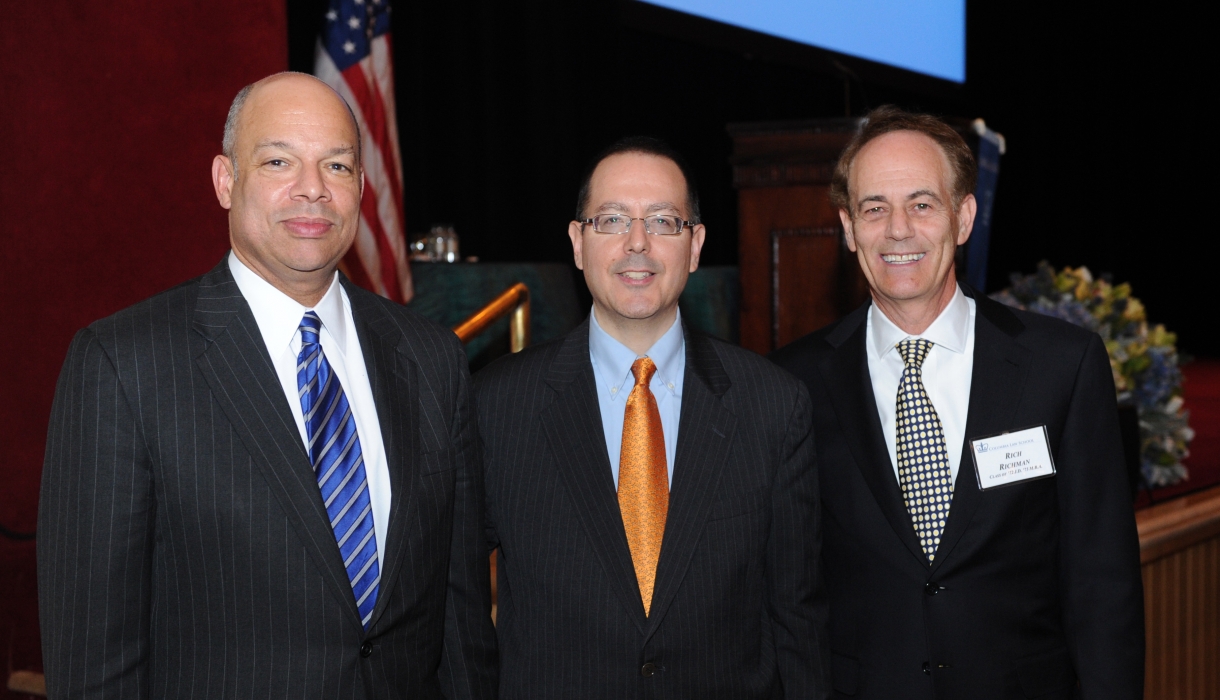 New York, Feb. 3, 2012—Two distinguished graduates of Columbia Law School today were awarded the Medal for Excellence, the Law School's highest honor.
Jeh Charles Johnson '82 is an accomplished trial lawyer who now serves as the General Counsel of the U.S. Department of Defense. Richard Paul Richman '72 J.D., '73 M.B.A. is a pioneering real-estate developer, and chairman and founder of The Richman Group, Inc. and its affiliates.
The awards were presented by David M. Schizer, dean and the Lucy G. Moses Professor of Law, during the annual Winter Luncheon held at The Waldorf-Astoria.
Background on the Honorees
Hon. Jeh Charles Johnson '82
General Counsel, U.S. Department of Defense
Jeh Charles Johnson '82 is the General Counsel of the U.S. Department of Defense, having been appointed to that position by President Barack Obama in February 2009 following nomination and Senate confirmation.
As General Counsel, Johnson is the senior legal officer of the largest government agency in the world and oversees the legal work of more than 10,000 civilian and military lawyers. Johnson is responsible for reviewing the legality of ongoing military operations, as well as the legal issues associated with the detainees at Guantanamo Bay and the military's interrogation and detention practices in general. He also has oversight of a host of other legal issues, including all legislation and litigation involving the Defense Department, defense acquisition, cyberspace, intelligence collection, religious accommodation, fiscal law, environmental law, ethics, and standards of conduct.
Johnson played a large role in the development and passage of the Military Commissions Act of 2009, which provided major reforms to military commissions law and procedure. He was also influential in the repeal of the "don't ask, don't tell" policy.
In February 2010, in addition to his responsibilities as General Counsel, then Secretary of Defense Robert Gates appointed Johnson to co-chair a working group that assessed the risks to the military of a repeal of "don't ask, don't tell." Johnson and his co-chair, General Carter F. Ham, concluded that the risk caused by the repeal was low. Their report was issued and became public on November 30, 2010. The report is credited widely with setting the stage for the repeal of "don't ask, don't tell" by Congress several weeks later.
Johnson received his undergraduate degree from Morehouse College in 1979, and, since graduating from Columbia Law School in 1982, he has pursued a career path that weaves exemplary private practice with distinguished public service.
This is Johnson's third post in public service, and his second as a Senate-confirmed presidential appointee. From 1989 to 1991, Johnson was an Assistant U.S. Attorney in the Southern District of New York, where he prosecuted public corruption cases. From October 1998 to January 2001, Johnson served in the Clinton administration as General Counsel of the Department of the Air Force.
Prior to his appointment as General Counsel at the Defense Department, Johnson was a partner and litigator with Paul, Weiss, Rifkind, Wharton & Garrison in New York City. In private practice, Johnson was an active trial lawyer and a fellow at the American College of Trial Lawyers.
 
Richard Paul Richman '72 J.D., '73 M.B.A.
Chairman and Founder, The Richman Group, Inc.
Richard Paul Richman is the chairman and founder of The Richman Group, Inc. and its affiliates. The company is one of the largest owners and developers of rental housing in the nation. With headquarters in Greenwich, Conn., the firm has 11 regional offices throughout the country and a portfolio that includes housing properties in 49 states, Puerto Rico, the Virgin Islands, and Guam.
As an undergraduate at Syracuse University, Richman majored in political science. While he was pursuing degrees in law and business at Columbia, his interest in real estate as a career path was sparked when he enrolled in a course that focused on what was then a new discipline—financing subsidized housing.
Since then, the belief that business ideas can be applied successfully to social endeavors has permeated his professional and civic life.
Nationally active in the fields of housing and urban development, Richman is a frequent guest speaker for a variety of venues in business, government, and education, as well as for media outlets such as ABC's Nightline and National Public Radio. He is a founder of the Affordable Housing Tax Credit Coalition, one of the country's leading advocacy groups for affordable housing. He has received numerous honors and awards, and he was named a developer of the year by the National Housing Conference for his contributions to the development of and investment in affordable housing for low-, moderate-, and middle-income families.
In the arena of national public affairs, Richman has served on the board of trustees for the Progressive Policy Institute, a think tank in Washington, D.C., and twice served as the Connecticut finance chair for the Democratic presidential candidate. Richman is a member of the World Presidents' Organization, a global network of business leaders who combine corporate responsibility and personal public service to make significant contributions to their communities. He is also a member of the Columbia Law School Dean's Council and serves on the Board of Overseers for Columbia Business School and the Penn Institute for Urban Research.
Through the generosity of the Richard Paul and Ellen S. Richman Private Family Foundation, a new interdisciplinary academic center was established at Columbia in May 2011. Jointly administered by Columbia Law School and Columbia Business School, the Richard Paul Richman Center for Business, Law, and Public Policy brings Columbia's legal and business scholars together to develop and co-teach courses at the intersection of business and law, train students for careers in this field, and collaborate on research that informs public policy.