Mark Attanasio '82: From M&A to Major League Baseball
Mark Attanasio '82: From M&A to Major League Baseball
The co-founder of Crescent Capital Group and principal owner of the Milwaukee Brewers discussed the rewards of leveraging a legal education for a career in finance, philanthropy, and professional sports at an Alumni Speaker Luncheon.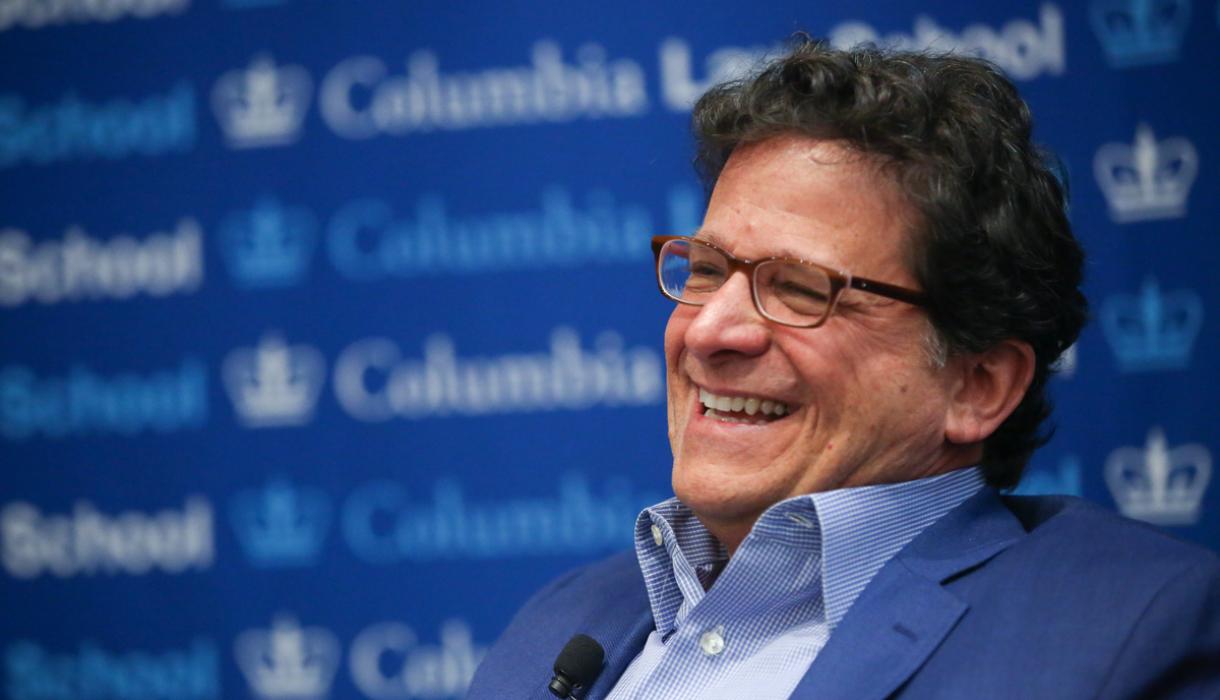 When Mark L. Attanasio '82 was a third-year associate at Debevoise & Plimpton in New York, he decided the partnership track was too safe and predictable. "I didn't want my whole life planned out at 26," he told the more than 150 students who attended the Alumni Speaker Luncheon on October 24.
During a one-hour conversation with Eric Talley, Isidor and Seville Sulzbacher Professor of Law and co-director of the Millstein Center for Global Markets and Corporate Ownership, the Bronx-born Attanasio explained how leaving a Big Law firm was the first of many risks he's taken during his career. After Debevoise, he moved from New York to California to work in the mergers and acquisitions (M&A) department at Drexel Burnham Lambert, the red-hot 1980s investment firm that specialized in what were known as junk bonds. He quickly realized that finance was more "cutting edge" than M&A, and he transitioned to Drexel's trading desk by teaching himself a new set of skills such as computer modeling. "I think I had the confidence to do that because of the rigor of the training [at Columbia]," he said. "If you could get through Columbia Law School and do well, you sort of felt you could do anything."
In 1991, after leaving Drexel, Attanasio co-founded Crescent Capital Group LP, an employee-owned alternative asset manager and SEC-registered investment adviser that now has approximately $26 billion in assets under management and more than 170 employees.
When the opportunity arose to purchase the Milwaukee Brewers baseball team in 2004, Attanasio bought the franchise, bringing on three Law School alumni—Marc Stern '69, Richard Ressler '83, and Alison Ressler '83—as investors and advisers. He recalled being concerned that not everyone he knew would cheer the purchase. "Now, it's sort of a badge of success," he said.
Indeed, Attanasio has been an extraordinarily successful team owner. The franchise he bought for $233 million is now worth more than $1.2 billion. He created a charity arm that donates $2 million annually to some 200 local groups, which he considers a modest way "to leave things better than you found them."

Attanasio also serves on several not-for-profit boards, including Heal the Bay, the Los Angeles County Museum of Art, and the Harvard-Westlake School. He was also a member of the President′s Leadership Council at Brown University, where he earned his B.A.
Near the end of their talk, Attanasio chuckled over the fact that Talley—a self-described "fanboy of the capital markets" and "debts market junkie"—focused much of their discussion on complex business topics. "I thought I was going to come here and talk more about sports [and] we talked more about business," he said. "And I go to client meetings and a lot of times they ask more about sports. They don't ask what's going on with interest rates."
# # #
Read more about how Attanasio has used his legal background to shape his career. 
Published December 4, 2019