Lynnise Pantin '03 Joins Faculty as Clinical Professor of Law
Lynnise Pantin '03 Joins Faculty as Clinical Professor of Law
In her Entrepreneurship and Community Development Clinic, Pantin teaches students transactional lawyering skills that they draw on to promote social justice, provide pro bono legal services to small businesses, and prepare for corporate careers.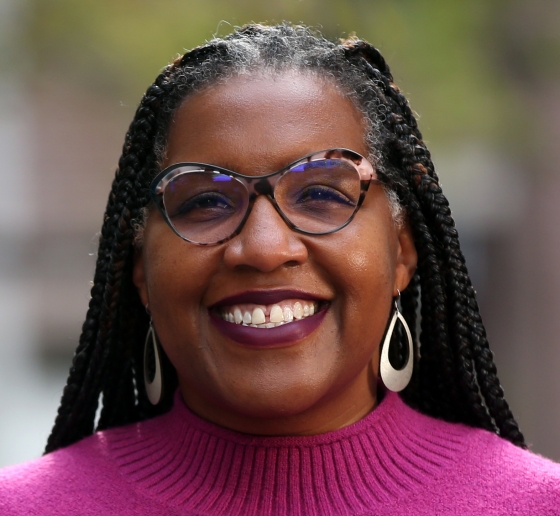 When Columbia Law School students talk about working for a startup, they're usually thinking about tech companies with cold-brew coffee on tap, ping-pong tables, and a five-year plan for an initial public offering. But in the Law School's Entrepreneurship and Community Development Clinic, Clinical Professor of Law Lynnise Pantin '03 and her students work with the startups of low- and moderate-income entrepreneurs that operate on a shoestring budget.
"We assist them with the legal hurdles that small businesses face, and the students offer entrepreneurs a lot of guidance about what makes sense for their businesses," says Pantin, who inaugurated the clinic last year as a visiting professor; she joined the faculty full time on July 1. "We help them form their companies and do their operating documents and corporate governance work." 
Like all Columbia Law clinics, this one has a dual purpose: to provide pro bono legal services to individuals, organizations, and companies that could not otherwise afford a lawyer and to give students hands-on experience. Pantin's students develop practice-ready transactional lawyering skills by counseling business owners on matters such as trademarking a logo or creating employment contracts. Last semester, the clinic represented several food businesses, including companies specializing in desserts, West Indian cuisine, and small-batch jams. The firms were growing so quickly that they could no longer do all their own cooking or bottling, so the clinic created original co-packaging agreements, which enabled the groups to outsource production. 
The students also held a pop-up legal clinic last fall, in conjunction with Start Small Think Big, for food entrepreneurs who live in New York City public housing. "It was very gratifying for the students to see how much they've learned and to help a business take the next step in its growth," she says, "but I have no illusions that all my students will go out after graduation and only represent low-income entrepreneurs. They're often going off to large law firms—which I did as well." 
Pantin's training in transactional law took place at Debevoise & Plimpton LLP, where she practiced corporate and securities law for seven years. She advised private investment funds and their sponsors and investors in all matters related to the formation and operation of domestic and international funds. She also had a pro bono practice and counseled nonprofits and small businesses on formation issues, governance, and regulatory compliance. 
While at Debevoise, Pantin started to think about returning to the classroom. (She previously taught elementary school in Washington, D.C., between college and law school.) To prepare for the ritualized academic job market, she worked with Columbia's Careers in Law Teaching Program. "It's a great resource," says Pantin. "I was able to moot my job talk. I was connected with law professors to talk about the process and put in touch with people to do mock interviews."
In 2010, she signed on as an adjunct instructor of legal writing at Brooklyn Law School. The following year she left Debevoise to become an associate professor of law at New York Law School, where she started a transactional law clinic and was the director of the Social Entrepreneurship Initiative of the Impact Center for Public Interest Law. In 2015, she moved to Boston College Law School as the founding director of the Entrepreneurship & Innovation Clinic.
Pantin's scholarship is focused on the systemic socioeconomic barriers that entrepreneurs of color and modest means face. In 2017, she published "The Economic Justice Imperative for Transactional Law Clinics" in the Villanova Law Review, in which she argued that "students can learn corporate skills in preparation for practice while accomplishing the social justice goals aligned with the missions of clinical education." In "The Wealth Gap and the Racial Disparities in the Startup Ecosystem," published in 2018 in the Saint Louis University Law Journal, she critiqued "entrepreneurship theory," which posits that the best way to narrow the wealth gap is to start a business or invest in a business, which is generally much easier for white entrepreneurs. "The overall lack of access to external financial capital means that most entrepreneurs of color cannot participate fully in the vibrant entrepreneurial sector—either as successful founders of companies or as investors in our economy," she wrote.
In many ways, Pantin's career has come full circle. As a Law School student, she focused on corporate and transactional law and participated in extracurricular activities around social justice. She was an editor of A Jailhouse Lawyer's Manual, which is published under the auspices of the Columbia Human Rights Law Review, and the chair of the Black Law Students Association's annual Paul Robeson Conference and she coached and participated in the Frederick Douglass Moot Court Competition. 
Pantin is also reuniting with two classmates who are also clinical professors: Alexandra Carter '03, who leads the Mediation Clinic, and Colleen Shanahan '03, who founded the Community Advocacy Lab. "They were both superstars as students, and I am so glad they are now my colleagues."
The rewards of being a clinical professor are twofold for Pantin. "I have taught students a fundamental skill—how to represent an organizational client—and that skill transfers when they have bigger clients and bigger deals," she says. "I think I have also opened their eyes to a particular type of client, a particular type of work, and that will stay with them as they move forward with their careers."
# # #
Published August 23, 2019