Lead Gift From Alia Tutor '00 Paves the Way for a Reimagined Law Library
Lead Gift From Alia Tutor '00 Paves the Way for a Reimagined Law Library
The $17.5 million gift, the largest single commitment in the history of Columbia Law, will help support the design and construction of the Law Library renovation.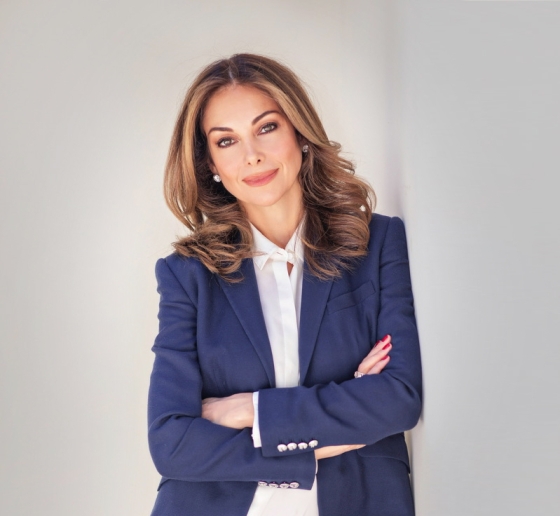 Columbia and the surrounding neighborhood have always held special meaning for Alia Tutor '00. Her grandfather Sidney (LAW 1926) and great-grandfather Moses (LAW 1897) attended Columbia Law School, as did her father's cousin. Equally inspiring were her grandparents on her mother's side who moved into the neighborhood after surviving the Holocaust. Tutor's grandmother Marie opened a boutique clothing store across from the main entrance on Broadway that catered to students and professors, which her mother then grew into a very successful business that became a staple of the neighborhood. "As a young child, I would picnic on campus," says Tutor, "and those sensory experiences, being in the middle of this hive of activity surrounded by stately buildings, are some of my most vivid memories."
When she decided to attend Columbia Law, her appreciation for the institution only increased. "I always dressed up for class," says Tutor, who was a Harlan Fiske Stone Scholar at the Law School. "That was my way of displaying a respect and reverence for those formative experiences and showing how seriously I took my opportunity at Columbia." 
Now, Tutor is ensuring that Columbia Law continues to have a formative impact on future generations of law students. With a lead gift through her family foundation, the Law School library will undergo an unprecedented transformation and, once completed, be renamed the Alia Tutor Law Library in recognition of her generosity. 
A major initiative of the five-year Campaign for Columbia Law, the reimagining of the library is an integral part of Dean Gillian Lester's ambitious vision for student and community life at Columbia Law. The project—which will create much-needed space for individual and group study, incorporate state-of-the-art technology, and increase capacity for students by up to 70%—will position Columbia's Law Library as one of the most important academic law libraries in the world. Tutor's gift serves as a strong foundation for the funds the Law School aims to raise for the project, which would be one of the largest capital investments in the institution's history.
Tutor's philanthropy is driven by projects where she can make the most impact, and in the library project, she has found a way to combine her giving philosophy with her personal connection to the Law School. "Reflecting on what the library meant to me as a student—being able to study and collaborate on campus—and knowing the breadth of impact this project will have on literally thousands of students and aspiring lawyers, it became obvious to me that I should help meet this really substantial area of need," she says.
"A world-class educational environment must provide students with modern and functional spaces in which to study, convene, and collaborate," says Gillian Lester, Dean and Lucy G. Moses Professor of Law. "That Alia shares this vision for the future and passion for the project makes her generosity all the more meaningful. Her commitment is helping make it possible to build a library that will meet the needs of students for generations to come and for the Law School to maintain its position at the pinnacle of legal education."
"It will be a landmark in every sense of the term, and I hope others will join me in supporting this important project for the Law School's future," says Tutor.
As president of the Alia Tutor Family Foundation, Tutor is committed to building on her family's distinguished legacy of philanthropy. She serves on the president's council at the University of Southern California (USC) and is an inaugural member of the Keck Medicine of USC Board of Councilors. She established the Alia Tutor Chair in Reproductive Medicine at the Keck School of Medicine of the University of Southern California (USC). Tutor serves on the board of directors for Children's Hospital of Los Angeles (CHLA) and the CHLA Foundation Board of Trustees, where she endowed the Global Online Pediatric Subspecialty Training Program, and also served as co-chair of the hospital's Government Relations Committee. At Columbia Law School, she is a member of the Dean's Council, and in 2020, endowed the Sidney Feltenstein '26 Scholarship Fund. 
Tutor and her husband, Ron, live in California and are parents to twin boys. The couple supports a diverse array of causes, from health care to education and beyond. 
"Alia is a wonderful alumna and friend to Columbia Law School and our remarkable students," says Columbia University President Lee C. Bollinger '71. "I deeply appreciate our partnership with Alia and Ron—their generosity is a truly inspiring and meaningful way to recognize their family's long-standing connection to the Law School and university."
The library project entails a total renovation of three floors of Jerome L. Greene Hall—nearly 50,000 square feet. In addition to more than doubling study space for students, the plan calls for a mix of individual and group study environments and the installation of state-of-the-art resources for teaching and learning, with technology to facilitate collaboration. 
"It's difficult to put into words, but certainly 'humbling' and 'gratifying' come to mind when I consider how integral and meaningful CLS has been in my—and my family's—life," says Tutor. "When this beautiful new library opens, it won't only be my name I see. It will be my grandmother's, my mother's and father's, my grandfather's, my great-grandfather's names. This project will evoke the contributions of my entire family and everyone who touched my life, from childhood through my time as a student, all the way up to the present. It's an unbelievable feeling of pride, for which I am extremely thankful. And, hopefully, my children will feel the same way one day, as will future generations."