The Lawrence A. Wien Prize for Social Responsibility 2011 Honoree: Hon. Jack B. Weinstein '48
The Lawrence A. Wien Prize for Social Responsibility 2011 Honoree: Hon. Jack B. Weinstein '48
The Lawrence A. Wien Prize for Social Responsibility 2011 Honoree: Hon. Jack B. Weinstein '48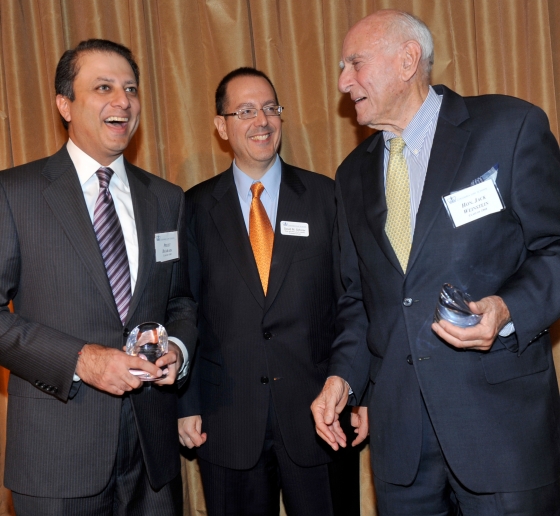 (Left to right) U.S. Attorney Preet Bharara '93, Dean David M. Schizer, and Senior U.S. District Judge Jack B. Weinstein '48 at the Wien Prize luncheon
In the more than 40 years since Jack B. Weinstein '48 began serving as a U.S. District Court Judge for the Eastern District of New York, he has become what the National Law Review calls a "living legend." A judge, scholar, and teacher, Weinstein has served each role with distinction and an unwavering commitment to the idea that our legal system belongs to every U.S. citizen.
Born in Wichita, Kan., Weinstein grew up in Brooklyn, New York. He received his bachelor's degree from Brooklyn College in 1943 and his LL.B. from Columbia Law School in 1948. He began his legal career as a law clerk to the Hon. Stanley H. Fuld of the New York Court of Appeals and then spent several years in private practice before joining the Columbia Law School faculty in 1952. He became a full professor in 1956 and continued to teach in that capacity until his appointment to the federal bench in 1967. As a member of the adjunct faculty, Weinstein carried on his role as a teacher and a mentor to Columbia students for another three decades.
During his time at the Law School, Weinstein assisted in writing briefs for the NAACP LDF in the Brown v. Board of Education case and in the "one man, one vote" litigation of the 1960s. He was the chief drafter of the NewYork Civil Practice Law and Rules and was also a member of the advisory committee that drafted the Federal Rules of Evidence.
In 1967, President Lyndon B. Johnson, on the recommendation of Senator Robert F. Kennedy, appointed Weinstein to the federal bench for the Eastern District of New York, where he would serve as chief judge from 1980 to 1988.
Presiding over thousands of cases during his tenure, Weinstein has had a major influence on the law of mass tort litigation. In the 1980s, he was responsible for getting chemical companies to compensate Vietnam veterans who had been exposed to Agent Orange. The unprecedented settlement paved the way for class-action suits that have followed, including those involving asbestos, guns, breast implants, and the anti-miscarriage drug DES. In 2006, Weinstein sent the tobacco industry reeling when he ruled that plaintiffs who were led to believe that light cigarettes were a safer alternative to regular cigarettes could file their fraud claims as class-action suits.
A senior district court judge since 1993, Weinstein still maintains a full caseload and his signature courtroom approach—he prefers to appear in business suits instead of judicial robes and to meet with parties and litigants around a conference table in open court.
As a legal scholar, Weinstein is the author of numerous casebooks, articles, and legislative reports in fields ranging from evidence to civil procedure to mass torts. His Weinstein's Federal Evidence: Commentary on Rules of Evidence for the United States Courts remains the leading modern treatise on the subject.
News about the 2011 Lawrence A. Wien Prize for Social Responsibility can be found here.