Jody Hunt '89: A Former Federal Prosecutor's Turn in the Public Eye
Jody Hunt '89: A Former Federal Prosecutor's Turn in the Public Eye
For nearly two decades, Hunt was an unsung power player in Washington. Then he was thrust into the limelight by the Mueller report on Russian interference in the 2016 election and, more recently, by the House Select Committee's investigation of the January 6 attack on the Capitol.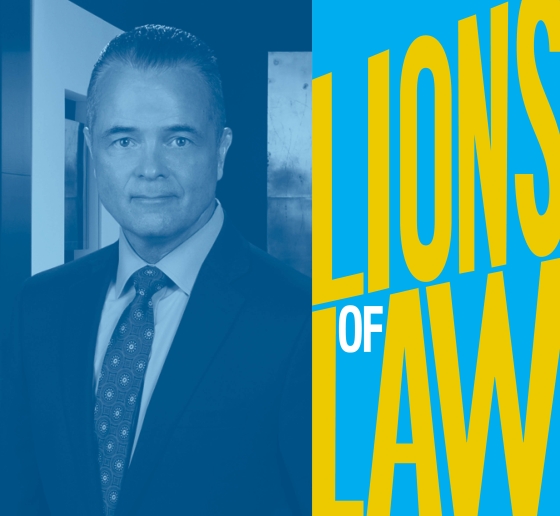 As a career attorney in the U.S. Department of Justice under two Democratic and two Republican presidents, Jody Hunt '89 says his first loyalty has always been to the rule of law and the integrity of the executive branch. That did not change when, after 19 years as a career civil servant, he accepted a political appointment in 2018 from then-President Donald Trump to serve as the Senate-confirmed assistant attorney general for the Civil Division of the Department of Justice (DOJ). So it's no surprise that, despite the optics, Hunt agreed in 2022 to represent pro bono Cassidy Hutchinson, the 26-year-old former Trump White House aide who provided bombshell testimony before the U.S. House Select Committee to Investigate the January 6th Attack on the United States Capitol.
Hunt sat right behind Hutchinson as she testified live in prime time on June 28, 2022, about what she witnessed at the White House before, during, and after the insurrection. With his slicked-back gray hair, crisp shirt, and nonpartisan purplish tie, he looked every inch a D.C. power player. "I felt honored to represent her," says Hunt, now senior counsel at Alston & Bird. "It was very, very courageous of her. She felt not only a legal but also a moral responsibility to tell the truth. And it's hard because these people were her network, her friends—people that she didn't have any interest in personally attacking or besmirching. But she simply did her responsibility to answer questions truthfully."
Hunt knows from personal experience what it's like to be privy to dramatic events in the Trump White House. As chief of staff to U.S. Attorney General (AG) Jeff Sessions from February to October 2017, Hunt often accompanied his boss to closed-door meetings there. Hunt's contemporaneous notes about Trump's desire to fire FBI Director James Comey were incorporated into the narrative of special counsel Robert Mueller's Report on the Investigation Into Russian Interference in the 2016 Presidential Election. 
Hunt was in the Oval Office on May 17, 2017, when Sessions informed the president that he was recusing himself from any matters concerning Russian interference and that a special counsel had been appointed to lead an investigation. According to Hunt's notes cited in the Mueller report, Trump slumped in his chair and said, "Oh my God. This is terrible. This is the end of my presidency. I'm fucked." 
The Public Service Path
Hunt joined the Department of Justice in 1999 after nearly a decade in private practice as an associate at White & Case and a partner at King & Spalding. "I literally saw an ad in the Legal Times for a trial attorney in the Federal Programs Branch of the Civil Division, and it piqued my interest," he says. "The Federal Programs Branch handles the very high-profile, significant constitutional and statutory challenges to the government's policies and programs in areas such as national security, immigration, and affirmative civil enforcement." In 2002, he was named one of its three directors.
Every case that is filed against the United States in any district first comes to the branch, which chooses the cases it wants to handle and the ones to assign to a regional U.S. attorney's office. "Attorneys in the branch are called trial attorneys, but there are not a lot of trials. It's mostly hearings and dispositive motions," he says. "I pinch myself because I had fascinating cases and great colleagues. I felt like I had a 24/7 adrenaline rush." 
In his estimation, the majority of career officials at the DOJ stay out of politics. "They do their very best to try to maintain principled positions for the government and the executive branch in litigation across administrations," he says. "A lot of career attorneys, if they spend many years at the Department of Justice, will end up defending things that they don't personally agree with. There are times when I didn't agree with a policy, but I had a responsibility to make the best arguments to defend the executive branch as a lawyer."
"There are hair-on-fire issues all the time, and you have to figure out how to help the attorney general manage this huge department."
Hunt, for example, was not a fan of the military's "don't ask, don't tell" policy. "I'm not a military expert, but it did not seem rational that [LGBTQ+] people could serve as long as they didn't declare to the world who they were," he says. "It was contrary to my worldview, but again, I defended it, because there were consistent arguments that had been made to defend it." Hunt didn't think it was up to DOJ attorneys to change the policy by simply not defending it. "The people who had the power to change it were Congress and the Department of Defense, and they ultimately did that. And when the repeal of 'don't ask, don't tell' was challenged, we defended that too!"
When Sessions asked Hunt to serve as his chief of staff, it was "on detail" and not technically a political appointment, so Hunt was able to remain a career official and retain his title at the Federal Programs Branch while chief of staff. "People think Sessions asked me because we're both from Alabama and have these accents, but we did not even know each other," Hunt says. "To his credit, Sessions wanted somebody in the chief of staff role who understood the department and had been there a long time." 
Hunt enjoyed the challenges and power of being chief of staff. "There are hair-on-fire issues all the time, and you have to figure out how to help the attorney general manage this huge department," he says.
After eight months of working together, Sessions asked Hunt if he'd be interested in leading the DOJ's Civil Division, the largest litigating component of the DOJ, with a cadre of 1,100 lawyers. It was a major life decision because it would be a political appointment (nominated by the president, not the AG) requiring a Senate confirmation hearing and Hunt's having to resign as a career attorney. He also knew that serving as head of the Civil Division meant he would leave the DOJ when that appointment ended because there would be nowhere else for him to go in the department.
"The idea that I would eventually leave the DOJ was the sad part for me, but I felt like in taking that job, I could maybe be a speed bump, if you will, because I knew the department, and I believe very strongly in trying to maintain consistent positions across administrations," he says. "What I came to find out is that a lot of times people don't care, and they are going to ride roughshod over that speed bump or around it. But I did my best to not let that happen, even if I didn't always succeed."
A Worldly Perspective
Born in Tupelo, Mississippi, Hunt moved with his missionary parents to Taiwan when he was 6 months old, and they lived there for a decade. "Even though I was a foreigner, Taiwan felt like home to me, and that was the culture I knew as a child," he says. "During those years, the United States changed its policy from recognizing the Republic of China, Taiwan, as the one true China, to recognizing the People's Republic of China as the one true China. I was very attuned to this issue."
Hunt remembers riding his bicycle down the street and Taiwanese people spitting on him because he was an American. "I represented a betrayal, and at the time, I shared their views," he says. "When I was 10, I wrote a letter to President Nixon complaining about his China policy. In response, I got an envelope from the White House with an 8-by-10 glossy color photo of the Nixon family."
"Someone suggested that law school would broaden my career possibilities, so I applied to Columbia because it had a strong reputation in international law."
When his family returned to the United States, they settled in Alabama, where Hunt saw his first football game and learned that Alabamians must swear allegiance to one of two college teams. "I chose Auburn instead of that other school [the University of Alabama] and became a rabid fan," he says. After earning a B.S. from Samford University and an M.A. in international affairs from Florida State University, Hunt considered applying to the Foreign Service. "Someone suggested that law school would broaden my career possibilities, so I applied to Columbia because it had a strong reputation in international law."
Attending Columbia Law School was intimidating at first. "Here I was, a Southern boy from rural Alabama at a great Ivy League school, and I had the sense that all these people were a lot smarter than I was," he says. "But it was a great experience because I became friends with people who came from different backgrounds, different parts of the county, different ways of life, and I came to understand that not everybody sees things the way I do. It was an eye-opening experience for me in that way."
A Return to Private Practice
After leading the Civil Division for two years, Hunt resigned from his post early in July 2020. (He did not want to stay through the remainder of the Trump administration and had no intention of continuing on in a second if the president was reelected.) Now in private practice, he represents clients whom the government has an interest in from an enforcement or investigation perspective. "When I am dealing with the DOJ, I know the arguments that are coming because they're so ingrained in me," he says.
Looking back at his tenure at the DOJ, Hunt says working on national security litigation was especially meaningful to him. He takes pride in having secured constructive trusts over the proceeds of books that divulged classified information without getting the required prepublication review authorization, including former CIA employee Edward Snowden's Permanent Record. "I was always very upset and angry when people, of their own accord, disclosed classified information without authorization, because there are a lot of officials who spend their careers diligently protecting against the disclosure," he says. "Whether it's a leak to the media or it's in a book, nothing gets me more riled up than that." 
Hunt despairs that the integrity of the FBI and DOJ has been called into question in recent years. "That's unwarranted because, by and large, these are institutions filled with people who are working hard to do their jobs the right way and take consistent, principled positions, even if it doesn't appear that way to the outside world," he says. "I hope we'll come to the day where there is a rehabilitation in the eyes of the public about the value of the Department of Justice as largely independent and set aside from politics."
He also believes that working at the DOJ is a wonderful career move, especially for new attorneys, and encourages recent Columbia Law graduates to consider applying. "You get a lot of hands-on experience because there's so much to do, and you get a lot of responsibility early on," he says. "You can think about going into private practice and making more money later. But my bet is that once you take that public service job, you'll want to stay in it for a long time."
Update: On February 7, 2023, Jody Hunt was named general counsel of Samford University, where he received a B.S. in public administration and was co-valedictorian of the Class of 1982.