How I Got Here: Temi Adeniji '12
How I Got Here: Temi Adeniji '12
Temi Adeniji '12 is managing director of Warner Music South Africa and senior vice president for strategy, sub-Saharan Africa.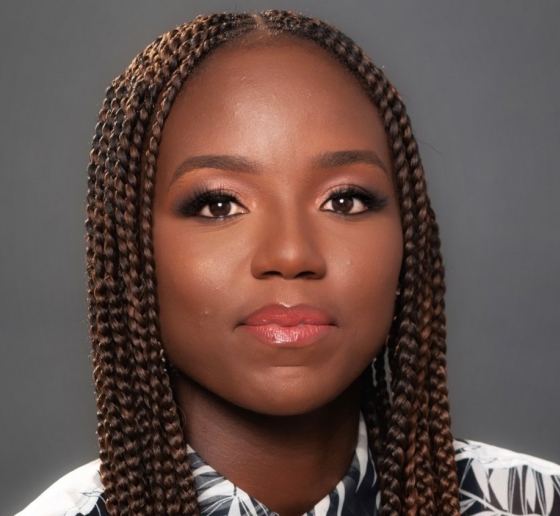 What exactly do you do?
My job is to manage Warner Music's business across sub-Saharan Africa, to develop and define our long-term vision and growth plan for Africa in alignment with the company's overall recorded music strategic priorities.
The core of the business is A&R [artists and repertoire], finding talent and determining which ones we want to bring on board. We're thinking about genres that are hot right now, or what we think the next hot thing is, so that we can be ahead of the curve. We do that by looking at data but also by getting out to the places where tastemakers and those who really drive where music is heading are going to be. 
I also look after production, getting artists into the studio with the right partners to create their best possible work. We take that music and market it to the widest possible audience in the most effective way possible. I manage our relationships with digital service providers—such as Boomplay, Spotify, Apple, and YouTube—to ensure that their strategies are aligned with our business needs. And I oversee our finance operations. We're distributing royalties to our artists generated by the use of their music in different ways, from spins on streaming services to airplay on radio or public performance in bars or clubs. 
Through all that, I'm always trying to keep my team aligned on the North Star, which is the KPIs [key performance indicators] we set for the business. Every moment of every day and everything is driving towards reaching those KPIs.
What do you like about your job?
I grew up playing the viola and dabbled in the clarinet. I was classically trained, studied a bit of music theory, and played in a couple of orchestras. I always loved music, and I like being around artists. The thing I love about the job is that it's so complicated, and it's very people based and relationship based. It's super dynamic, and you have to be so responsive. I think that keeps me very engaged.
When I was interviewing for this role, I walked into the office, and our international president had a map of the world. All the places where Warner Music was operating were in blue and everywhere else in white. And when you looked at Africa, it was all white except for South Africa. I thought, I want to be part of filling that map out.
What happened to a legal career? 
Most of my family are lawyers. I graduated from Princeton in 2009, when the economy crashed, law school felt like a safe bet. I came to Columbia, and I did the joint [J.D./LL.M.] program with University College London. I followed a pretty safe route—particularly with my Nigerian immigrant family, this made sense to them. When I ended up at a law firm, I realized very early on that it just wasn't really aligned with my strengths. Sitting on weekends looking through covenants wasn't really what I wanted to spend the rest of my life doing. I wanted to be on the business side without having to go to business school.
Do you listen to live music, or are you too busy looking at spreadsheets?
I have to listen to music. When you get stuck in the spreadsheets and the agreements, you get so far away from the creatives you can't actually make optimal decisions for them. You start to forget just how incredible their gift is because it's not conventional. When I'm sitting in a studio seeing an artist arrange a song from scratch, that reminds me that what I'm doing is important, but what they're doing is very important. 
Has this job changed the way you listen to music?
Definitely. I'm using my gut feeling to say, "I think this will connect with audiences." I'm also thinking, "How does this make me feel? How do I think it will make other people feel? What audience is this talking to? How do we help the artists share the message that they're trying to get out there? How do we help the artists be authentic to who they are while sharing this message?"
What motivates you?
Changing the narrative about how Africa is perceived globally. For a long time, people have been saying, "Oh my gosh, African music is on the rise now." I find that infuriating because almost all music originated from this continent. It has inspired so many different genres. It has always been a source of major influence for the world. But the PR has always been terrible. By building a business that has incredible talent with incredible people, we can help to start to change that narrative in a really significant way. And that's what motivates me.
How does your Columbia Law training help you in your job today?
Going to law school changes the way that you think. I am very methodical in the way that I approach things, and I think most lawyers are. Because the music industry is so haphazard, this ability to create processes and systems has been the most helpful thing about my education. The challenge is actually figuring out the processes that are flexible enough to allow people to continue to be creative.
What in your experience has been most helpful in getting you where you are?
I have a good friend who is a studio engineer at Warner Music's Atlantic Records, and she always says, "Make time for time." Making time for people, making sure you foster relationships, is the most important thing. I have some really good friends that I made at Princeton and Columbia who challenged me—outside of work, in life in general. They challenged me to raise the level. Having that network of people and really pouring myself into that is the most valuable thing that has gotten me to where I am.
What's the most difficult thing about your job, and how do you deal with it?
In a business like a pharmaceutical company, your products don't talk back. They don't think anything; you just make them, and that's it. Every day with an artist, you're dealing with a living, breathing person who has ideas, who has opinions, and who has feelings. You're navigating this all the time while also trying to make optimal decisions. It's very, very high touch. Sometimes, I don't take phone calls; I will ask everybody to just text. Especially now with Zoom calls all day, I sometimes cannot handle all the stimulation, and I need to take a step back. 
How do you imagine your professional future?
My key marker is, am I still learning? I'm still learning and growing in this role. I love the product, I love the people, the artists, the creatives. Music tells stories in a specific way. I like being around the process of telling stories in whatever way, shape, or form that is. I could see myself down the line moving to a different segment of media. 
If only someone had told you . . . 
You get to decide who you become. All these experiences that you go through teach you something about yourself. Then you get to use those ingredients to make the next version of you.
I always was trying to go to the best schools and the best, the best, the best, and best. So it really hit me quite hard when I ended up at a law firm, and I was like, wait, I'm not really happy. I had never thought about what makes me happy. It was always, what am I achieving? If I had had that knowledge, I probably would have enjoyed law school a lot more. Now I realize what a privilege it was to be at Columbia Law School, learning from the most amazing professors.