Honoring 'Her Honor': A Lasting Tribute to RBG's Enduring Legacy
Honoring 'Her Honor': A Lasting Tribute to RBG's Enduring Legacy
Columbia Law School announces the creation of an endowed professorship in honor of Justice Ruth Bader Ginsburg '59, along with two new scholarships in her name.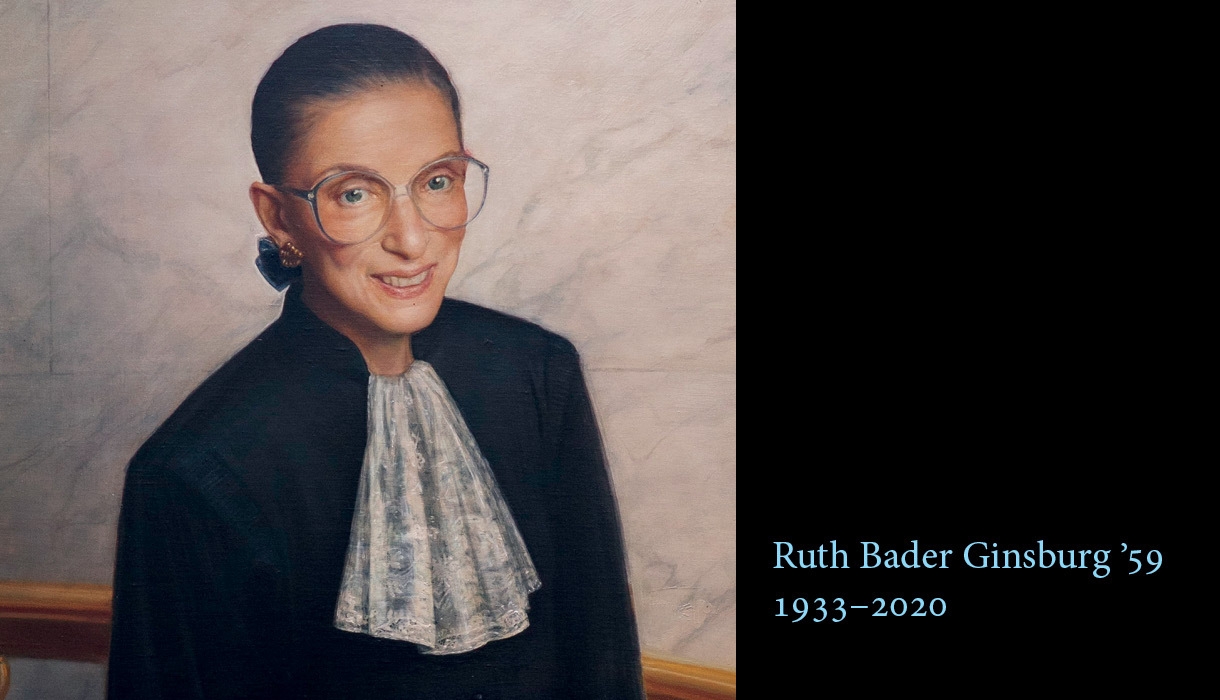 In 2018, following a remarkable day of events at Columbia celebrating the 25th anniversary of Justice Ruth Bader Ginsburg's investiture to the U.S. Supreme Court, Gillian Lester, Dean and the Lucy G. Moses Professor of Law at Columbia Law School, began conversations with alumni about ways to create a lasting tribute to the iconic justice. 
"She not only laid the legal groundwork for gender equality in this country," says Dean Lester. "Justice Ginsburg was a Columbian through and through." 
Ginsburg graduated from Columbia Law School in 1959 tied for first in her class. Before her appointment to the federal bench, she distinguished herself as a legal scholar and advocate for women's rights and became the first woman in the Law School's history to be appointed to the tenured faculty. Later, in a questionnaire submitted in advance of her Law School Reunion, Ginsburg noted that she and her daughter, Jane C. Ginsburg, Morton L. Janklow Professor of Literary and Artistic Property Law, were the "first mother-daughter teaching team." 
"I can think of no more fitting way to honor such an important part of Columbia Law School's history and community than by establishing a named professorship in her honor," said Dean Lester when announcing the creation of the Ruth Bader Ginsburg '59 Professorship of Law, by coincidence, on the day of Ginsburg's death. "I am so pleased that I was able to share this news with Justice Ginsburg and express to her our collective admiration and gratitude." 
The professorship was established through the generosity of a committed group of Law School alumni and supporters, including University Trustee Emerita Esta E. Stecher '82, Ginsburg's former clerk Elizabeth Glazer '86 and her husband Bill Montgomery '86, former clerk Bill Savitt '97, and the law firm Wachtell, Lipton, Rosen & Katz.
Stecher recalls that Ginsburg, who joined the faculty in 1972, was her only female teacher at Columbia Law. "This professorship will honor Justice Ginsburg's groundbreaking role at Columbia Law as the school's first female tenured professor," she says. "She inspired me and so many of my classmates in our pursuit of the law as a career. She showed us what was possible."

Noting the enthusiastic "fan club" that Ginsburg had at Wachtell Lipton, where several of her former clerks currently work, Savitt says that the endowed Columbia Law professorship honors the legal giant by "integrating the many strands of her extraordinary career. Before becoming the leading light of the bench and bar, she was first a Columbia Law student, and then also a faculty member and a scholar at the School. Columbia gave Justice Ginsburg a home, and she was as deeply loyal and committed to the Law School as the School and its community was and always will be to her."
In addition, thanks to an estate gift from Ginsburg's friend and colleague, the late Professor Harlan Morse Blake, the Law School has established the Justice Ruth Bader Ginsburg Scholarship Fund, which will provide support to Columbia Law students with financial need. Two scholarships will be awarded beginning next year, with the hope of expanding the scholarship endowment in the coming months and years. The Law School welcomes contributions in Ginsburg's memory through this fund.
"Together, the Ruth Bader Ginsburg '59 Professorship and Scholarships will support, nurture, and inspire students and faculty for many generations to come," says Dean Lester.