Historian With a Cutting-Edge Approach Joins Faculty
Historian With a Cutting-Edge Approach Joins Faculty
Associate Professor Kellen Funk uses data science and focuses on current issues, such as the American bail system.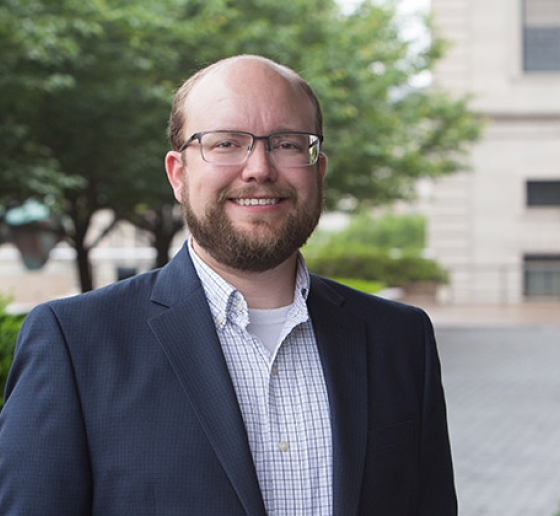 Kellen Funk is a legal historian as concerned about the present as he is about the past. The newly-hired Columbia Law School associate professor of law is an expert on 19th-century legal institutions, federal courts, and the codification of the rules of civil procedure. He also uses a historical lens to shed light on topical issues such as religious pluralism and the bail system in the United States.
This fall, Funk will be teaching the seminar the American Bail System. "Bail often falls analytically through the cracks between the civil and criminal divide," he says. "Until recently, it hasn't gotten the attention it deserves, but it's extremely important in the lives of ordinary users of the justice system, especially in many county jails."
Funk is one of five new professors appointed this year by Gillian Lester, Dean and the Lucy G. Moses Professor of Law. "Kellen's intellectual breadth spans disciplines in new, exciting and collaborative ways," Dean Lester said when she announced the appointment. "In addition to its innovative interdisciplinarity, Kellen's work displays a compelling combination of care in execution, modesty in voice, and yet boldness in not shrinking away from quietly challenging received canons of legal history scholarship."
Funk's interest in the law dates to his days at evangelical Bob Jones University in Greenville, South Carolina, where he earned a bachelor's degree in history in 2007 and a master's in church history in 2009. As an undergraduate, he became fascinated by the complexities and nuances of American legal history when he wrote an article that explored why South Carolina was the last state in the nation to permit divorce in 1950. "As I tried to unravel the reasons why I realized it was much less about family law and culture, and it was more about the legal profession, lawyers, civil procedures and practices, and jurisdictional battles over recognizing what were called 'foreign' divorces—that is, divorces from outside South Carolina, including from another state," he says.
His faith is integral to both his personal and professional life. "As a Baptist, my religious background very much informed my education and continues to inform a lot of the work I am interested in," he says. "I'm particularly interested in where churches fit into the constitutional order beyond the First Amendment.
"I'm interested in churches as corporations that hold property and make contracts, civil institutions that emulate or even generate what secular courts come to think of a 'due process,'" he continues. "My background makes me sensitive to issues of church governance and where churches fit into the fabric of the American legal order. It means that when I turn to subjects like the bail project, it helps me to be aware that people often get the most help through faith-based ministries that are trying to blunt the traumatic edge of the pretrial incarceration system, ministries that otherwise get overlooked in the sociological and legal literature."
Funk simultaneously pursued his J.D. at Yale and Ph.D. in history at Princeton. His dissertation, "The Lawyers' Code: The Transformation of Legal Practice," explores how New York state's enactment in 1848 of the first American practice code (aka "The Field Code") granted significant power to lawyers in the management of litigation and codified rules of civil procedure that were adopted by other states and the federal courts. While writing his dissertation, Funk also clerked for Chief Judge Lee H. Rosenthal of the U.S. District Court for the Southern District of Texas (2016–2017) and Judge Stephen F. Williams of the U.S. Court of Appeals for the D.C. Circuit (2017–2018). He credits his judges for giving an inside look at how procedural rules are made and implemented in day-to-day litigation. During this period, he co-wrote (with Lincoln Mullen) "The Spine of American Law: Digital Methods and U.S. Legal Practice," which was published in the American Historical Review in 2018.  
Funk expects to expand and refine his use of data analytics by partnering with students and staff at Columbia University's Data Science Institute. "The institute is doing exciting work, and though I am not a programmer, I know how to collaborate with engineers," says Funk, who wants to digitize and analyze the paper filings for nearly every civil case litigated in New York County in the 19th century. (They are stored at the historic Surrogate's Courthouse in lower Manhattan.) "One of my ambitions is to build one of the world's greatest legal archives and make it publicly available and coded so that researchers around the globe can use it. And I think the Data Science Institute will be vital to that project."
Currently, Funk is writing a book with the working title American Bail: A History of Pretrial Detention in the United States. It focuses on the ethics and legalities of the current bail system that dates to the earliest days of the country ("Excessive bail shall not be required" are the first words of the Eighth Amendment of the Constitution). "How did this system of wealth-based incarceration perpetuate itself over time? It's so widespread and well entrenched that it raises particularly thorny problems of reform and constitutional structure," he says, adding that there is a movement across the country to abolish cash bail. "At jails like Rikers Island in New York, the majority of people there are not convicted defendants. They are awaiting trial on their charges. But because they cannot afford their bail or bail has not been set, they are incarcerated."
Funk says that Columbia Law School is an ideal place to pursue his scholarship because there are several other historians on the faculty including Jeremy Kessler, Christina Ponsa, and Maeve Glass (who also joined the faculty on July 1 and was his colleague in the history department at Princeton). "Columbia has long been a powerhouse in legal history," he says. "I'm excited that I am part of a cohort of legal historians who will continue that tradition of excellence."
###
Posted on July 20, 2018