Celebrating Alumni of Color
Celebrating Alumni of Color
Columbia Law School Dean Gillian Lester and George W. Madison '80 Address Gathering of Lawyers, Judges, Scholars, and Leaders in the Legal Profession at Inaugural Event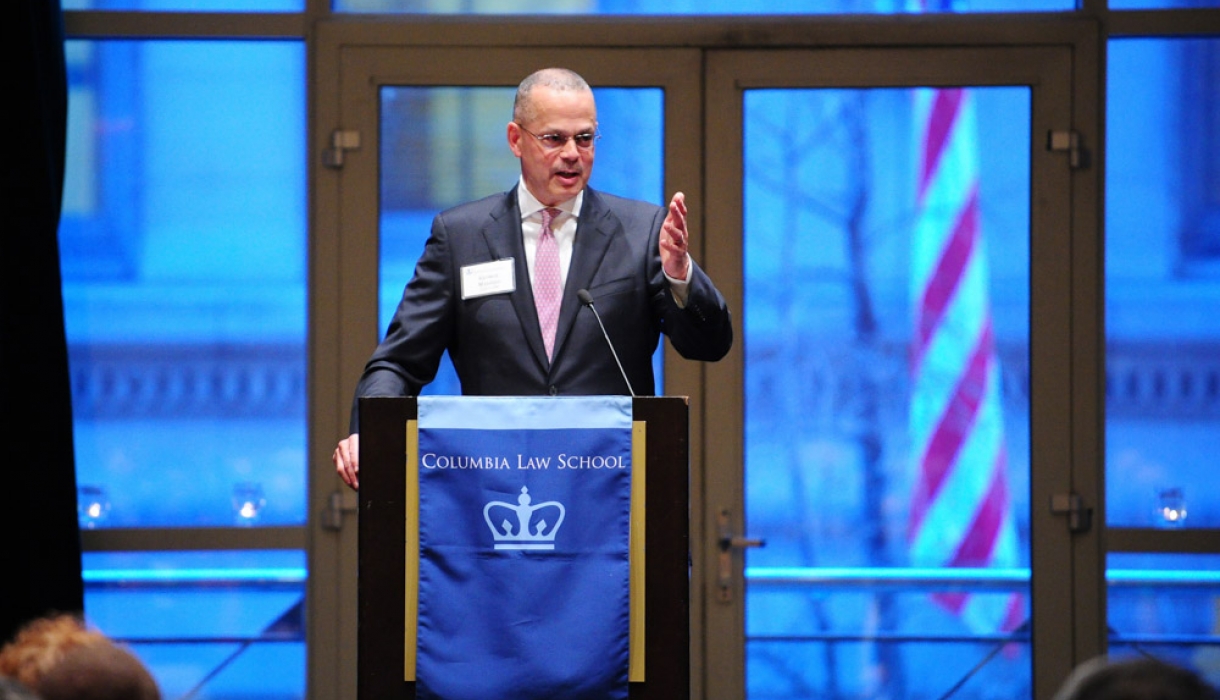 New York, April 8, 2016
—Columbia Law School
Dean Gillian Lester
recently hosted a reception and discussion celebrating the leadership and accomplishments of Columbia Law School's alumni of color from around the country.
George W. Madison
'80, former general counsel at the United States Department of the Treasury and now a partner at Sidley Austin, delivered the keynote address at the March 29 event held at Sofitel New York in Midtown Manhattan.
More than 100 guests—including alumni of all ages and specialties, as well as faculty and friends—mingled, reminisced, and strategized about how to build greater opportunities for the next generation of lawyers. Noting that the legal profession remains the least diverse in the United States, Madison exhorted the distinguished attorneys, judges, scholars, and other leaders in attendance to help improve job recruitment, expand mentoring relationships, and unleash the potential of an underutilized talent pool.
"It is well past time to hold ourselves even more accountable to create and maintain equal opportunities in the legal profession and in our firms," said Madison, a 2012 recipient of the Law School's Lawrence A. Wien Prize for Social Responsibility. "Columbia Law alumni of color are on the bleeding edge of this challenge."
Madison also challenged the group to work with the Law School to establish a scholarship fund to help finance the tuition and expenses of deserving minority students. He also encouraged his fellow alumni to apply their diverse experiences to work in the federal government, as well as other public service opportunities. "I strongly believe we alumni of color should be a sustaining force for the Law School and ensure our legacy and that of the Law School in the legal profession," he said.
During his time in government, Madison served as a senior policy adviser to then U.S. Treasury Secretary Timothy F. Geithner, helping oversee the implementation of the Dodd-Frank legislation—among other complex regulations—and earning the Alexander Hamilton Award, the Treasury Department's highest honor. Madison was the beneficiary of another honor, when in 2011 he was asked by Columbia Law School to deliver the Graduation keynote address.  
In her remarks, Dean Lester, the Lucy G. Moses Professor of Law, highlighted the Law School's efforts to make the most of its global community, including a new series of events, Lawyers, Community and Impact, created to spark deeper conversations about race, culture, and law. In addition, Dean Lester formed a new honorary committee of alumni of color, whose distinguished members helped inaugurate the event and will play a role in future conversations and plans.
"Diversity, both as a core value and as a practical matter that plays out in our halls and in our classrooms every day, is a key part of the identity of the school," she said. "The success of Columbia Law School, and its longstanding tradition of excellence, has rested in no small part on the contributions made by students and alumni of color."