Called for Duty: Emily Drake '22 Serves With National Guard to Combat Coronavirus Crisis
Called for Duty: Emily Drake '22 Serves With National Guard to Combat Coronavirus Crisis
Drake is spending her first deployment as a National Guard lieutenant by supporting a drive-through testing site and leading a squad that distributes food in Westchester County, New York.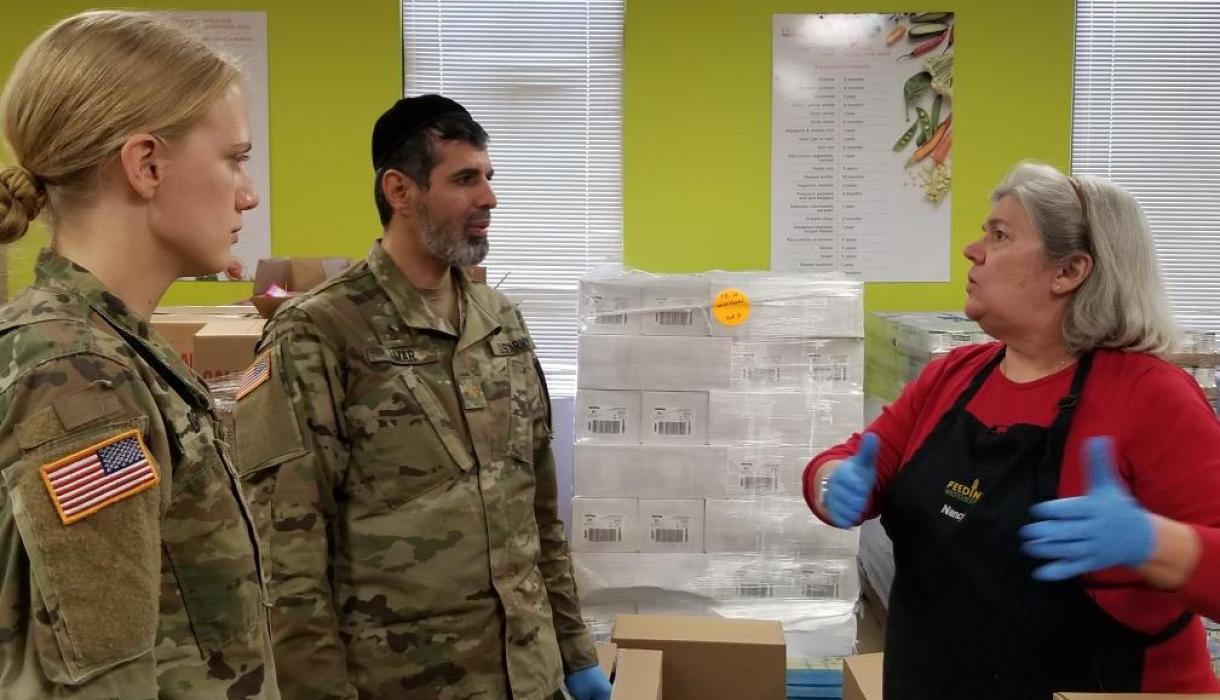 Columbia Law student Emily Drake '22 had canceled her spring break trip to Florida because of the coronavirus and planned to hunker down at home on West 115th Street when a text she received on March 16 resulted in another change of plans: Drake (pictured above, left) had 24 hours to report to active duty with her New York National Guard unit, the 101st Expeditionary Signal Battalion, to serve on the front line of the coronavirus outbreak.
Now, 2nd Lt. Drake is leading a unit of 25 soldiers that is putting in 12-hour days packing, moving, and distributing boxes of groceries at Feeding Westchester, a regional food pantry in Elmsford, New York; she is also scrambling to fit in law studies via recorded Zoom classes and catch up on reading during the weekend. A member of the inaugural class of Public Interest/Publ Service Fellows, Drake plans to spend this summer as an intern at the Sabin Center for Climate Change Law, assuming she is able to return from active duty. Like the crisis, her call-up is for an indefinite period of time. 
Drake, 23, is one of 2,200 members of the New York National Guard now on active duty to help combat the COVID-19 crisis. "People are nervous everywhere," says Drake, who was commissioned through the ROTC at her undergraduate college, the University of North Carolina at Chapel Hill. "You know, just because we're in the military doesn't mean we're not nervous or scared. But the mindset is, you worry about other people rather than yourself. Everyone wants to be with family at a time like this. We try to remember that someone needs to be doing the things that we do—and we're the ones who signed up for it." 
The emergency food distribution center in Westchester has attracted long lines of cars. To minimize contact, the soldiers put boxes with four days' worth of groceries directly into the trunk of each car, but the wait to receive supplies is at least an hour. "It was a really great feeling to make a difference" by distributing groceries, Drake says. But the long lines made her realize the severity of the crisis. "Anyone who needs to do that is desperate,'' she says. This week, she expects to be leading a unit directing traffic and counting heads at a drive-through medical testing site. 
Helping out during disasters is what National Guard soldiers do regularly, but the difference in this mission is that after hours, Drake and members of her unit must hole up alone in their hotel rooms. Drake worries about the morale of her soldiers, some of whom have left behind newborns or pregnant spouses. She urges them not only to call home, but also to work out to get their endorphins flowing. Some members of her squad are also in school and trying to study and serve at the same time. "Everyone misses their family, of course, and their friends. But I think they all understand that we're here for things bigger than ourselves."
Serving so close to her home state of New Jersey makes the experience of fighting a pandemic all the more unsettling. "You don't expect to be activated near the place where you grow up,'' she says. 
As Drake tries to complete the semester while putting in long days with the Guard, she says her professors and her friends have been helpful and supportive. She's requesting a day off from her commander to take exams—and maybe an extra day beforehand to study.
"My professors have all been amazing. They've all been really great about offering to let me Zoom them or call them about the reading," Drake says. Her friends also have volunteered to send course notes and outlines. 
Still, she says, "The level of relief I felt when the Law School decided to do pass/fail—I can't even describe. Because before that, I had no idea what I was going to do." (The Law School announcedMarch 20 that grades for spring courses will be awarded on a mandatory credit/fail system.) 
Like her soldiers and the millions of others who are quarantined because of the pandemic, Drake finds the hardest part of her mission is when she shuts her hotel room door and feels "trapped" by isolation.
 "But every time I start to think that way, I think, 'Every time you do this you might be saving a life," she says. "Would I rather be at home, in school, knowing what's going on and feeling like I can't help? I'd rather be here and trying to help people.''