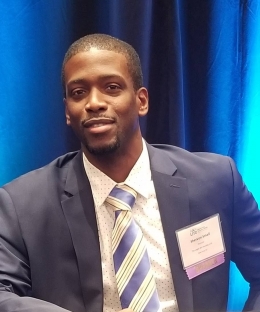 Shervon M. Small, Esq. is the Director of the Economic Equities Practice at The Legal Aid Society. There he supervises the Community Development Project serving nonprofits, small businesses, and Housing Development Fund Companies (HDFCs) in incorporating, board development, etc., the Low Income Taxpayer Clinic (LITC) in taxpayer disputes with the Internal Revenue Service and NYS Department of Taxation and Finance in U.S. Tax Court and before Federal and State administrative agencies, and co-supervises the Consumer Law Project in litigating debt collection cases, providing bankruptcy assistance to consumers with outstanding debt, in resolving outstanding student loans, etc. In the past six years alone, Shervon and his teams have saved low-income New Yorkers nearly $4 million in tax liabilities and consumer debt and recovered nearly $200,000 in tax refunds.
Shervon values relationships with stakeholders, community-based organizations, legal services providers, and elected officials and regularly provides trainings to their staff and constituents on matters impacting low-income New Yorkers. He presents at national, state, and local conferences, testifies before the state legislature and City Council, conducts legislative advocacy pushing for laws and policies that will benefit low-income New Yorkers, and frequently provides technical assistance and advice to advocates across NYC in interpreting various legal provisions and their impact on clients/constituents.
Prior to joining The Legal Aid Society, Shervon's work included litigating residential real estate foreclosure actions in state court involving mortgage servicing companies, predatory lenders, and deed theft. Additionally, Shervon was a law intern at the New York State Department of Taxation and Finance's Office of Counsel and, as a law student admitted to practice under Special Practice Order at Albany Law School's LITC, he received the Law Day Student Award for his commitment to low-income New Yorkers. Shervon earned his Doctor of Jurisprudence from Albany Law School and is a proud resident of the Bronx.