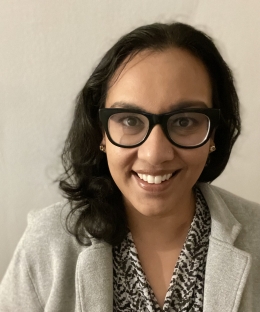 Riti Singh is a Staff Attorney in the Appeals Unit of the Juvenile Rights Practice at The Legal Aid Society. As an appellate attorney, Riti represents children in abuse, neglect, custody/guardianship, and termination of parental rights proceedings. She is responsible for drafting, filing, and arguing briefs on behalf of children in New York appellate courts, as well as counseling clients and advising attorneys on trial strategy. Before joining the Appeals Unit in 2016, Riti was a trial attorney, regularly appearing in Queens County Family Court as Attorney for the Child in child protective cases. 
In addition to her work at The Legal Aid Society and Columbia Law School, Riti is actively involved with the South Asian Bar Association of New York (SABANY), serving as the VP of Public Interest for the 2022 term and the VP of Gender and LGBTQ Equity for the 2023 term. She is also a mentor with The Appellate Project (TAP), which aims to empower law students of color to pursue and thrive in the appellate field.
Riti earned her law degree from Brooklyn Law School, where she graduated cum laude and was a member of the Brooklyn Law Review, an Edward V. Sparer Public Interest Fellow, and the recipient of the Professor Nancy H. Fink Family Law Award. She was also a Bergstrom Child Welfare Law Fellow and the recipient of a SABANY Public Interest Fellowship. Prior to law school, Riti taught high school English with Teach for America in New Orleans, Louisiana, and earned a bachelor's degree in Industrial and Labor Relations from Cornell University.