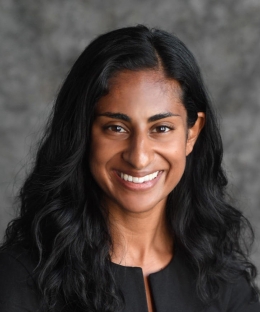 Ramya Krishnan is a staff attorney at the Knight First Amendment Institute, where she litigates issues related to government transparency, protest, privacy, and social media.
Krishnan has been at the forefront of litigation challenging "prepublication review," a far-reaching censorship system that prohibits millions of former public servants from writing or speaking about their government service without first obtaining the government's approval. She is lead counsel on National Association of Immigration Judges v. McHenry, a lawsuit challenging government policies gagging the nation's immigration judges. She has helped steer advocacy efforts calling on Facebook to create a "safe harbor" for digital journalism and research focused on its platform. She has also authored amicus briefs defending state privacy laws from First Amendment challenge, challenging the retaliatory deportation of immigrant activists, and supporting the right of state contractors to engage in BDS boycotts.
Krishnan joined the Knight Institute as its inaugural legal fellow. She previously worked at Australia's Attorney-General's Department, where she litigated several high-profile constitutional and administrative law cases, including in the High Court of Australia. From 2013-2014, she served as law clerk for the Hon. Robert Beech Jones of the Supreme Court of New South Wales.
Krishnan holds a B.A. and LL.B. (First Class Honors) from the University of Sydney, where she served as an editor of the Sydney Law Review, and an LL.M. from Columbia Law School, where she was a Raymond J. Baer Scholar. She has been published or quoted in the New York Times, Washington Post, Wall Street Journal, Slate, The Intercept, Columbia Journalism Review, and Just Security.