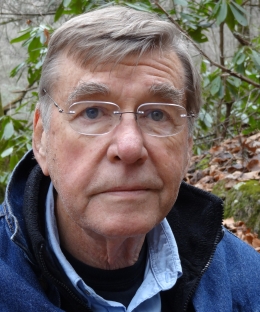 Michael E. Tigar is a lawyer, human rights activist, author, Emeritus Professor of Law at Duke Law School, and Emeritus Professor of Law at Washington College of Law, American University, Washington, D.C. He was Acting Professor of Law at UCLA and Joseph D. Jamail Chair in Law at The University of Texas. He has lectured at dozens of law schools, judicial conferences and bar associations in the United States, France, Switzerland, Japan, Cuba, and South Africa, including service as Professeur Invité at the faculty of law of Université Aix-Marseille (formerly Université Paul Cezanne). He is a 1966 graduate of Berkeley Law School (University of California, Berkeley), where he was first in his class, Editor-in-Chief of the California Law Review and Order of the Coif.
Mr. Tigar is author or co-author of fifteen books, three plays, and scores of articles and essays. He has argued seven cases in the United States Supreme Court and about one hundred federal appeals, and has litigated cases in 22 states in federal and state courts. His latest books are Sensing Injustice: A Lawyer's Life In The Battle For Change (2021), and Mythologies of State and Monopoly Power (2018).
He has been an associate and partner at Willians & Connolly, and a partner in the law firm Tigar & Buffone. Since 1996, he has been associated in law practice with Jane B. Tigar. His clients have included Isabel Letelier and her sons, the family of Ronni Moffitt, many other victims of the Pinochet repression, Angela Davis, H. Rap Brown, John Connally, Ronald Dellums, Mobil Corporation, Kay Bailey Hutchison, the Washington Post, Fantasy Films, Terry Nichols, Allen Ginsberg, Leonard Peltier, the Charleston Five, the Service Employees International Union, Fernando Chavez, Karl Dietrich Wolff, Francisco Martinez, Rosalio Munoz, Terry Lynn Nichols, the lawyers who won the Texas tobacco case, Lynne Stewart, and the Ilois people of the Chagos Archipelago. He has been Chair of the 60,000 member Section of Litigation of the American Bar Association, and Chair of the Board of Directors of the Texas Resource Center for Capital Litigation. Since 2017, he has been served as a hearing officer for the District of Columbia Bar Board on Professional Responsibility, adjudicating matters of professional discipline.
In his teaching, he has worked with law students in clinical programs where students are counsel in significant human rights litigation. He has made several trips to South Africa, working with organizations of African lawyers engaged in the struggle to end apartheid and, after the release of Nelson Mandela from prison, to lecture on human rights issues and to advise the African National Congress on issues in drafting a new constitution. He has been involved in bringing to justice members and agents of the Chilean junta, including former President Pinochet. Justice William J. Brennan, Jr., wrote of Mr. Tigar's career that his "tireless striving for justice stretches his arms towards perfection."
Mr. Tigar is listed in Professor John Vile's book, Great American Lawyers: An Encyclopedia (2001), as one of 100 "great" lawyers in United States history. In 1999, the California Attorneys for Criminal Justice held a ballot for "Lawyer of the Century." Mr. Tigar was third in the balloting, behind Clarence Darrow and Thurgood Marshall.
In 2018, the Rapoport Center for Human Rights and the Briscoe Center for American History at the University of Texas acquired Mr. Tigar's papers and memorabilia, and established an online guide. The opening ceremony, including remarks by Jeremy Corbyn, Fernando Chavez, Bernardine Dohrn, Patrick Higginbotham, and Jordan Steiker, and a performance from one of Mr. Tigar's plays, is at https://law.utexas.edu/tigar-event/photos-and-video/.