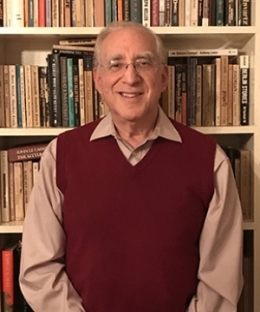 Martin E. Gold is an Adjunct Professor of Law at Columbia Law School, the highest appointment level for part-time professors.  He is also an Adjunct Professor in the Graduate School of Architecture, Planning and Preservation (since 1989) where he has taught several courses.  He was an associate at the law firm of Debevoise & Plimpton. He subsequently founded, and became the head of, the Economic Development Division of the NYC Law Department (1978 to 1985) and also served as Director of Corporate Law for New York City.  As the City's chief corporate lawyer he supervised and negotiated transactions that included South Street Seaport, the Portman-Marriott Hotel, Theater Row, and the 42nd Street-Times Square Project.  While in government he was the recipient of grant awards from the Rockefeller Bros. Foundation and The Fund for the City of New York.
In 1985 he joined Brown & Wood, as a partner, which merged with Sidley Austin LLP to be one of the largest law firms in the world.  His practice focused on real estate (especially development, acquisitions, financing, leasing, infrastructure and privatization projects.)  He represented the State of New York in the development of Roosevelt Island north and Columbia University in the development of the Audubon Biomedical Research Park, Shapiro Hall, the State Psychiatric Institute Building, the Mailman School of Public Health, and aspects of the new Manhattanville campus.  He was counsel for the development of several New York area airport terminals, including Terminal 4 at JFK (which required the skills of 30 Sidley lawyers), Delta's renovation of LaGuardia airport, and a terminal at Newark Airport.  He advised Puerto Rico on the development of three public-private co-generation power plants, three private prison complexes, a water treatment facility and the redevelopment of  San Juan Airport.  He was counsel to the New York Library system on the conversion of the vacant 900,000 sq. ft.  B. Altman Department Store into a condominium for commercial not-for profits, in which the Library purchased a 400,000 sq. ft. unit and built-the Science and Business Library.  In addition, he represented the City and County of Durham, N.C. on the development of a publicly financed and operated civic center with a privately developed hotel in a single structure
Mr. Gold graduated from Cornell University where he was senior class president and class marshal.  He went with Operation Crossroads Africa to Gambia 1965.  He received a Juris Doctor degree from Harvard Law School and a MPA degree from the Harvard Kennedy School of Government.  He is the author of approximately twenty articles, most of them in law or economic journals (including law reviews at Columbia, Harvard, Fordham, Virginia, and Stanford), and the book Law and Social Change: A Study of Land Reform in Sri Lanka, written on Ford Foundation grants and having a foreword by Gunnar Myrdal.  He is the recipient of five pens used by New York State governors used to sign laws that he was responsible for drafting. He has lectured at numerous universities and at the U.S. Conference of Mayors, the National Conference of State Legislatures, and at several programs of the U.S. Justice Department.  Mr. Gold has been listed annually in Super Lawyers, Best Lawyers in America, Who's Who in America and Who's Who in the World (both since 1985) and in The Legal 500 multiple  times.  He has been elected a Fellow of the American College of Real Estate Lawyers (ACREL), which is the highest honor in the field.  In 2017 the Marquis Who's Who Board named him to the first group ever honored for "Lifetime Achievement".
He departed from Sidley in mid-2018 and went to teach at the University of New South Wales Law School (in Sydney), and in early 2019 he was a special presenter at a conference of leading Australian and New Zealand real estate attorneys in Auckland.  He has visited all 50 U.S. States and the two visits downunder were his 109th and 110th countries visited.