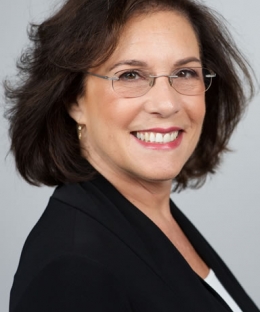 Kathy Holub is a lecturer in law at Columbia Law School, where she teaches a negotiation workshop.
Kathy Holub is a strategist, problem-solver, negotiation teacher, mediator and former lawyer with 20 years of experience in conflict resolution.  She has taught Negotiation at Columbia Law School for nineteen years and at Harvard Law School for more than a decade.  Through her firm, Holub Consulting, she helps clients navigate high-stakes conflicts of all sorts.
Many of Ms. Holub's clients are individuals and families facing tension over estate planning issues, inherited property and family enterprises.  Her mantra is: "Divide the stuff, not the family." No matter what the issue, she helps families have necessary conversations in an atmosphere of safety so they can make informed decisions with everyone on board.  She knows from personal experience that conversations related to inheritance can be uniquely challenging, even for the most close-knit of families.  Her work focuses on helping clients solve practical problems while supporting the relationships that will endure long after the estate issues are settled.
Ms. Holub is also a seasoned negotiation coach who has trained thousands of senior executives, professionals, and entrepreneurs from fields such as finance, government, communications, health care, and law.  Her trainings are highly interactive, using roleplays and discussion to help participants hone their skills.  She also works one-on-one with CEOs and other senior decision-makers on how to deal skillfully with difficult clients, employees and business partners.  She has delivered Continuing Legal Education programs on "Women and Negotiation" at the New York City Bar Association and other organizations. 
Ms. Holub is a former journalist and Pulitzer Prize-winner who continues to use her writing and editing skills.  She has edited four books, including "Bargaining With the Devil: When to Negotiate, When to Fight," by Harvard Law Professor Robert H. Mnookin (Simon & Schuster 2010).
She received her J.D. from Yale Law School and her A.B. from Harvard College in 1976.