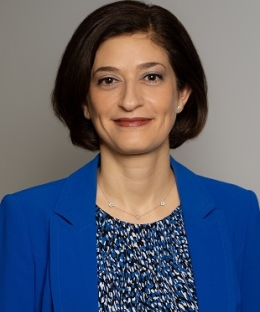 Caline Mouawad is a partner at Chaffetz Lindsey LLP, a premiere international disputes boutique based in New York, where she represents clients in international commercial arbitrations and investment treaty disputes, as well as related litigation matters, across the globe and in a variety of industry sectors.  She acts as counsel in arbitrations conducted in English and French before all major arbitral institutions.  In addition, Caline regularly serves as an arbitrator. She is listed on the Panel of Neutrals for the International Centre for Dispute Resolution and the AAA National Roster of Arbitrators and Mediators.  
Chambers Global USA recognizes Caline as "an excellent practitioner" and an "impressive lawyer," while Legal 500 US praises her "excellent, steady hand in arbitration" and her "knowledge of the players, issues."  Who's Who Legal distinguishes her for her "astonishing ability to find the weak spot of a case in a heartbeat" and for being "great on her feet and an excellent advocate on complicated issues." 
Caline has published several articles on international arbitration and investor-state disputes, notably "A Guide to Interim Measures in Investor-State Arbitration" and "The Illegality Objection in Investor-State Arbitration," both published in Arbitration International.  She frequently speaks on international arbitration topics and was the 2021 Columbia Arbitration Day Keynote Speaker on "Arbitration in a Changing World," with her remarks published in the American Review of International Arbitration.
Caline currently serves as Vice-Chair of the Steering Committee of the ICC Commission on Arbitration and ADR and the Steering Committee's liaison to the ICC Task Force on Addressing Corruption Issues.  Caline also serves as Co-Chair of the IBA Investment Arbitration Subcommittee and is a member of the IBA Arbitration Committee's Task Force on Privilege.  She is a Director of the New York International Arbitration Center, as well as a Member of its Executive Committee.  She formerly chaired the International Law Committee of the New York City Bar Association, and is currently a member of the International Commercial Disputes Committee.