Max Berger '71 Public Interest/Public Service Fellows Begin Their Careers
Max Berger '71 Public Interest/Public Service Fellows Begin Their Careers
Since launching four years ago, the Max Berger '71 Public Interest/Public Service Fellows Program has jumpstarted the public interest and government careers of nearly 50 Columbia Law graduates, and provided more than 100 Columbia Law students with specialized opportunities and support.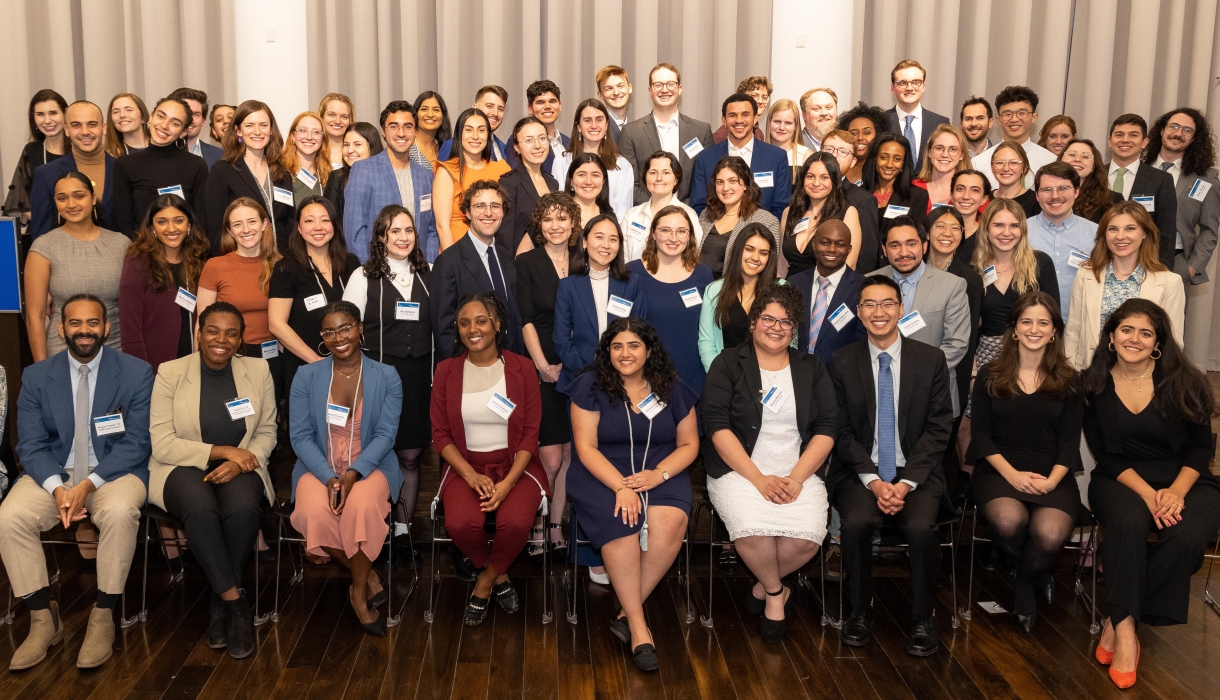 Pictured: alumni and members of all three cohorts of the Max Berger '71 Public Interest/Public Service Fellows Program.
When the Max Berger '71 Public Interest/Public Service Fellows Program (formerly known as the Public Interest/Public Service (PI/PS) Fellows Program) launched in 2019, it promised to offer specialized support and training to students, beginning in their first year, who had a demonstrated commitment to pursuing careers in the public interest, government, human rights, or other nonprofit work immediately upon graduation. Erica Smock '95, assistant dean and dean for Social Justice Initiatives (SJI) and public service lawyering, laid out an ambitious vision of a diverse and tight-knit community of students who would spend three years together examining the many facets of public interest lawyering and substantive practice in the domestic and international realms.
"SJI remains committed to supporting all public interest students at Columbia Law, and the Berger Fellows Program was established to provide even more opportunities for engagement," says Smock. "We are especially proud of the fact that the program has successfully supported a diverse pool of public interest students on their journey, launching them into a wide range of public interest and public service positions postgraduation." 
Now, four years later, the program is flourishing. "The Berger Fellows Program has become a signature initiative of the Law School and has cemented Columbia as a top destination for students interested in pursuing social justice and human rights careers," says Gillian Lester, Dean and Lucy G. Moses Professor of Law. The Berger Fellows Program is an integral component of Dean Lester's vision for the Law School. One of her top priorities for the recently completed $325 million Campaign for Columbia Law was increasing academic and professional opportunities for public interest students along with financial support, including an enhanced Loan Repayment Assistance Program (LRAP). 
By all measures, the Berger Fellows Program is a resounding success, says Devi Patel, the director of the program; nearly 50 alumni of the program have launched their careers; 58 students from the Classes of 2024 and 2025 currently participate in the program, and a new cohort of approximately 30 students from the Class of 2026 will enter the program in the fall; 21 professors joined the program's Faculty Advisory Group; and 22 alumni sit on the program's Practitioner Advisory Board. "We have planned and held more than 200 events and meetings for the fellows, including workshops, discussions, off-site learning opportunities, and small- and large-group mentorship meetings," says Patel. 
The program is on firm footing thanks to a $3.3 million gift from the foundation Max Berger created with his wife, Dale, which includes $3 million to endow the program and an additional $300,000 for program support. "Because public interest and public service careers can require tremendous sacrifices, financially and otherwise, being part of a community with other like-minded students allows them to give each other the courage to pursue their goals and stay the course," says Berger. "Whether they are interested in voting rights, racial equity, immigration, labor, or LGBTQ+ rights, the program acts like a glue that binds them together." 
Berger also considers the program the nucleus of a multigenerational public interest community at Columbia Law School—one that will provide a lifetime of networking and employment opportunities. "I truly believe that there will be a sense of family among the graduates and those participating to help them find meaningful work and give them the strength throughout their careers to do what their hearts want them to do," says Berger.
The inaugural class of 22 Berger Fellows graduated in May 2022, with 11 of them receiving postgraduate fellowships. The second class of 23 Berger Fellows graduated in May 2023, with eight of them receiving judicial clerkships. Berger Fellows began their careers as lawyers at agencies and organizations such as the American Civil Liberties Union (ACLU), the U.S. Department of Justice, Human Rights Watch, The Legal Aid Society, and the White House Counsel's Office.
Many fellows say the program was life-changing. 
"The Berger Fellows Program brought together a community of legal students, thinkers, and leaders unlike any other at Columbia Law," says Oren Vitenson '22, a law clerk in the Federal Trade Commission's (FTC) Technology Enforcement Division. (Prior to law school, Vitenson was a paralegal at the FTC, and he worked there during his 2L summer.) "The range of legal interests and knowledge embodied in the fellows typified the breadth of legal and social challenges confronting the world today. Moreover, the diversity of backgrounds among the fellows generated conversations that were enhanced through the lens of lived experiences and focused by an eye to future reforms."
Raisa Elhadi '22 received the Global Public Service Fellowship, which supports her work as a human rights lawyer for the Middle East Death Penalty Project at Reprieve, a legal action NGO. She says the Berger Fellows Program expanded her career horizons. "Hearing from practitioners in the field who had jobs I aspired to helped me conceptualize how to get from law student to public interest lawyer," says Elhadi, who worked at the International Refugee Assistance Project and at the Center for Constitutional Rights during law school. "More importantly, we heard from movement lawyers doing work I had never even considered, which opened my eyes to a new conception of what it could mean to be a lawyer who works for social justice."
The program also helped Elhadi focus on her goals. "The one-on-one support that the program offers was essential to my continuing on the path to a public interest career," she says. "The individualized advising was tailored to my passions and experiences and helped me secure my dream position as a human rights lawyer."
Emily Drake '22 appreciates the mentorship and friendship the program offered. "My law school experience would have been entirely different without the Berger Fellows Program," says Drake, a member of the National Guard who was deployed in the middle of her first year, at the dawn of the COVID-19 pandemic, to pack, deliver, and distribute groceries for a food pantry. "Having Devi Patel and the rest of the Berger Fellows support network in my corner, finding me mentors and resources, was invaluable," she says. One of Drake's mentors, during her 2L year, was Hunter Carrell '21. After graduation, Carrell began working for the Manhattan District Attorney's Office, and then helped Drake apply for a job there. "Now, we work together, and she's become a great friend—and the job is fantastic too," says Drake.
The ethos of the Berger Fellows Program serves Drake well at the District Attorney's office. "In my job now, it's critical to keep an open mind and avoid confirmation bias," she says. "I really appreciate the patience and diverse perspectives I got from the program."
Bianca Chavez-Norgaard '22, who received the J.D. Pathways Public Interest and Government Fellowship, now works at Phillips Black, a nonprofit public interest law practice. The Berger Fellows Program, she says, taught her about patience and having realistic expectations. "Social change is a relay marathon, not a sprint," says Chavez-Norgaard, an inaugural recipient of a Columbia Law Racial and Social Justice Fellowship who gained hands-on experience at law school working at The Bronx Defenders and Texas Defender Service. "If you keep doing your best, then eventually you will be able to see the impact of your work."
As a Berger Fellow, Christopher Alter '23 says he relied on the program's leadership team for advice and guidance as he navigated classes and job applications. "They took the time to get to know me, and I felt like they really cared about my success as a student and as a person," says Alter. He adds that the close friendships he made with other fellows provided personal and professional sustenance. "I didn't have to carve out my own path alone. I wasn't just outside of the Big Law track; I was on the public interest track. And I was there with my own set of advisers and fellow public interest students."
"The Berger Fellows Program provided community and structure to my Law School experience as a public interest student," says Madhuri Belkale '23, who will begin a yearlong fellowship in the fall at Cohen Milstein Sellers & Toll. "When it came time to make career choices for after law school, my peers in the cohort and the program director were who I turned to for guidance. The director and my mentors helped me see what my career path could look like down the road, helping me fit many goals and priorities into a path that made sense and seemed attainable. The Berger Fellows community was immeasurably important—my friends in the cohort were my consistent support system for the day-to-day of law school—in classes, clinics, externships, journals, student organizations, and even just as friendly faces across a lecture hall.
"At the start of law school, I felt strongly that I wanted to work with people impacted by the criminal legal system, but I wasn't sure yet what that would look like," says Laura McFeely '23. The recipient of the Kirkland & Ellis Fellowship, McFeely will begin working at the Center for Appellate Litigation in the fall. "Speaking with practitioners through the program helped me to learn about all different areas just within public defense: state and federal, trial and appeals, as well as capital habeas. These conversations, in combination with my internships and externships, helped me determine that I wanted to pursue appellate public defense. I was not initially interested in clerking, but speaking with practitioners and faculty helped me realize that the experience of working closely with a judge, and learning how they weigh opposing legal arguments, would be a valuable foundation for future work as an advocate."
McFeely says the fellows in her cohort supported her every step of the way. "Finding a job in the public interest does take work," she says. "The Berger Fellows community made the process much easier because we were all going through the same internship and job search challenges at the same time. It helped to commiserate together and to celebrate our successes."
Fatima Hasanain '23 says the Berger Fellows Program provided her with the tools, resources, and support to launch a public interest career. "The program connected me with practitioners who could guide me on my path to becoming a public interest attorney," says Hasanain. In August, Hasanain will begin working as a FAIR Fellow at Legal Aid at Work in San Francisco; the following year, she will clerk for Magistrate Judge Sarah Netburn of the Southern District of New York. "They listened to my career aspirations and educated me about what I would need to get there. They were also honest about the emotional toll of public interest work and the difficulties of balancing work with life. Throughout the process, the people I met through the program saw me as a person with both personal and professional goals."
The other fellows were a continual source of strength for Hasanain. "My peers have encouraged me, connected me with people and organizations that speak to the work I want to do, and helped me prepare to be the best possible public interest lawyer I can be."
The benefits of the Berger Fellows Program continue beyond graduation. "The Berger Fellows are part of a network of fellow graduates, practitioners, professors, and leaders in the public and nonprofit sectors," says program director Patel. "The connections they've made will last a lifetime and provide countless opportunities for them during their careers."