Inside the 2023 Spring Break Caravans: A Week of Meaningful Work
Inside the 2023 Spring Break Caravans: A Week of Meaningful Work
As part of an annual tradition of Columbia Law students spending spring break doing pro bono work, the Empowering Women of Color student organization led a spring break caravan to New Orleans to work with the Capital Appeals Project and the Promise of Justice Initiative.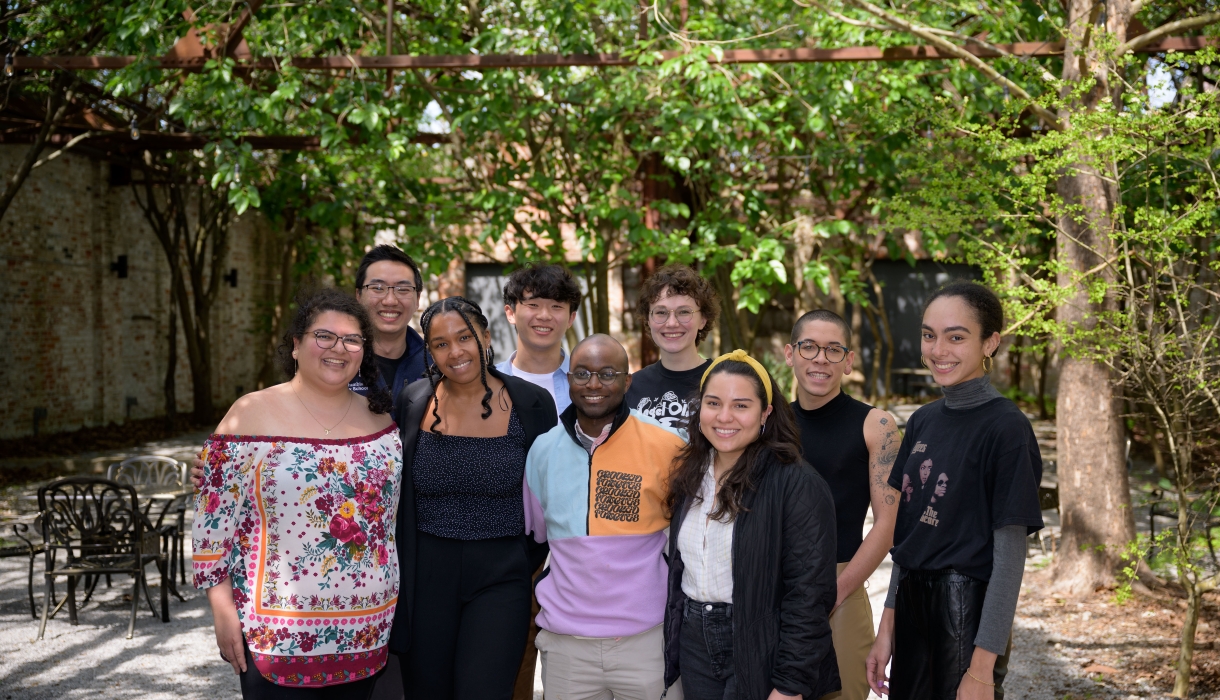 Pictured: Members of the EWOC spring break caravan.
NEW ORLEANS—In an old, columned house on Elysian Fields Avenue, nine Columbia Law School students seated around a long conference table push their laptops aside and, over a lunch of red beans and rice, talk with Ashwini Velchamy '20, a staff attorney at the Capital Appeals Project, about working with prisoners on death row.
"The wins are not real wins because we're fighting against something unwinnable unless it's destroyed," Velchamy says of Louisiana's death penalty law. "It would be so great to be unemployed."
Not long ago, Velchamy was in a similar position as the students, spending her spring break doing pro bono public interest work while learning about the legal landscape beyond New York. Now, she is the practitioner, discussing the nuts and bolts of fellowship applications, the necessity of self-care in a demanding field, and the rewards of getting to know her incarcerated clients. In New Orleans, she's speaking to one of Columbia Law School's Sidley Austin LLP Spring Break Pro Bono Caravans, this one organized by the Empowering Women of Color (EWOC) student group. For a week in March, students on this caravan volunteered their skills at two affiliated legal services organizations in New Orleans: the state-funded Capital Appeals Project (CAP), which handles death penalty cases, and the strategic litigation nonprofit Promise of Justice Initiative (PJI), which focuses on ameliorating prison conditions in Louisiana.
A Long Caravan Tradition
The New Orleans group was among 20 caravans—comprising more than 120 students—that traveled during spring break in March to volunteer their skills in practice areas such as civil rights, immigration, and criminal law at legal services and social justice organizations across the country and the world. A signature program of Columbia Law, the caravans have been organized annually through the Office of Social Justice Initiatives (SJI) for more than a decade. 
"At Columbia, pro bono is one of our core values. It is our belief that pro bono is a key element of being a well-rounded law student and lawyer," says Marka Belinfanti, assistant director of pro bono and summer programs for SJI. "The caravan program allows students to gain invaluable field experience and hands-on training."
During the early days of the COVID-19 pandemic, caravans provided volunteers remotely. This year, with the return of in-person trips, new caravan destinations included Nairobi, Kenya, where the Black Law Students Association (BLSA) organized to work with local social justice organizations, and Durham, North Carolina, where the Law and Political Economy Society organized to work on legislation with a small-farm advocacy organization. (See a full list of caravans below.) 
"On the heels of the pandemic, we are thrilled that this year, we were able to return to in-person caravans, increase funding, and that these pro bono opportunities were in high demand," says Belinfanti.
The opportunity to participate in a spring break caravan "was a big reason why I chose Columbia," says Rubí Rodriguez '24, a member of the EWOC caravan. 
In New Orleans, CAP had previously hosted a Columbia Law caravan organized by BLSA. But this year marked the first-ever EWOC caravan. Erika Lopez '24, the group's president, says she wanted to raise the profile of public interest careers among EWOC members and plan a caravan that could be replicated in future years. In order to expand the caravan's scope beyond capital appeals, she organized a team to work for PJI.
"I was excited to work on something slightly different from just strictly criminal defense," she says. "Civil impact litigation, policy work, and strategic criminal litigation are all things that I knew people would be interested in doing."
Anaheed Mobaraki '24 co-organized the caravan. "All of us are very interested in public defense work, some of us in capital defense. So it's really incredible that we can be down here in Louisiana, a state that still allows the death penalty and has plantation prisons like Angola," she says. "It's extra important to be doing this right here. And I'm even more happy that we can do it for free for these organizations."
For the legal services organization, pro bono work by caravan students is a huge help. "There is so much to do and so few people doing it," says Erica Navalance, a PJI senior staff attorney. "That means that people who come and work for us really do significant, substantive work, right from the beginning."
Josh Occhiogrosso-Schwartz, a staff attorney for CAP, says the students were working on legal research projects for an upcoming filing. "We deal with voluminous amounts of records in capital cases, so we have them creating an index so we can easily find things. All of that is work that we regularly do ourselves."
The organization identifies projects that the caravan students can accomplish during the week they are there, says Occhiogrosso-Schwartz. "They give us a huge boost," he says. "They really dive right into projects, and there's a lot actually that we get done in a week."
For students, participating in a caravan can fulfill the Law School's 40-hour pro bono requirement and provides exposure to different areas of public interest law. Often, the work involves Westlaw legal research not unlike a law school assignment—but for a real client.
The challenging legal landscape of Louisiana has inspired Lopez, for one, to consider returning. "I feel like I need to come back here after graduation and be somewhere where I really can make a difference," she says. "It feels like it's such an uphill battle. But if you actually have a win, it could be such a serious win."
The Sidley Austin Spring Break Pro Bono Caravans are made possible in part through the generous support of the Sidley Austin Foundation and the Columbia Law School alumni of Sidley Austin.
Read Below: Voices From the EWOC Caravan