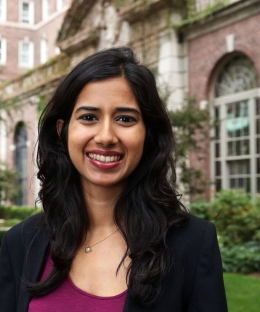 Gulika Reddy is a human rights advocate, and the Acting Director of the Human Rights Clinic.

Reddy and Human Rights Clinic students work in partnership with social justice advocates, communities, and rightsholders around the world to investigate human rights abuses and advocate for justice and accountability. The clinic prepares students for lifelong careers in social justice advocacy and works to promote human rights and recalibrate the global power imbalances that drive economic and political inequality, exploitation, threats to physical security, poverty, and environmental injustice.

Reddy has conducted human rights advocacy around the world, including in India, Kashmir, Yemen, and Papua New Guinea. Her work has focused on inequality, discrimination, armed conflict, peacebuilding, and the role of education in unlearning bias and fostering inclusion. Her academic research interests include critical perspectives on human rights, decolonial and anti-racist pedagogy, and the intersection between human rights and peacebuilding.  

Before joining Columbia Law School, Reddy worked with lawyers, non-profits, and academic institutions in India to prevent and respond to identity-based discrimination through litigation, legislative reform, grassroots activism, and public education. She is the Founder & Director of Schools of Equality, a non-profit organization in India that runs activity-based programs in schools with the aim to shift social attitudes that perpetuate gender-based violence and other forms of identity-based discrimination. 

Reddy received an MPP from Harvard Kennedy School of Government, where she was a Dubin Leadership Fellow, and an LL.M. from Columbia Law School, where she was a Human Rights Fellow. In 2016, Columbia Law School's Human Rights Institute awarded her a Commendation for Leadership and Commitment in Human Rights, the World Economic Forum named her one of the Davos 50, and she was invited to attend their 2016 Annual Meeting in Davos. Reddy was also awarded the TalentNomics Global Emerging Game-Changer award for exemplary dedication to the empowerment of women and girls.