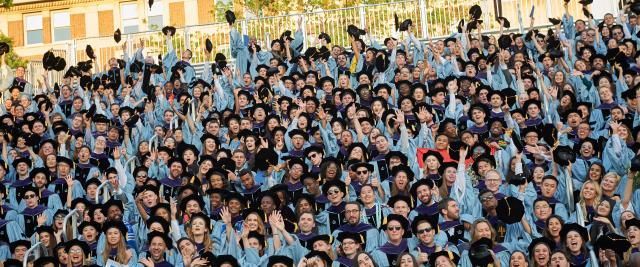 Law School graduation was held virtually on May 20. Watch the ceremony and learn about the graduates below.
The Degree Candidates of the Class of 2020
The Prizes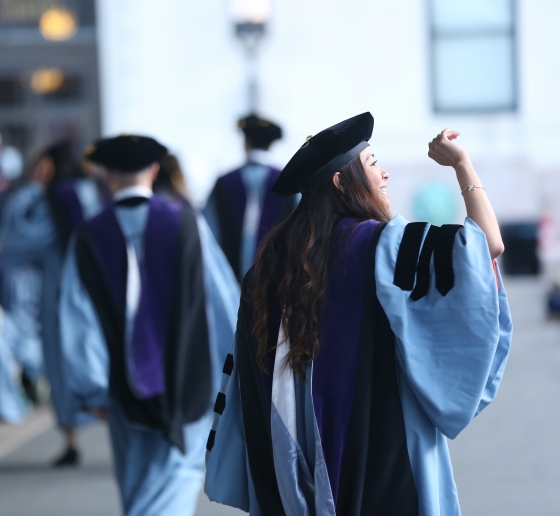 Graduates celebrating their reunion years welcome the newest members of the Columbia Law School alumni network with some words of wisdom.
Class of 1965
Dale Schreiber
"Get your priorities straight: Today, physical and mental health must be maintained through the current pandemic. The 'thereafter' will take care of itself."
Class of 1970
Richard T. Andrias
"Follow your instincts, not your bank balance. You have a license to help people not schooled in the endless intricacies of the law."
Class of 1970
Bruce Eben Pindyck
"A legal education is valuable no matter what you choose to do professionally. Your opportunities are endless. I use my legal education almost daily, especially in these extraordinarily difficult times. I have also found that having gone to Columbia Law School and Business School gives me immediate credibility with all of the constituencies that I deal with."
Class of 1975
Edward Byrne
"Hang tough! It will get better, and a great career awaits you. Stay true to your principles; it's possible, if not always easy."
Class of 1975
Robert Faron
"Follow your dreams as to why you became a lawyer. Sometimes the draw of one direction— large law firm, public interest law, or corporate law—is not right for you at the moment, but do not be afraid to change directions or law activities. Maximize your outreach and stay connected to a variety of lawyers (other classmates) and keep networking."
Class of 1975
Gerard E. Lynch
"Surprising things will happen, both good and bad. Don't take yourself too seriously and always remember that what you have and what you accomplish in life are in large part the product of luck. So (just as your parents and grammar school teachers always told you):
Don't get a swelled head, and give back to the community what you receive."
Class of 1980
Felix Leatherwood
"As an African-American attorney and Columbia graduate, I think that it is most important to aggressively protect your reputation, enjoy all opportunities presented, and enjoy the practice of law. I have found the practice of law to be incredibly fulfilling, especially in the areas of litigation. Columbia Law School has a fine and wonderful tradition [of] providing support for the great civil rights leaders and freedom fighters of our times. Achievement at the highest part of our profession is important, but to me, carrying on the traditions of the giants that walked before me is truly significant."
"The development of a fine lawyer is like the preparation of a fine meal, the writing of a great book, and taking on a marathon. Be patient with yourself and others. Love your family and friends. Most importantly, try to enjoy the journey."
Class of 1980
George Madison
"I can share this advice based on my 40 years. You will experience several "black swan" events in your next 40 years. And each one will be traumatic and consequential to our country and you and your family personally. You will survive each one. In my career, I lived through a deep recession in the early 80s; a savings and loan meltdown that caused a severe financial crisis; a series of human pandemics like Madoff, Enron, etc.; an Asian financial crisis initiated in Japan; a sovereign debt crisis in South America; terrorist attacks causing confusion, anxiety, fear, and an economic meltdown; political upheavals associated with the war on terror and resulting unchecked federal spending; the financial crisis of 2008–2009 followed by the Great Recession; and now [the] COVID-19 pandemic. And those are the ones that I can remember. Each event impacted law school employment, caused furloughs at law firms and other legal employers, and changed the trajectory of many careers." (continued next slide) 
Class of 1980
George Madison (continued)
"They also caused untold damage to the wider community and those in need of assistance. Every Columbia Law class impacted was resilient, persevered, and moved forward. You will too. Expect the unexpected. I know it is a cliché. Be open to new opportunities. Work hard and establish yourself as an outstanding professional. Be kind and helpful. Be a team player. Be diligent as you have all of your lives. These are the qualities that will serve you well throughout your career and will enable you to be successful even in the face of highly improbable events."
Class of 1980
Rob Spitzer
"Be kind and respectful to legal assistants and paralegals (in addition to the other lawyers you work with). You will rely on their guidance and assistance throughout your careers. . . [And] take more time off for adventure!"
Class of 1985
Steven Froot
"Although you are in charge of your career, and although some people know exactly what they want and charge ahead to get it, many, if not most, lawyers would not necessarily have predicted the twists and turns their careers have taken. It is very difficult to game it out ahead of time because you will change, you will learn what you enjoy and what you don't, and you will find out about ways of practicing law (or doing something different with your law degree) you did not know about or could not have known about when you graduated."
Class of 1990
Rudy Carmenaty
"When asked what I would do differently in terms of my professional path, my one regret is that I never clerked for a judge. In light of the pandemic, and because I work in the area of social services [and am] experiencing the impact up close, I would tell myself to focus as much on family and the personal. I have worked in many fields since graduation, this being the most rewarding, but nothing comes close to my life at home. Lawyers are called upon to do a great many things, often at the expense of their home lives. By all means be dedicated, but also be thoughtful as you find a proper balance. Life and the law are not incompatible; they should be compatriots not combatants as you evolve in your career."
Class of 1990
Elise Holtzman
"Although it may be difficult to believe now, the people in your law school class will eventually be leaders in the law, government and politics, business, and global change. No matter how busy you are or how far-flung your classmates may be, maintain and nurture relationships with them so you can learn from each other and support one another's goals. You will be able to offer one another opportunities such as jobs, client referrals, and the chance to assume leadership and create impact for the communities of which you are a part."
Class of 2000
Luciana Aquino-Hagedorn, LL.M.
"Be open-minded. You may find interesting opportunities in unexpected places."
Class of 2000
Ana Brun, LL.M.
"Whether in private practice, government, public interest, or something else, and no matter the deadlines and tight schedules, do not forget to be mindful of yourself and spend time with family and friends."
Class of 2000
Lawrence Dempsey
"Be willing to take chances with your career path. There are many paths to a rewarding career. Working at a law firm is great. Clerking, working at a start-up, for the government, or at a nonprofit are all excellent paths. . . . Try not to stress too much about the bar exam. If you put in long hours studying, you will pass. No matter how busy you get, make time for your friends and loved ones."
Class of 2005
Eric Haskell
"Your reputation is everything, even in a large market like New York City. In everything you do as a lawyer be civil, reasonable, friendly, forthright, and, above all, honest. All of these things will, in the long view, win you a reputation that opens doors. . . . Don't be afraid to get off the beaten 'career' path. Even though many Columbia Law School graduates follow a familiar path, at least for the first several years, the truth is that a Columbia Law graduate can add tremendous value anywhere that there are problems in need of solving. Be creative and proactive about identifying your own path."
Class of 2005
Roberta Pimentel Fonseca, LL.M.
"Always be open to change, be positive, and never forget your principles and values! . . . You enjoy work and are curious, always wanting to learn new things, which is great, but remember to stay healthy, and don't forget to dedicate time to family and friends! Balance is everything!"
Class of 2005
Lincoln Yeh
"Challenging times often require us to make difficult decisions, but they also present new opportunities that, if properly seized, may deliver professional growth and pleasant surprises in the longer run."
Class of 2010
Sarah Rice
"You are graduating in a time of uncertainty. The best things you can do are maintain your network, work hard, and be persistent. Take every opportunity to say yes, learn from your mistakes (you'll make them—it's OK), and make sure to give back to your community. . . . Don't be afraid to ask for help. Legal research and writing is the most important class you have taken. Always, always remember your audience. The legal field is small, so be kind to everyone, even opposing counsel."
Class of 2010
Elina (Khasina) Teboul
"Cultivate positive relationships. Discover your signature strengths and your values, and use them to guide your decisions and achieve your goals. Most of the skills you need to become a successful person and professional have little to do with IQ and academic success."
Class of 2015
Diego Gallegos, LL.M.
"Don't be nostalgic! The life-altering experience of coming to Columbia does not end here; the friends and the career choices you made this year will keep impacting your life many years from now. . . . Keep your Columbia Law School network going! It is one of the most valuable assets you take with you."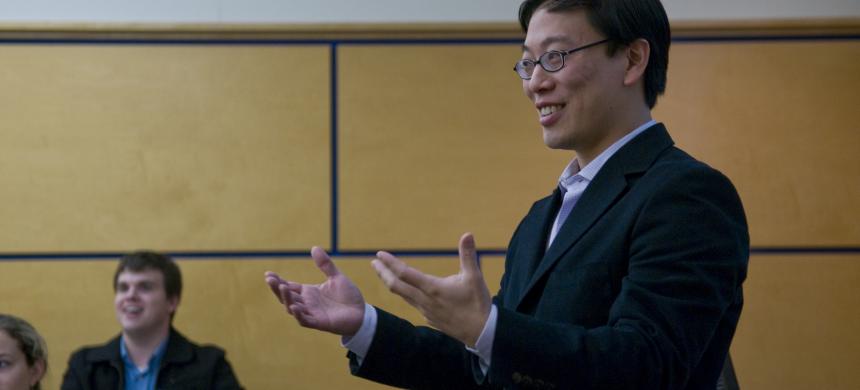 Law School News
News
Students praise his pedagogy, intellect, charisma, and kindness. Huang will receive the honor, awarded annually by the graduating class, at graduation on May 20.