Section 004 Information
Instructors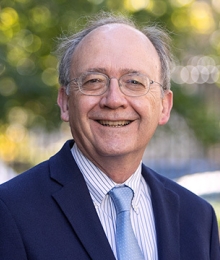 Philip M. Genty
Everett B. Birch Innovative Teaching Clinical Professor in Professional Responsibility
Section Description
This intensive course will provide an introduction to the methods of persuasion that are at the core of a lawyer's work. Persuasion involves the use of fact, law, and policy to communicate the lawyer's ideas and goals and those of the lawyer's clients effectively. Persuasion occurs in all domestic and international practice contexts, and each context requires an understanding of the relevant audience and the persuasive methods best suited to that audience.

The course will be conducted through a combination of classroom sessions and small group work. Students will be assigned to practice groups before the course begins, and the groups will meet throughout the week to examine and experiment with persuasive methods relevant to these practice contexts.

As a final project for the course, the students will use these case materials to produce a written document or make an oral presentation demonstrating persuasive methods relevant to their group's practice context. The final projects may be completed individually or collaboratively.
School Year & Semester

January 2022
Location

JGH 102b
Schedule

Class meets on

Monday

Tuesday

Wednesday

Thursday

Friday

10:30 am - 3:30 pm
Points

1
Method of Evaluation

Other
J.D Writing Credit?

No
Learning Outcomes
Primary

Develop a more complete understanding of the history, theory, and social science of persuasive methods.
Develop techniques for tailoring persuasive methods to the particular audience.
Improve written and oral skills of persuasion.
Improve ability to work collaboratively.
Course Limitations
Instructor Pre-requisites

None
Instructor Co-Requisites

None
Recommended Courses

None
Other Limitations

1L students only
Other Sections of Legal Methods II: Methods of Persuasion
School Year & Semester
January 2022
Instructors

School Year & Semester
January 2022
Instructors

Isidor and Seville Sulzbacher Professor of Law
School Year & Semester
January 2022
Instructors

Herbert Wechsler Professor of Federal Jurisprudence
School Year & Semester
January 2022
Instructors

William S. Beinecke Professor of Law
School Year & Semester
January 2022
Instructors

William S. Beinecke Professor of Law
School Year & Semester
January 2022
Instructors

Morton L. Janklow Professor of Literary and Artistic Property Law
School Year & Semester
January 2022
Instructors

Milton Handler Professor of Law and Reuben Mark Professor of Organizational Character
Back to course search