S. Appellate Advocacy
Course Number

L8660
Curriculum Level

Upperclass
Areas of Study

Clinics, Externships, and Experiential Learning, Legal Profession and Professional Responsibility
Type

Simulation
Additional Attributes

Experiential Credit
Section 001 Information
Instructors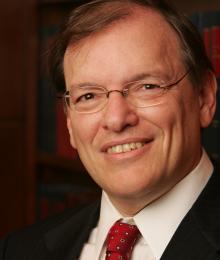 Gerard E. Lynch
Paul J. Kellner Professor Emeritus of Law
Section Description
This course will focus on developing skills in both oral and written advocacy. The course is designed to develop various lawyering skills, including oral advocacy, legal writing and drafting, and legal research. It will also address ethical and professional issues that arise in advocacy. Students will learn by doing (although we also anticipate welcoming a few noted advocates as guests).

Over the course of the semester, each student will argue two Supreme Court cases before the class and a panel comprised of Judges Lynch and Park and fellow students. Students will also have the opportunity to argue motions or evidentiary issues of a sort commonly argued before trial courts. In addition, each class member will prepare a merits brief or petition for certiorari over the course of the semester, on a case to be assigned by the professors. The instructors will offer extensive feedback on this writing exercise.

Students will actively participate in each class session. For each session, class members will be assigned either to argue a case pending before the Supreme Court, to argue a hypothetical motion in a trial court, to serve as judges for one of those exercises, to critique the arguments, or to assist upcoming oralists in the week before they argue by mooting arguments to be presented. The craft of legal writing will, with oral advocacy, be a major topic of inquiry. As a result, substantial time will be allotted for researching and writing the Supreme Court brief.

To accommodate these course goals, the course schedule deviates from the norm. First, covid protocols permitting, class sessions will be held in the Second Circuit courtroom at the Thurgood Marshall Federal Courthouse (40 Foley Square, Rm 1701), giving students multiple opportunities to argue in an actual appellate courtroom. As a result, students will need to build into their schedules sufficient time to reach the courthouse for class sessions. In addition, in order to permit sufficient time for students both to prepare briefs and to argue, receive feedback, and then argue another case, drawing upon the feedback they have received, we have revised the usual class schedule. The class will begin with an introductory session and then, after a one-week break to allow the first group of student advocates to prepare, meet twice a week for the next three weeks, followed by a break of several weeks, during which students will prepare their briefs. Classes will then resume, again kicking off with a single session, followed by three weeks of meeting twice a week, with a final week's closing session.

Class size will be limited to twelve students. Students will be evaluated on the basis of their papers and performance in in-class exercises.
Students high on the wait list who want to preserve a spot are required to attend the first class.
School Year & Semester

Spring 2022
Location

JGH 646
Schedule

Class meets on

5:00 pm - 7:30 pm
Points

3
Method of Evaluation

Paper
J.D Writing Credit?

No
Learning Outcomes
Primary

Lawyering skills, specifically oral and written advocacy.
Secondary

Doctrinal analysis, statutory and regulatory analysis, judicial processes.
Course Limitations
Instructor Pre-requisites

None
Instructor Co-Requisites

None
Recommended Courses

None
Other Limitations

Enrollment is limited to 12 students. See course description for meeting location and special course schedule Wait listed students must attend the first class if they wish an opportunity to register should seats become available.