Lawyering for Change
Course Number

L6369
Curriculum Level

Foundation
Areas of Study

Racial, Economic, and Social Justice, Gender and Sexuality Legal Studies, Legal Profession and Professional Responsibility, Administrative Law and Public Policy
Type

Lecture
Additional Attributes

1L-Elective, Experiential Credit
Section 001 Information
Instructors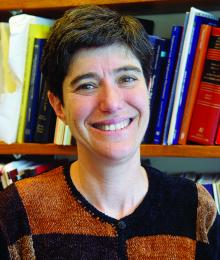 Susan P. Sturm
George M. Jaffin Professor of Law and Social Responsibility
Section Description
This course will meet in the Jerome Greene Annex Lounge. This course will explore how lawyers advance social and institutional change both using the traditional model of litigation and moving beyond it. By linking theory and practice, the class will explore innovative roles and strategies for addressing pressing social problems and advancing social justice in challenging times. Over the course of the semester, we will explore a variety of theories of change currently in use, and link theory to practice by (1) systematically reflecting about strategies for pursuing positive social change at the individual, group, community, and societal levels; (2) forming working groups organized around issue or problem areas to collaboratively assess and apply the theories of change explored, (3) meeting with thoughtful practitioners involved in advancing change and (4) conducting several workshops designed to build knowledge and skills needed to put that theory of change into practice. The class will cultivate the strategic capacity lawyers need to effectively collaborate, engage in constructive conflict, have courageous conversations, and address difficult and complex problems. The course will introduce a systems approach to addressing complex problems, and a variety of cutting edge change frameworks and strategies for advancing change through law. It will address strategies for collaborative change as well for addressing intractable change and the backlash that predictably accompanies transformational change. We will consider the role of judicial intervention in producing mobilization and counter-mobilization. By developing practical tools informed by theory, students will be enabled to produce their own theories of change and plans for their roles as change agents. The class is a first year elective. One-third of the class will include upper level students, and LLM students, to build a cross-generational learning community and allow for different perspectives reflecting students at different points in their professional development. Students who are interested in getting into the class from the waitlist should : (1) come to the first class, and (2) submit to Professor Sturm an email me stating (1) the basis for their interest in the class, (2) any prior experience that they think is relevant to their interest in the class.
School Year & Semester

Spring 2020
Location

JGA Greene Annex Lounge
Schedule

Class meets on

1:20 - 2:40 pm
Points

3
Method of Evaluation

Paper
J.D Writing Credit?

Minor (upon consultation)
Learning Outcomes
Primary

Understand the relationship between the goals lawyers seek to achieve and the strategies they use to advance those goals. 2-Use theory effectively to assess different change strategies. 3-Develop an understanding of systems and legal change.
Develop the capacity to apply a theory of change to a specific goal or issue.
Develop the capacity for reflection, collaboration, and courageous conversation.
Course Limitations
Instructor Pre-requisites

None
Instructor Co-Requisites

None
Recommended Courses

None
Other Limitations

1L elective that is open to upper-year students, up to one-third of enrollment.